Going out to eat with the kids is, dare we say it, fun when you're in The Mile High City. There are dozens of great restaurants who know just how to feed and entertain your little monsters.
AVANTI F & B
A new food concept is playing out at Avanti F & B in Denver's hip Lower Highlands neighborhood. A huge two-story warehouse has been converted to shelter a collection of shipping containers — each one a self-contained mini-restaurant. Diners can choose from the variety of cuisines, including noodles, wood-fired pizzas, shwarma and tortas, and enjoy their meal in the communal dining area — complete with stunning views of downtown Denver. A perfect incubator for new flavors and chefs — yet a great way for little ones to get to pick what they like — Avanti is ideal for foodie parents who don't want to worry about disturbing other diners at high-end restaurants.
CHEESECAKE FACTORY
Don't be led astray by the name. Sure, you'll be tempted by the vast array of exotic cheesecakes on display, but the Cheesecake Factory at the Tabor Center's encyclopedic menu and enormous portions of pre-dessert foods just might have you taking the cheesecake home in a take-out box. You can order just about anything here — from pad Thai to gooey pizza to shrimp tacos to a sophisticated steak. It's a great place for picky eaters and features a nice patio from which to people-watch those 16th-street strollers while you indulge.
Avanti F&B's fresh-air patio overlooks downtown Denver.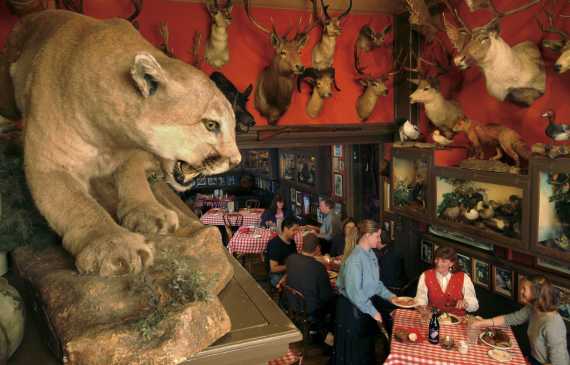 Taxidermy decorates the walls at the one-and-only Buckhorn Exchange.
BUCKHORN EXCHANGE
The Buckhorn Exchange, Denver's original steak house, is a National Historic Landmark located in the city's oldest neighborhood. The restaurant has been serving Old West fare since 1893! A charming rooftop patio overlooks downtown, and is open year round, thanks to the patio heaters. Downstairs, you'll dine with hundreds of mounted game heads (as you might guess, this is a spot for meat lovers, not vegetarians or animal-sensitive kiddos). Prime-grade beef steaks, buffalo prime rib, elk, salmon, quail, game hen, and baby-back pork ribs are just some of the offerings on the menu.
DAVE AND BUSTER'S
What kid wouldn't love 48,000 square feet of action-packed fun and games? Dave & Buster's features pocket billiard tables, shuffleboard, golf simulator, a "million-dollar midway" full of arcade games, virtual world digital theme environment, skeeball, a huge menu and a prize room to redeem game coupons. Head over here when the natives are restless and you're craving some loud music, lots of lights and people-watching galore.
HARD ROCK CAFE
 This über-cool chain now has over 138 venues in 42 countries. Hard Rock Cafe all started with one guitar, once owned by Eric Clapton. The party ambiance calls for loud classic rock, walls completely covered with rock memorabilia and a hipness that's hard to beat, along with good burgers, sandwiches and other bistro-type dishes. Even the smallest kids will be agog at the guitars, drums, pianos, harmonicas, microphones, shirts, pants, scarves, shoes, handwritten lyrics, cars, bikes, a bus and more hanging on the walls. In total, more than 70,000 items hang on the walls. Denver's Hard Rock Cafe is right on downtown's lively 16th Street Mall, in the Denver Pavilions complex.
LUCKY STRIKE LANES
Lucky Strike is not-your-father's bowling alley. The Denver Pavilions location sports 16 lanes, with a 100-foot by 10-foot video wall that stretches over the lanes, showing music videos and fine art. You can bowl, chill on the comfy lounge furniture, enjoy burgers and beers or something more upscale. It's almost impossible not to bond a little over a game of bowling, and the fun atmosphere is likely to wow your whole clan.
MAGGIANO'S LITTLE ITALY
Styled after a New York Little Italy neighborhood cafe, Maggiano's in the Denver Pavilions serves up hearty traditional southern Italian fare — lasagna, eggplant parmesan, ravioli, manicotti — you know, the stuff Grandma made, done family-style. Pass plates of steaming pasta around the table, and if the kids just want buttered noodles, the chef won't be offended here. Maggianos is lively, well-lit and perfect for a festive evening, complete with Sinatra and Dino's singing piped in.
SUPER STAR ASIAN
"An unexpectedly delicious dish is always just a cart away" — Westword. Dim sum, which literally means "to touch your heart," is a variety of small treats ranging from dumplings to rice balls. At dim sum restaurants, like Denver's massively popular Super Star Asian, carts of goodies are wheeled around the room; people choose only those they like. At first, everything looks a little unfamiliar. Then you realize that overthinking it is pointless and pointing to what looks good is the way to go. On Saturday and Sunday mornings, families pack Super Star's tables for dim sum brunch, making for a festive and fun atmosphere.
GUNTHER TOODY'S DINERS
Enter the world of the old sitcom "Happy Days" at Gunther Toody's, with four Denver locations. The '50s and '60s are alive and well here — pink poodle skirts and jukeboxes, root beer floats and old Chevy's, bubble gum and sassy wait staff. Your kids will love the arcade games and you will love the five-cent burger night every Wednesday, the all-you-can-eat chicken tenders on Tuesdays, and free kids' meals on Mondays — including a drink and a sundae. This chain of diners, which exists in Colorado and Tennessee, is ideal for parents (who can get a beer,) as well as for kids (who can be kids here).
CASA BONITA
An old-time Denver family favorite, Casa Bonita is a theme park inside an all-you-can-eat restaurant. With 30 attractions ranging from Old West gunfights to cliff divers to an amusement arcade, families can spend several hours entertaining the kids here. The inside of Casa Bonita is designed to look like a Mexican village at night, complete with areas such as a plaza, poolside patio, caverns and gold mine. Lively, noisy and huge, Casa Bonita is an experience that your kids are bound to remind you about again and again.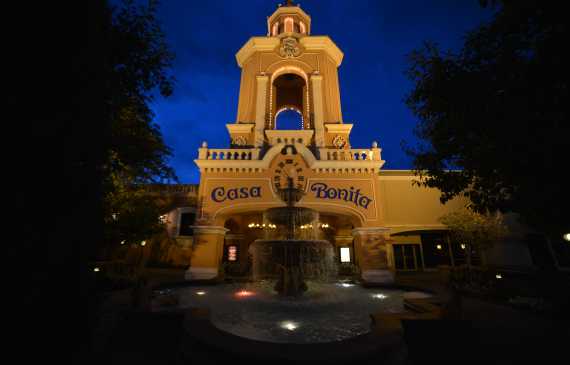 With cliff diving, musicians and an arcade, this is not your ordinary Mexican restaurant.