Find out why Denver is the place to be when it comes to all things artsy.
DENVER ARTS WEEK
Denver Arts Week, held every November, is one of The Mile High City's biggest - and best - annual events. It's a weeklong festival, highlighting the city's visual and performing arts, taking place at six neighborhood art districts, 20 museums and 100 art galleries. More than anything, Denver Arts Week encourages Denverites to be tourists in their own town. It's a convenient opportunity to check out the wide array of cultural offerings that are available year-round in The Mile High City. And it's a bargain as well. All of the arts participants will offer discounts or special events during Arts Week. If you've never been to a First Friday art gallery walk, attended a production at a local theater, seen the Denver Art Museum or listened to an opera, this is the perfect week to do that.
DENVER ART MUSEUM
The spectacular Denver Art Museum (DAM) is the largest art museum between Kansas City and the West Coast. Designed by world-renowned architect Daniel Libeskind, the new Hamilton Building is a work of art in itself - and since it was completed in 2006, has become a bona fide arts world icon. DAM is filled with amazing pieces, from classics by Monet, Picasso and Matisse to more modern works by Warhol and O'Keeffe. All in all, the museum contains a collection numbering more than 55,000 works from around the world, including intriguing pieces from Africa and pre-Columbian America. The DAM is also home to one of the greatest collections of American West art in the world - if you love paintings, photographs and sculptures by Frederic Remington and his ilk, you'll love visiting the Denver Art Museum.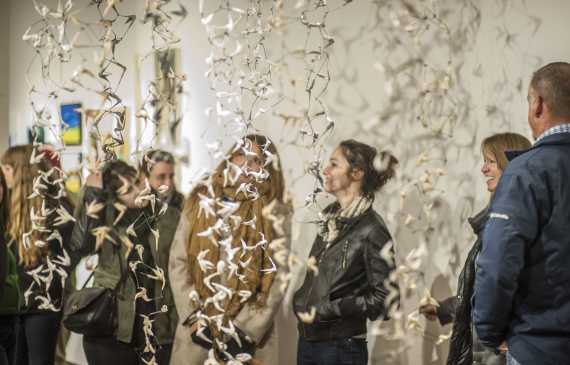 Denver Arts Week is the perfect time to explore the city's many galleries and artist studios.

Clyfford Still was an influential artist who was part of the abstract expressionism movement.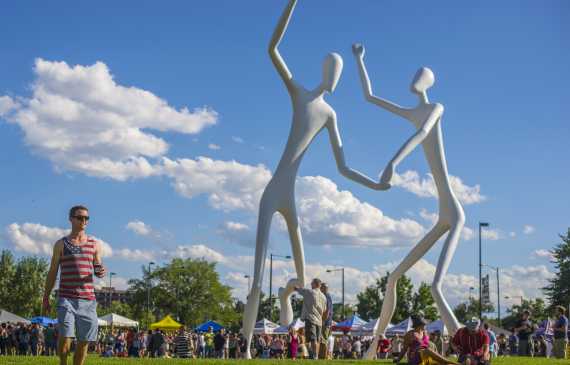 "The Dancers" are larger-than-life sculptures outside the Denver Performing Arts Center.
MUSEUM OF CONTEMPORARY ART DENVER
Denver's cutting-edge arts world was given a new home recently in the form of the David Adjaye-designed Museum of Contemporary Art Denver (MCA) in Lower Downtown. This lovely, modern building houses a constantly refreshed set of exhibits - no visit to MCA Denver is the same. All in all, the museum creates an innovative forum for contemporary art that inspires and challenges all audiences, creating understanding and dialogue about art of our time. As Denver's first institution devoted entirely to contemporary art, MCA Denver is housed in a new environmentally sustainable facility.
CHICANO/LATINO ARTS
The Latino arts scene in Denver is among the most active and vibrant in the U.S., as innovative and imaginative Denverites create massive murals, traditional crafts and artistic masterpieces. One of the most exciting neighborhoods in Denver is the Art District on Santa Fe, where dozens of unique galleries, shops and restaurants can be found. The district is home to many Latino-centric locales, including the Museo de Las Americas (861 Santa Fe Dr.), the only museum in the region devoted exclusively to Latino culture, and the Chicano Humanities and Art Council (772 Santa Fe Dr.), which has been showcasing Denver's extensive community of Chicano artists, artisans, and activistas for more than 25 years. Check out galleries like Quetzalli (928 W. 8th Ave.), which is devoted to indigenous, cultural arts of the Americas, and hosts musicians, poets and films on a regular basis. The best time to check out all the Art District on Santa Fe has to offer is the First Friday celebration, held every first Friday of the month, during which the galleries stay open late for a festive, street party-like event.
PUBLIC ART
Great art isn't just in museums in Denver. Take a look around you. All over the city, you'll find gorgeous murals, whimsical sculptures and other kinds of public art that will delight and inspire.Denver's Public Art Program was established in 1998 as an Executive Order under Mayor Federico Pena, directing that 1 percent of any capital improvement project over $1 million be set aside for the inclusion of art in the design and construction of these projects. Over the past 18 years, Denver has installed over 150 works of art under this program. Don't miss Lawrence Argent's massive Blue Bear (already a Denver icon) at the Colorado Convention Center, or the many Old West-themed sculptures in Civic Center Park.
KIRKLAND MUSEUM OF FINE & DECORATIVE ART
Take in the Kirkland Museum of Fine & Decorative Art's collection of 20th-century decorative arts. On display are more than 3,300 works of Arts & Crafts, Art Nouveau, Glasgow Style, Wiener Werkstatte, De Stijl, Bauhaus, Art Deco, Modern and Pop Art. Additionally, a major survey of Colorado art history is documented with over 170 artists represented by more than 700 works with a strong focus on the first three quarters of the 20th Century. Also, be sure to view the retrospective of Colorado's distinguished painter Vance Kirkland (1904-1981).
NOTE: The Kirkland Museum is temporarily closed. The museum is building a new 38,500-square-foot facility and relocating to 12th Avenue and Bannock Street. It will be near the Denver Art Museum and the Clyfford Still Museum within Denver's Golden Triangle Museum District. The new building is set to open in mid-2017. See the museum's website for updates.  
CLYFFORD STILL MUSEUM
The past decade has seen Denver's art world status rise considerably, but the city isn't resting on its laurels - not by a long shot. In November 2011, the Clyfford Still Museum opened to international acclaim, another jewel in the Mile High City's already glittering crown. Born in 1904, Still was a leading figure in the development of Abstract Expressionism, a post-World War II artistic movement that many consider to be the United States' greatest contribution to world art. His like-minded peers included Jackson Pollock, William de Kooning and Mark Rothko - all rule-breaking artists who were interested in abstract forms, monumental scale and intensely expressive brushwork. The Clyfford Still Museum houses almost 2,400 of Still's paintings, drawings and prints - roughly 94 percent of this influential artist's total output. The museum also contains the artist's archives, including personal letters, photographs, journals and sketchbooks. Virtually all of this material has been sealed off from public and scholarly view since 1980.
DENVER'S ART DISTRICTS
Hip galleries, world-class museums and fun First Friday festivals - Denver's art districts are the pulse of the Mile High City's creative community. The Art District on Santa Fe is the hub of the Denver art scene, with the largest concentration of art galleries in Colorado, featuring more than 40 galleries, shops, and restaurants. The Golden Triangle Museum District is a culturally stimulating neighborhood that is home to eight of Denver's museums, in addition to more than 50 galleries, fine art studios and specialty stores. Just north of downtown, you'll find the newly christened River North Art District, which goes by the catchy nickname RiNo. The area is rapidly becoming the hotspot for artsy types in Denver, with a remarkable array of creative businesses, including architects, art galleries, designers, furniture makers, illustrators, painters, media artists, photographers, sculptors, and a wealth of studio spaces. Cherry Creek North is Denver's premier shopping and dining neighborhood, boasting 320 independently owned shops, boutiques, galleries, restaurants, and spas. It's got a stimulating ambiance that attracts Denver's creative types. In Belmar, there are a number of galleries, art spaces and festivals that make Belmar one of the hippest spots in Denver. In Denver's Highlands neighborhood, west of Downtown, discover the burgeoning creative scene of the Tennyson Street Cultural District.
WESTERN ART
Denver's Wild West roots live on in the arts world here, thanks to the wealth of western art - both vintage and modern - found here. Civic Center Park (101 W. 14th Ave.) is packed with Old West statues and don't miss the Denver Art Museum's western art collection, including work by western masters such as George Catlin, Frederic Remington, Charles M. Russell, John Mix Stanley, Alfred Jacob Miller, and others. The crown jewel in the institute's collection is Charles Deas's Long Jakes, The Rocky Mountain Man, the single most influential image in Rocky Mountain iconography. Finally, discover the new American Museum of Western Art - The Anschutz Collection (1727 Tremont Pl.), a museum of western art housed in downtown the historic Navarre Building.
DIKEOU COLLECTION
There's nowhere else you're going to see a pair of inflatable, 16-foot-tall rubber bunnies, right? One of The Mile High City's most fascinating art locales, The Dikeou Collection is a private collection of contemporary art, with photography, drawings, sculptures, and installations by more than 25 artists from around the world. Free and open to the public, Wednesdays, Thursdays and Fridays, 11 a.m. to 5 p.m. or by appointment.
MILE HIGH CULTURE PASS
A great deal for culture lovers. With the Mile High Culture Pass in hand, you'll receive admission to some of the city's most fascinating attractions (including the Denver Art Museum, the Clyfford Still Museum, the Kirkland Museum of Fine & Decorative Art and more) all for the bargain, "Mile High" price of $52.80 (a savings of more than $25) or three attractions of your choice for $25 (a savings of $12).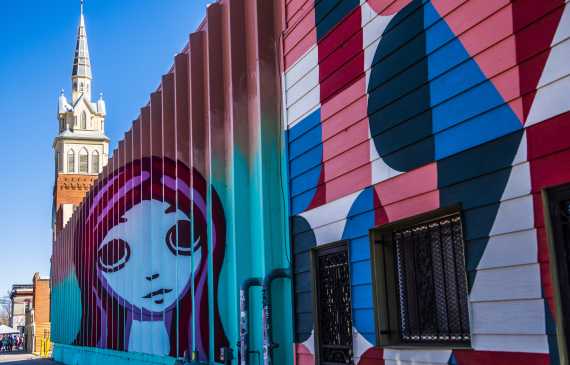 The River North Art District (RiNo) has street art on nearly every corner.