From its early beginnings during the Gold Rush era, The Mile High City has always been a gathering place for diverse and creative people. Today, Denver is an outdoor city with a vibrant, walkable downtown offering urban adventures for all ages. Within a one-mile radius, you can kayak on the Platte River; explore some of the city's best museums; shop at art galleries and boutiques; see a Broadway touring show; enjoy live music; ride a rollercoaster or cool off in a water park; and experience exciting professional sports. Downtown is also home to many of Denver's top farm-to-table restaurants and innovative craft breweries, and the Denver Beer Trail is a great guide to sampling those local brews.
Downtown's free 16th Street Mall shuttle makes it even easier to get around. Visit Larimer Square and the newly renovated Denver Union Station in historic Lower Downtown (LoDo), where Victorian buildings now house restaurants, galleries, shops, bars, brewpubs and coffee houses, or head to Denver Pavilions where you'll find shops, restaurants, bars and a movie theater.
You can also discover Denver's neighborhoods by bike, thanks to the B-cycle bike-sharing program and don't miss the chance for a photo with everyone's favorite Blue Bear public art sculpture greeting visitors at the Colorado Convention Center. See more of this neighborhood through the Downtown Denver Itinerary or the map below.
Explore downtown Denver
Downtown Tourist Information Center
Find maps, visitor guides, interactive screens and experts to help you explore The Mile High City, located at 1575 California St.
Family-Friendly Attractions
Enjoy 70 acres of fun and thrills at Elitch Gardens Theme & Water Park, and visit the Downtown Aquarium and the Children's Museum of Denver at Marsico Campus.
Art Museums 
The Denver Art Museum's American Indian and Western collections are renowned, not to mention its bold Daniel Libeskind architecture, and the museum also hosts traveling exhibitions; the Clyfford Still Museum is next door and features this important abstract expressionist's work in a uniquely designed building; MCA Denver, designed by David Adjaye, hosts exhibitions throughout the year and features a rooftop café; and the American Museum of Western Art has an impressive collection that spans decades of artists. 
Located in the heart of downtown, the newly renovated 1914 Beaux-Arts train station is the new home to 10 chef-owned restaurants and bars, boutique shops and a 112-room hotel, The Crawford. Opening on April 22, 2016, the rail line from Denver International Airport will take travelers straight to Union Station. 
Browse the towering shelves of this independently owned bookstore, or sip a cup of coffee as you peruse rare magazines and newspapers. 
Explore LoDo app 
Take a self-guided tour of more than 25 historic designations by downloading the Explore LoDo app. 
Visit this iconic shop where the first snap-button cowboy shirt was invented and movie stars and legendary musicians shop even today. 
The largest performing arts complex under one roof and home to ballet, the symphony, opera, traveling Broadway shows and local theatre productions.
Craft Beer
Sip fresh samples at a downtown's legendary breweries, such as Wynkoop Brewing Company (founded by Colorado Gov. John Hickenlooper), Breckenridge Brewery or the SandLot at Coors Field. Don't miss other notable breweries by checking out the Denver Beer Trail.
Rent a B-cycle and ride along the paths by the riverfront and near Confluence Park. The paths are part of Denver's 85-mile network of trails.
Hotels
From the luxury of Four Seasons, Ritz-Carlton and the Brown Palace, to the unique accommodations like the Crawford Hotel in Union Station, the Oxford Hotel or the Art, a hotel downtown has more than 9,000 hotel rooms with all the major brands represented. 
Denver's urban shopping and dining district. Victorian buildings house specialty boutiques and unique chef-driven restaurants with one-of-a-kind stores and distinctive fashion and exclusive offerings.
A retail/entertainment center located right on the 16th Street Mall.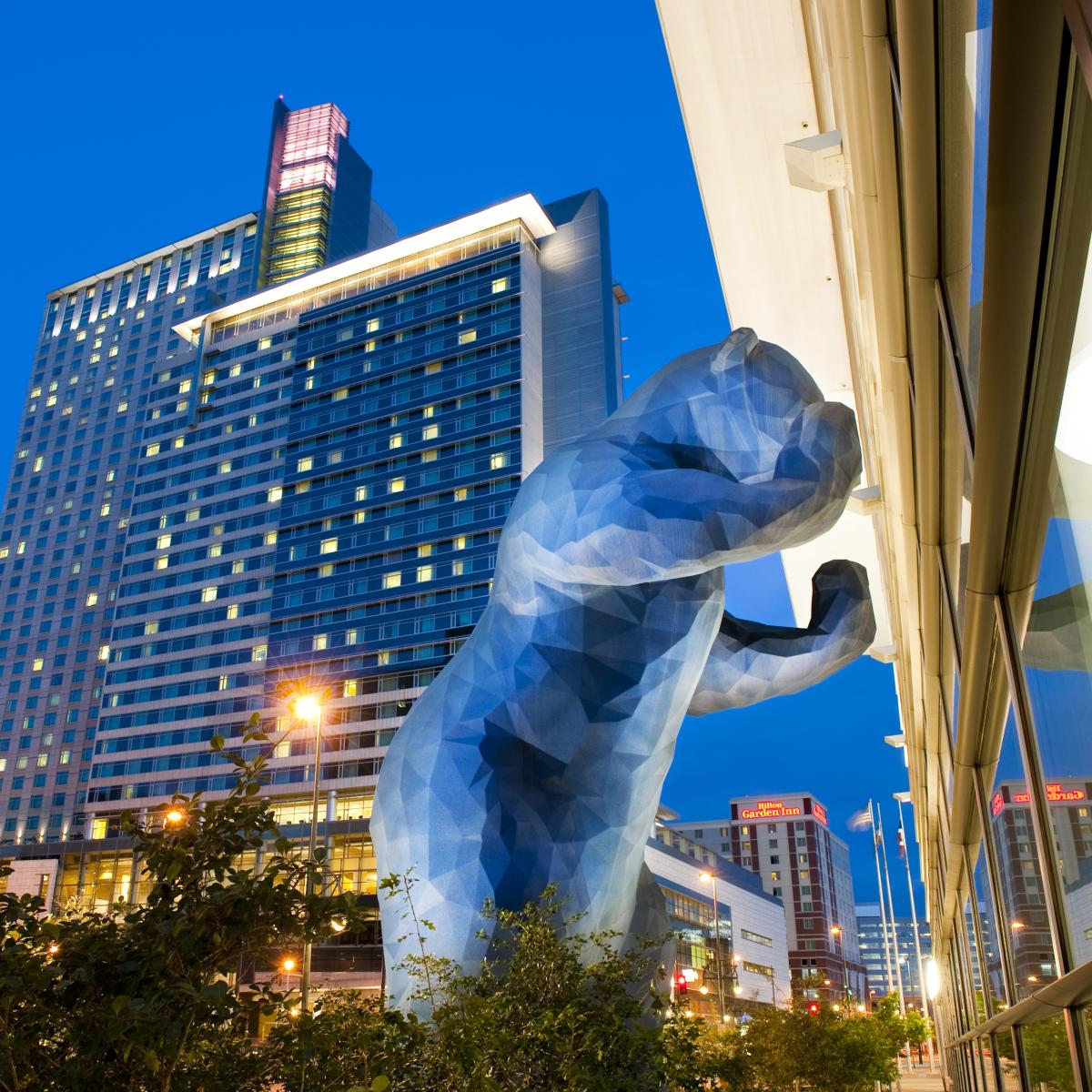 LOCALS KNOW
Public Art
Established in 1988, the Public Art Program stipulates that 1 percent of any capital improvement project over $1 million undertaken by the City be set aside for the inclusion of public art in the design and construction of these projects. Notable pieces include the Blue Bear, "I See What You Mean," at the Colorado Convention Center, the Blue Mustang at Denver International Airport and the Bucking Bronco in Civic Center Park.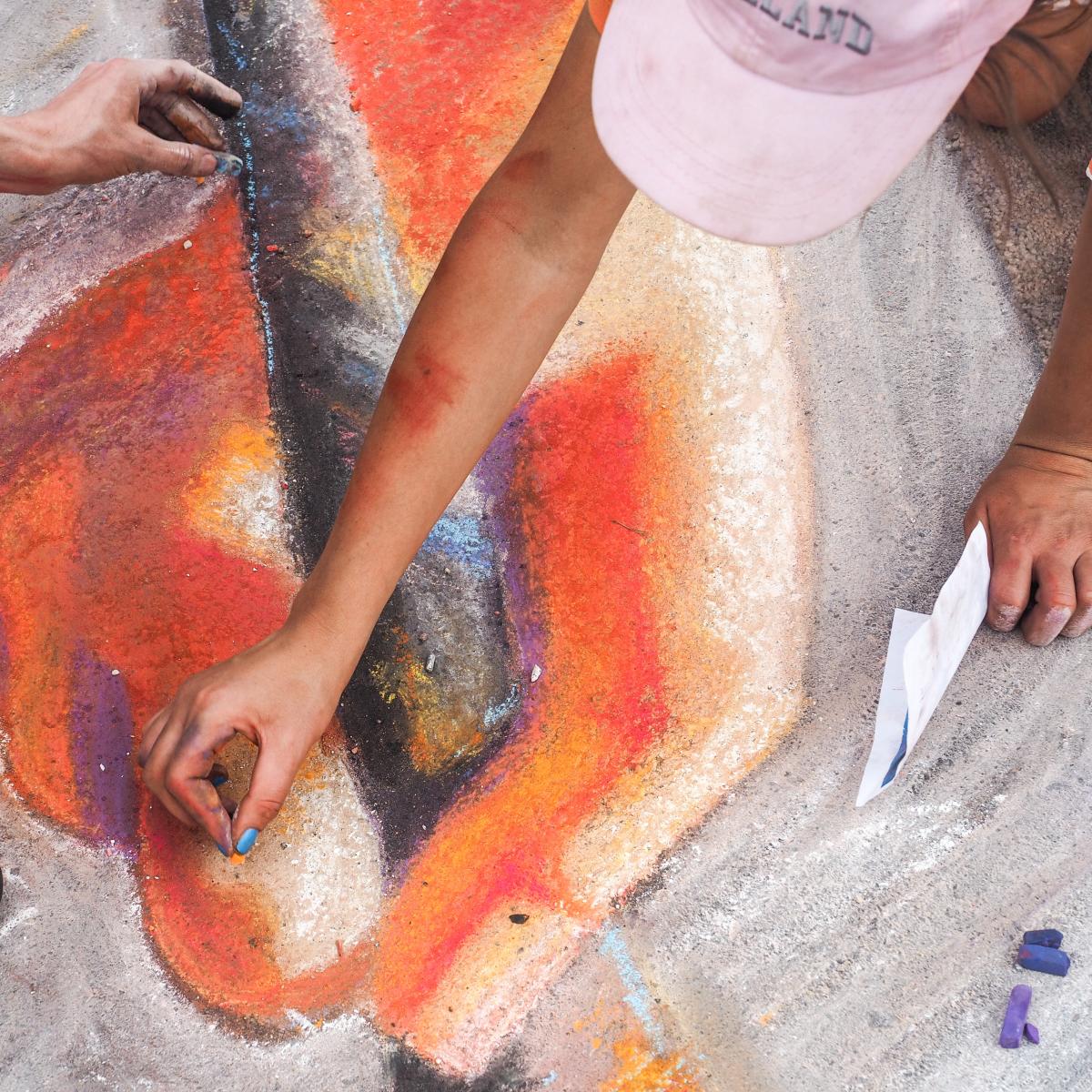 EVENT HIGHLIGHTS
 Experience the magnificent work of chalk artists at this event hosted by Larimer Square every June.
Oktoberfest
 Experience this German tradition over two weekends every fall in the Ballpark area of downtown.
Downtown Denver Neighborhood Map
Start your neighborhood adventure at this suggested spot! This is a centrally located position that you can input into your GPS to get started exploring.