Denver, Co. - August 22, 2014 - For the first time, the Rocky Mountain Showdown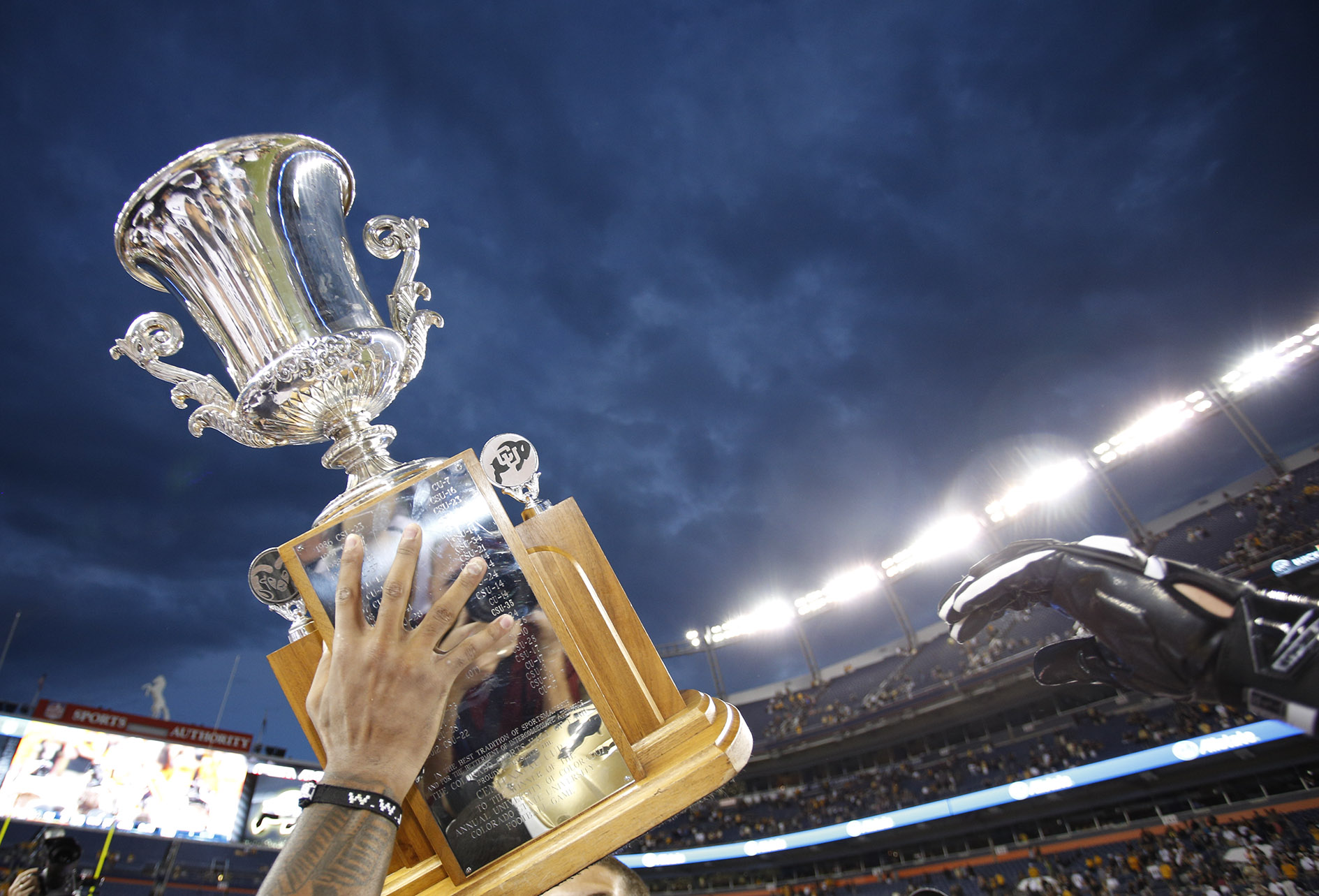 presented by Prestige Audi, is moving to 7 p.m. Friday, August 29, preceded by a festival of college football hoopla of tailgating, cheerleaders and marching bands. The all-Colorado football classic pits the University of Colorado Buffaloes against the Colorado State Rams under the lights of Sports Authority Field at Mile High. At stake? Bragging rights in the Centennial State.
New this year, the "Fan 4-pack" is available for just $99, and includes four tickets to the game, four sodas and four hot dogs. In addition, individual tickets start at $25, and can be purchased at RockyMountainShowdown.com.
The first "showdown" between the Colorado Buffaloes and the Colorado State Rams took place in February of 1893. Some 121 years later, the rivalry still runs deep.
The Showdown is just one part of what will be another amazing Labor Day Weekend in Denver, featuring free festivals, can't-miss museum exhibits and more.
THE LOWDOWN ON THE SHOWDOWN
Pre-Game Pep Rally at Taste of Colorado (August 29, noon)
Amp up the energy and start "game day" at a free Pep Rally at the Taste of Colorado on the Country Stage at Broadway and 14th Ave. at high noon. The Pep Rally will have both school bands, cheerleaders, dance teams and costumed mascots.
Everyone is encouraged to wear their school colors for the nationally recognized "College Colors Day" on August 29 and come ready to cheer for their favorite team. Fans can have their photo taken with cheerleaders, and with the team's costumed mascots, Chip and Cam, and then enjoy Taste of Colorado featuring some of Denver's top chefs dishing out their specialties, along with music, crafts, art and amusement rides. Tickets for the game will be on sale at the Pep Rally.
Pre-Game Tailgating Fun at a Mile High
August 29 is the day to sport your Green & Gold and Gold & Black for College Colors Day in Denver (and around the nation!). Before the big game, join fellow fans in the Sports Authority Field at Mile High parking lots for Colorado's most spirited tailgate parties.
• Colorado State University Tailgate Party: Join CAM the Ram, the CSU Marching Band and the Spirit Squad for a fun, public tailgating event to gear up for the big showdown. A food ticket costs $25 for members (Alumni Association, Ram Club and RAAA), $30 for non-members and $15 for children 12 and under. Register online by August 25.
• University of Colorado Tailgate Party: CU Buffs fans can party in Lot C (look for the giant, 20-foot inflatable buffalo "Alphie") at a public, family-friendly tailgate party prior to kick-off. The pregame event features music, entertainment, games, Ralphie, the marching band, Chip, cheerleaders and plenty of giveaways for CU fans. Food and beverages will be available for purchase.
The Game
After a coin toss officiated by Colorado Governor John Hickenlooper and school officials, kickoff is scheduled at 7:00 p.m. The Buffs won a closely contested game in 2013, 41-27, so it's a clear bet the Rams will be thinking revenge in 2014. Halftime is a spectacle too, with cheerleader dance routines, both teams' marching bands and much more. Denver Mayor Michael B. Hancock and game officials will deliver the coveted Centennial Cup to the winning team at the end of what is sure to be an epic Showdown. Buy your tickets now!
Experience Labor Day Weekend In Denver
The Showdown is just the beginning of a wild Labor Day weekend in Denver. Some other activities:
• Enjoy free bands and tasty bites from more than 50 restaurants at A Taste of Colorado in Civic Center Park. This fun - and free - festival has food trucks, amusement park rides, family friendly activities, and fireworks. Five stages provide continuous live music, including R&B superstars En Vogue, Joel and Luke Smallbone and KING & COUNTRY.
• Stroll through beautiful gardens enhanced with gigantic sculptures by the celebrated American artist Dale Chihuly at Denver Botanic Gardens presents Chihuly.
• Cheer on the home team with major league baseball on Labor Day when the Colorado Rockies take on the San Francisco Giants in downtown Denver's classic ballpark, Coors Field.
• Labor Day Weekend could be your last chance to go to the top of the continent this summer! Mount Evans Scenic Byway, just 47 miles west of Denver, climbs 14,264 feet above sea level for an awe-inspiring adventure. Weather conditions often make it necessary to close the byway after Labor Day...due to snow! Mount Evans is the highest paved auto road in North America.
• Hop on a Denver B-cycle (the city's huge bike sharing system with 850 bikes at 83 stations) and ride from brewery to brewery on the city's extensive bike trail network. Denver has 33 breweries in city limits and more than 100 in the metro area, giving it the title the "Napa Valley of Beer."
• Find out more things to do in Denver over the long weekend.
The 2014 Rocky Mountain Showdown is presented by Prestige Audi. Associate sponsors are 104.3 The Fan, KS 107.5 and CBS4. Supporting Sponsors include Westword and Century Link.