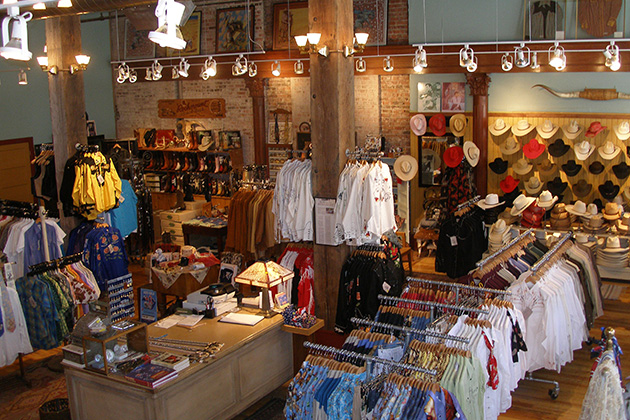 It was in 1946 in Denver, Colorado that Jack "Papa Jack" Weil decided the world needed a Western shirt. There were Western hats, jeans, boots and even cowboy belt buckles, but there was no shirt design that was singularly associated with the American West.
The West is not a place, it's a state of mind. - Papa Jack
For inspiration, Papa Jack considered the world of cattle ranching. If a cowboy caught his shirt on barbed wire, it might pull open and pop the buttons off. Riding the range was no place to stop and sew on buttons... so what if instead of traditional buttons, a Western shirt had snaps that would just pop open and easily be snapped back? Snaps were just coming into fashion on baby diapers, and Papa Jack convinced a manufacturer to create a new type of snap for his men's and women's shirts.
The rest quickly became history. Papa Jack created Rockmount Ranch Wear and soon everyone from Clark Gable and Cary Grant to Elvis and Ronald Reagan were sporting Western shirts with snaps.
I've always believed we were never selling just the cowboy - we sell the romance of the West. That's so much more... - Papa Jack
Papa Jack operated out of a historic storefront in downtown Denver, where he came to work every day until he passed away in 2008 at the grand old age of 107, the oldest working CEO in America. According to his grandson, Steve Weil, third generation and president of Rockmount, "we love that visionaries like what a small family business in Denver has been doing for three generations and help spread the word." He adds, "Bob Dylan and David Bowie are just some of the big names who stopped by to meet Papa Jack - and stock up on our shirts." Steve mentions that "Eric Clapton wears Rockmount on stage and, Robert Redford and Ang Lee use the shirts in movies."
Today, Rockmount is the oldest store in LoDo, Denver's hip historic district, where some 90 brewpubs and trendy restaurants occupy the neighboring old brick warehouses. While Rockmount shirts can be found in other Western wear stores and fine haberdasheries around the world, this is the flagship Rockmount store and museum. Every inch of the old store with its creaky hardwood floors and exposed brick walls is filled with shirts, cowboy hats, boots and other Western wear. A small museum in the store tells the history of Western shirts and is filled with examples of early styles, as well as photos of some of the celebrities who have worn them. A Rockmount shirt featured in the film Brokeback Mountain recently sold at auction for $115,000. You can buy a similar shirt for only $80.
Here's just a small sampling of celebrities who have worn Rockmount. You can spot a Rockmount shirt in films or at concerts by the distinctive diamond shaped snap buttons and a "V" cut in shirt pocket flaps. See more at rockmount.com.
Rock Stars

Elvis Presley
The King of Rock & Roll was an early Rockmount supporter - he wore a gingham version for a publicity photo in 1957. 
Paul McCartney
Beatles legend Paul McCartney is a big Rockmount fan. While performing on Saturday Night Live, he wore not just one ROCKMOUNT shirts but TWO!
Bob Dylan
Rock's most esteemed poet was awarded the "Medal of Freedom" by President Obama in May, 2012 - and he wore a Rockmount solid white Pima cotton shirt with black diamond snaps to the ceremony.
Eric Clapton
The famed guitarist began buying Rockmount shirts in London and wore one during his band Cream's triumphant reunion at the Royal Albert Hall. He even invited Papa Jack's grandson, Steve (and current Rockmount CEO) to the show!
Bruce Springsteen
"The Boss" wore a Rockmount shirt and bolo tie on the cover of Esquire magazine.
Movie Stars

Cary Grant
Cary Grant, one of the greatest Hollywood icons past or present, knew a classic when he saw it - he was photographed several times wearing Rockmount and wore them in the Misfits.
Heath Ledger & Jake Gyllenhaal
These two wore Rockmount shirts in their acclaimed, Oscar-winning film, Brokeback Mountain. The shirts had a pivotal role in the movie deserving their own award.
Matthew McConaughey
This heartthrob was photographed for a cover story in Cowboys & Indians magazine in several different Rockmount shirts.
Robert Redford
One of the biggest Hollywood stars of the past 50 years, Redford wore Rockmount while shooting his film, The Horse Whisperer - and he outfits his Sundance crew with Rockmount, too!
Ronald Reagan
This former U.S. president/matinee idol loved Rockmount shirts, and was photographed riding on his ranch in them on several occasions. 
For more information about Rockmount, or to order their shirts online, visit Rockmount.com. To learn more about Denver's rich Western heritage, go to visitdenver.com/metro/history.