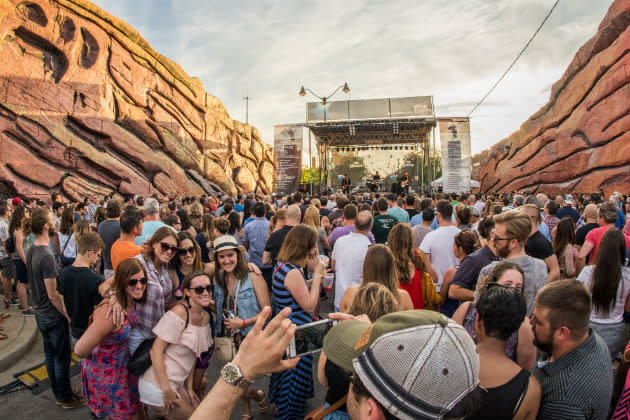 DENVER (July 8, 2016) - In late June, VISIT DENVER, The Convention & Visitors Bureau, hosted a first-of-its-kind client event in Chicago as part of a larger festival sponsorship. VISIT DENVER sponsored a music stage at the well-known Taste of Randolph Street festival in Chicago, and as part of that, created a massive scale replica of one of The Mile High City's top attractions - the legendary Red Rocks Amphitheatre.
Branded the "Denver Live on the Rocks Stage," two huge 76-foot-long by 30-foot-tall rock wings enthralled festival attendees all weekend long, especially during sets by several popular Denver bands, including DeVotchKa - best known for scoring the film, "Little Miss Sunshine" - and seven-piece funk band, The Motet. The structure and lineup were created with the intent to inspire visitation and convention business for Denver - and it worked. According to an on-site survey taken of festival-goers, more than 66 percent of people were more inspired to visit Denver after seeing the stage.
VISIT DENVER hosted an exclusive VIP area for convention clients that gave them a front row view of the Denver Live on the Rocks Stage. Far from the typical client event, the Denver VIP area was a more leisurely event that gave meeting professionals a relaxed environment to network with their peers and VISIT DENVER staff while they took in the festival and some sights and sounds of Denver.
"As part of our marketing efforts, we wanted to find a way to help Red Rocks celebrate its 75th anniversary and bring a taste of some of the great things Denver has to offer to our clients," says Richard Scharf, president and CEO of VISIT DENVER.
Chicago was chosen as the debut city for this replica because of its large concentration of corporate and association meeting business, as well as its appeal as a feeder market for leisure travel to Denver. Taste of Randolph Street festival, itself celebrating its 20th anniversary in 2016, hosted more than 76,000 people over three days - creating the opportunity for significant exposure to the Denver brand through the Denver Live on the Rocks Stage.
"The clients we hosted in our VIP area represented more than $200 million in business for our city," says Rachel Benedick, vice president of sales and services. "We heard from many of our guests that this was a unique way to bring the destination to planners in an innovative and relaxed environment."
Red Rocks Park & Amphitheatre is often named one of the best, if not the best, outdoor music venues in the world by outlets like Rolling Stone; it is the only naturally occurring, acoustically perfect amphitheater in the world. The replica was constructed by Denver-based EPS-Doublet of more than 150 foam blocks hand-carved and hand-painted to resemble the Red Rocks monoliths. It took several months to create; three semi-trucks to ship; and 11 hours to assemble on-site.
VISIT DENVER created a short video highlighting the experience, there are also photos of the event.