These seasonal craft beers are sure to put you in the winter spirit. Perhaps inspired by the majestic, snowcapped Rocky Mountains, Colorado brewers excel at winter beers, from ales to stouts. So, visit a few Denver breweries this winter to warm up with friends and sample some great seasonal beers.
1. Hibernation Ale — Great Divide Brewing Co.
Hibernation Ale has been a celebrated winter tradition since 1995. This robust, dry-hopped ale has a malty richness balanced with a complex hop profile and hearty, warming character. Stop into Great Divide's downtown tasting room or RiNo Barrel Bar and get cozy with this brew.
2. Christmas Ale — Breckenridge Brewery
Breck Brewery's Christmas Ale boasts a winning winter combo of flavor and strength. At more than seven percent alcohol, with a sturdy texture and rich flavors of caramel and chocolate, this holiday seasonal is the fermented equivalent of a good fire.
3. Cowtown Milk Stout — Wynkoop Brewing Co.
An "udderly" excellent brew from the wizards at Wynkoop, this creamy, semi-sweet nitro stout is a dark beauty with tasty flavors of chocolate, coffee and a pleasing sweetness thanks to the addition of lactose (aka milk sugar).
4. Graham Cracker Porter — Denver Beer Co.
The brewmaistes at Denver Beer Co. describe this brew as a "campfire in a glass." The seductive notes of vanilla, smoked cedar and mulling spices make it perfect for a chilly winter evening. With the taste of lush chocolate and a semi-dry finish of roasted malt and biscuit, you'll soon discover why the Graham Cracker Porter is one of Denver's favorites.
5. Winter Warmer — Our Mutual Friend Brewing Company
Head to this very friendly brewery in the RiNo district for a 10 percent ABV Old Ale with notes of fruit, dark chocolate, toffee and blackcurrant. It'll warm you up in no time.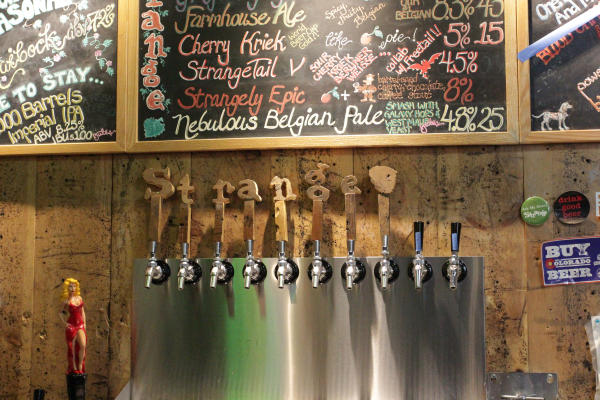 6. Blue Ski Lager — Epic Brewing
Like a perfect bluebird snow day in a glass, this refreshing Colorado Rockies lager with a German Pilsner malt backbone from Epic Brewing is a winter must-drink. The subtle malt flavor is balanced with spicy, herbal noble hops and finishes crisp and clean.
7. Ten Fidy Imperial Stout — Oskar Blues Brewery
A powerful imperial Stout from Longmont's beloved Oskar Blues Brewery, the brewers call this the "ultimate celebration of dark malts and boundary-stretching beer." And we can't say we disagree.
8. Fade to Black Ale — Left Hand Brewing Company
The brewers at Left Hand create a new version of their Fade to Black rye ale every year, so expect creativity and surprises. This year's concoction includes spicy rye notes along with licorice and molasses flavors.
9. Isolation Ale — Odell Brewing Company
This sweet caramel ale from Fort Collins is balanced by a crisp hop finish, making it an excellent choice for those chilly winter nights.
10. Frambozen Raspberry Brown Ale — New Belgium Brewing Company
Who says fruit beers are only for summer? New Belgium's winter brown ale gets a boost from the addition of tart raspberries.
11. Old Jubilation Ale — Avery Brewing Company
This winter strong ale from Avery Brewing has a distinctive mahogany hue with hints of hazelnuts and a finish reminiscent of mocha and toffee. It's the perfect blend of five specialty malts and a great sip during the holiday season.
12. Christmas Ale — Upslope Brewing Company
Don't miss this spiced, Belgian-style Dubbel from Boulder's Upslope! Its ruby red color will give your Christmas tree ornaments a run for their money, and its rich malt flavor will send you back to the bar asking for more.
13. Ugly Sweater Brown Ale — Wit's End Brewing Company
A tribute to everyone's favorite holiday fashion statement, this eccentric take on an English brown ale includes roasted pumpkin seeds and palm sugar.
14. Radiator Winter Warmer — Renegade Brewing Company
Aromas of brown sugar and dark cherries waft from this rich and malty winter warmer from Renegade Brewing, followed by flavors of orange, cinnamon and nutmeg.
15. Snowed In Imperial Oatmeal Stout — Copper Kettle Brewing Co.
At 11.5 percent ABV, this bourbon barrel-aged imperial oatmeal stout is the perfect warm-up for a snow day. A hint of roasted Pablo's Coffee will wake you up for winter fun.
16. Gingerbread Man American Brown Ale — Strange Craft Beer Company
There's no need to wait for the holidays to get your gingerbread on! Strange Craft taps this sweet winter seasonal American brown ale in November.