With Denver Arts Week just around the corner (Nov. 3–11, 2017), now is the perfect time to get to know some of The Mile High City's resident artists and the neighborhoods they call home.


MICHAEL RIEGER — TENNYSON
Colorado native Michael Rieger has been capturing history with his camera for more than two decades, including over 15 years working with the Federal Emergency Management Agency (FEMA) to document disasters such as Hurricane Katrina, Colorado wildfires and the aftermath of the 9-11 attacks, as well as national events such as the 2002 Winter Olympics in Salt Lake City and the 2008 Democratic National Convention right here in Denver. Michael is also a photography teacher and a community arts activist, helping bring arts education to public schools.
See history on display through Michael's photographs at Lapis Gallery at 3971 Tennyson Street during the First Friday Art Walk on November 3, 2017, 6–10 pm. See more of his work at michaelrieger.com.


NICOLE BANOWETZ — 40 WEST ARTS DISTRICT
We guarantee you've never seen anything like Nicole Banowetz's giant inflatable sewn sculptures before. A member of Pirate Contemporary Art cooperative (which recently relocated from Denver to Lakewood's 40 West Arts District), Nicole's artwork addresses vulnerability and struggle, but her whimsical pieces also spark awe in children; she is in the permanent collection of the Denver Children's Museum and the Denver Zoo, as well as the Kids Awesome Museum in Taipei, Taiwan.
Nicole's next show at Pirate Contemporary Art at 7130 W 16th Avenue in Lakewood is November 24–December 10, 2017. Find out more about her art at nicolebanowetz.com.


TOMMY WHITE — ART DISTRICT ON SANTA FE
Tommy White's abstract paintings are all about the relationship between environment, psyche and balance. His frequent use of black-and-white elements against colorful backgrounds creates a collage-like effect that feels alive with physical activity and animation. This Detroit-born artist has exhibited across the globe from Alabama to Australia, and now makes his home in Denver.
View some of Tommy's paintings at Mai Wyn Fine Art at 744 Santa Fe Drive, open Thursday through Saturday, 11 am–5 pm; Sundays, 12–4 pm; and by appointment by calling (303) 893-4182. His website is tommywhiteartist.com.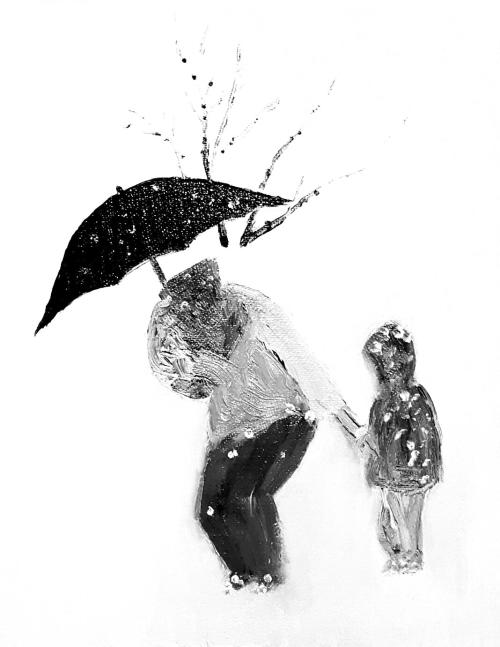 CALVIN LEE — RIVER NORTH ARTS DISTRICT
Calvin Lee brushed Chinese calligraphy solely for personal use and gifts until a gallery owner saw his work and suggested that Calvin try his hand at painting mountains. Calvin, having climbed mountains in Colorado, Washington, Nepal, Peru, Ecuador, Japan and Mongolia, painted stunning images of spirit, struggle and pilgrimage in ink, watercolor and oil. Now, Calvin paints landscapes, portraits, figures and — most urgent for our times — social and political commentary.  
Calvin's studio at 3040 Blake Street will be open for First Friday on November 3, 6–9 pm, and by appointment during Denver Arts Week by calling (970) 618-9184. Visit his website at calvinleeartist.com.


JULIETTE HEMINGWAY — FIVE POINTS
Given the neighborhood's history as one of America's premier jazz hubs, it's perhaps not surprising that Five Points artist Juliette Hemingway's art features themes of music and jazz musicians. Another unique aspect of her paintings: nearly all the people featured (and even some animals) are blue. This, she recently revealed, is a tribute to her son, Javari, who is autistic. "Blue is symbolically the color of autism, and it represents that part of my life," says Juliette. "Autism is part of my world, so therefore it is a part of my art." Her exhibit Spectrum: Art, Autism & Music was recently on display at the American Jazz Museum in Kansas City, Missouri.
Find out more about Juliette's work and meet some of her "blue people" at hemingwaystudios.com.