The polished and trendy Lower Downtown neighborhood you see in Denver today is almost unrecognizable from how it looked in the 1980s when LoDo was mainly a boarded-up hideout for the down and out. Today, it's a thriving, always-lively neighborhood where historic buildings have been reclaimed and revived with restaurants, brewpubs, cocktail bars and boutiques. 
The last holdouts to LoDo's transformation have been the area's alleyways — but even those are changing now, too.
A trend in urban planning called "activated alleyways" has been welcomed in Denver, turning what were unremarkable passageways between buildings into highly anticipated destinations. Under the concept, alleyways actually become gathering places, as seen in cities like Barcelona where they are filled with restaurants, patio seating, lighting, murals, storefronts and even art installations.
Here's where to see Denver's renewed and revolutionized alleys:
The Alley at the Dairy Block 
Denver's first fully activated alleyway is part of the ultra-cool Dairy Block, a "micro-district" located in LoDo. Here you'll find a partially covered passageway running from 18th to 19th streets between Blake and Wazee. The alley is closed to traffic and features the following for visitors to explore:
– Access to the Milk Market, a gourmet food hall featuring about a dozen concept restaurants by revered local chef Frank Bonanno. From a house-made pasta bar to a tuna poke stand — with a single bar in the heart of it for tasty bevies — there are delights for every palate.
– Access to the Maven Hotel, a hip and creative boutique hotel that extends above the alley on the second floor, providing year-round coverage from rain and snow.  
– "Musical Churns," an art installation by Nikki Pike. A series of bronze-cast butter churns (in honor of the Windsor Farms Dairy that occupied the site in the 1920s) are embedded in the walls all along the alley. When you turn their cranks, music plays and LED lights flicker in time with compositions by Colorado Symphony musicians. 
– More public art installations include the giant neon "HERE" sign at the north end; a "Promenade" of interactive, lighted floor panels; a poetry wall; murals and more.
– Patios for the Maven Hotel's Poka Lola Social Club bar and Milk Market establishments that share a common consumption liquor license, allowing you to sip your beverage as you explore the alley. 
– Planters, wall lighting and strings of lights overhead liven and illuminate the space.
Art-ified Alleys
Look up! If you do so in the alley between 14th and 15th streets between Larimer and Market, you'll notice cats — lots of them — lounging on windows and streetlamps. They're not real. These hand-forged felines are part of a project called Between Us: The Downtown Denver Alleyways Project, which uses art to revitalize LoDo's alleys. The program is sponsored by the Downtown Denver Partnership and Downtown Denver Business Improvement District. Here are the five alleys included in the project: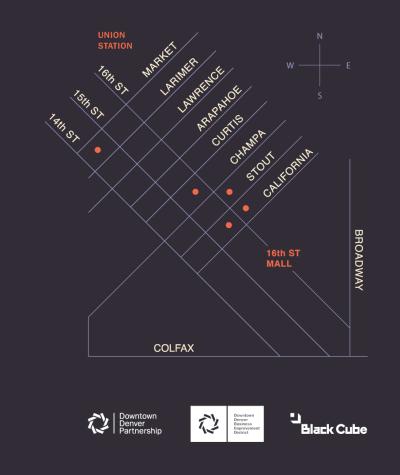 – "Alley Freshener" by Carlos Frésquez looks like a stack of giant air fresheners — the tree-shaped ones you find dangling from rearview mirrors in cars — but super-sized. It's just off 16th Street between Stout and California.
– "Alley Cats" by Kelly Monico is a collection of about 300 cats poised on window sills, gutters, rooftops and streetlights between 14th and 15th streets off Larimer.
– "I should be crying but I can't let it go" by Stuart Semple looks like a giant smiley face stress ball squeezed between the two walls near 16th Street between Champa and Stout.
– "Y/OURS" by Joel Swanson is a neon sign suspended horizontally above the alley between Curtis and Champa near 16th Street, spelling the word "YOURS." The letter "Y" blinks on and off every two seconds. 
– "Public Body" by Frankie Toan is found between Stout and California off 16th Street and is made up of bright shapes, dialogue bubbles and mouths mounted on the alley walls.
More Alley Art in Denver
– Murals in the Art District on Santa Fe
The Art District on Santa Fe is a designated Colorado Creative District, with the largest concentration of art galleries in Colorado — more than 30 of them. Its alleys are also splashed in color by top street artists.
– Street Art in the River North Art District (RiNo)
This district's creative expression extends well beyond its galleries' walls, with colorful and innovative street art around nearly every corner and an influential annual mural event called the Colorado Crush Street Art Festival in September.