In Denver, art isn't limited to museum galleries and hotel lobbies. Wander around town—particularly in the River North Art District—and you'll discover a vibrant street art scene. All over the city, alleyways, restaurant façades, and even crosswalks are decked out in colors and designs that will compel you to pause and enjoy.
Two of the most prolific local street artists are Jaime Molina and Pedro Barrios, who work together under "The Worst Crew" moniker.
Barrios, who hails from Venezuela and Miami, brings bright, coastal colors and geometric patterns to the pair's art, while Molina focuses on the characters (his New Mexico roots also come through in his folksy style). Their works are bold and unexpected, transforming brick walls and drab offices into striking canvases. "Both of us have a strong sense of that duality—being from two different places," Molina says. "It makes the narrative [of our art] more interesting."
The duo completed its first project together in 2013: a funky, now-removed design commissioned by Fort Collins' New Belgium Brewing Company. After that, they were hooked. "We both fell in love with the process and how fun it was," Molina says. "It made me realize how special public art is and how many people it reaches." Since then, the Worst Crew has completed more than two dozen other murals, from the chicken-laden exterior of Birdcall restaurant to an office-brightening design at co-working space Industry RiNo Station to a dazzling backdrop for a Baker bar.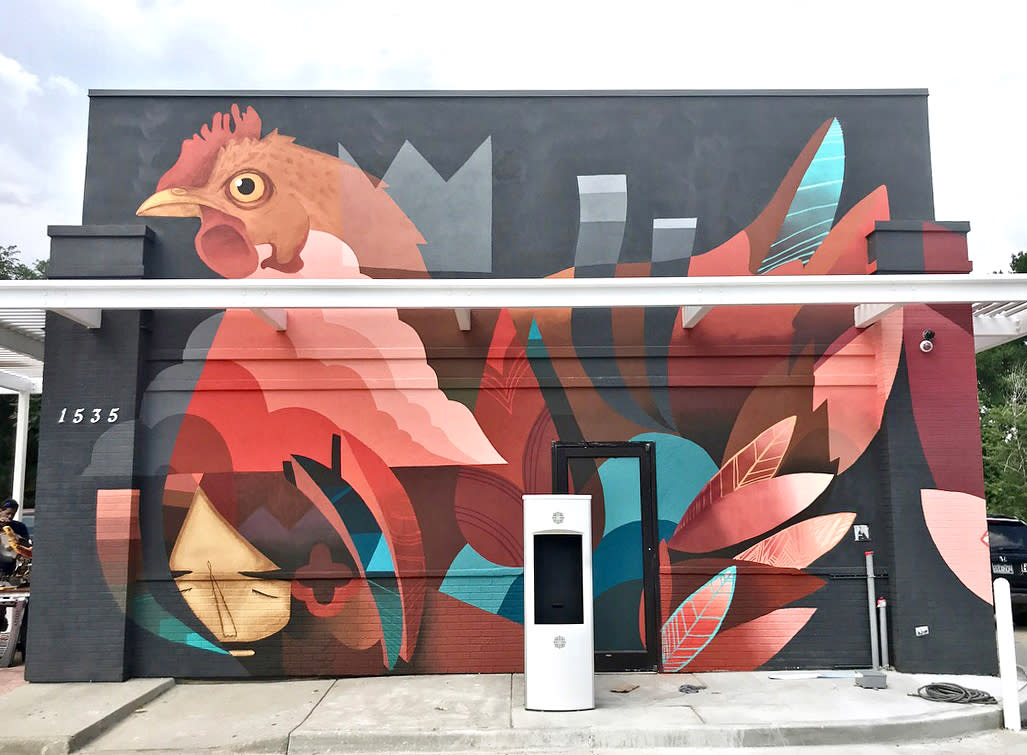 Each piece begins with a visit to the site for a brainstorming session. They take a photo of the wall and draw on it until they have a solid concept. Then they either transfer the design to the wall with chalk or work completely free-hand. They settle on a color palette but paint the hues as they go. "It's not paint-by-number," Molina says.
No two designs are the same—Molina and Barrios want each piece to tell a story about its location—but there's no need for the pair to sign their work. The combination of figurative work, abstract patterns, and arresting colors are telltale Molina and Barrios. Many pieces also include a version of Cutty, a bearded, spiritual man Molina dreamed up years ago. He never intended for Cutty to become a trademark, but Molina thinks having a face or other human element in the murals helps viewers connect with them.
Projects can take a couple of days or a few weeks. Working primarily outside means they're at the mercy of their surroundings. From rainstorms to people stopping to chat to a truck damaging their lift by driving into it, challenges are part of the process. "That's also the fun part," Molina says. "It's like real life instead of imaginary life in your studio."
While Molina and Barrios both to continue to produce work independently—sculptures, paintings, prints and more—Molina finds something special in the process of producing public art.
"We create something that can take on its own life," he says. "Once it's up, everyone else owns it. It's a landmark for the neighborhood." It's also a pleasant surprise for locals and tourists alike, as they round corners or cut through an alley and stumble upon these bright spots. "It's vibrant and interesting, and it makes an impression on you. You connect to the cultural side of [the city]," Molina says. "It makes where you live a little more interesting."
Keep an eye out for the duo's next big project: turning cement mixers and holding tanks into interactive sculptures, lights included, for the forthcoming RiNo Park.