Denver and its surrounding cities and towns have a rich aviation heritage, from some of the earliest experiments in flight to manned space travel. Whether you simply want to learn more about Colorado's aerospace history or take to the skies yourself, this aviation tour has something for every aficionado.
Learn
Denver's Lowry neighborhood was home to Lowry Air Force Base from the late 1930s to 1994. Now, that former base is home to Wings Over the Rockies Air & Space Museum, which gives visitors a chance to explore Colorado's aviation history. The museum features more than 50 aircraft: WWI fighter planes, WWII bombers and even a replica of the Star Wars X-Wing Starfighter (complete with working R2D2). Explore exhibits on the Colorado Air National Guard and Colorado's many astronauts or try your hand at flying in one of the interactive flight simulators.
While the Air & Space Museum focuses on aviation's past, the recently opened Wings Over the Rockies Exploration of Flight in Englewood is all about the latest aerospace innovations. Located at Centennial Airport — one of the nation's busiest general aviation airports — Exploration of Flight's Boeing Blue Sky Aviation Gallery is an interactive aviation center with two levels. The first floor has a tumbling gyro chair, wind tunnel, virtual reality experiences and a pilot-quality flight simulator, while the second floor offers visitors a behind-the-scenes look at a working airport. You can even listen in on air traffic chatter from Centennial Tower!
History buffs will want to visit the Spirit of Flight Center in Erie, which boasts hundreds of rare aviation artifacts from WWI, WWII and the Cold War. Some of the aircraft on display include a prototype Cessna L-19 Bird Dog, a German Messerschmitt Bf-109 and the only surviving Mercury BT-120 Staggerwing. Or head northeast to the Vintage Aero Flying Museum in Fort Lupton, where you'll find vintage biplanes from the early 1900s, including a brightly painted 1918 Fokker DVII. (Call 303-668-8044 to make an appointment.)
PLAY
Two remnants of Denver's aviation past have recently been transformed into destinations for shopping, drinking, dining and entertainment.
Stanley Marketplace in Aurora occupies the former Stanley Aviation Corp. The factory, which was founded by American test pilot and aeronautical engineer Robert M. Stanley, manufactured airplane ejection seats and was the largest employer in Aurora at one time. Now, the 140,000-square-foot community market houses more than 50 local businesses, including restaurants, bars, retail shops, fitness studios, salons, co-working space, a beer hall and an events space aptly named The Hangar. The Aurora History Museum has an exhibit dedicated to Robert Stanley.
Nearby, Hangar 2 in Lowry is a collection of locally-owned restaurants and shops situated in and around a historic Air Force hangar. In keeping with the aviation theme, Officers Club — an homage to the history of Lowry Airforce Base modeled after a mid-century officers' club — serves up classic American fare and not one but ten different versions of the Old Fashioned cocktail. 
SOAR
Of course, nothing can take the place of actually taking flight. Luckily, the Denver area offers locals and visitors plenty of opportunities to fly!
Always wanted to try skydiving but not quite ready to jump out of a plane? Visit iFLY Denver in Lone Tree and ride the wind in an indoor skydiving tunnel. Soar over the iconic Flatirons with a view of the University of Colorado in a sailplane with Mile High Gliding in Boulder. Or channel your inner Wizard of Oz as you float above the Front Range in a hot air balloon piloted by Fair Winds Hot Air Balloon Flights & Rides in Lafayette.
HAVE A DRINK
Two friends since college — who happened to be beer enthusiasts, small airplane pilots and engineers — launched FlyteCo Brewing in the Berkeley neighborhood. This aviation-themed establishment celebrates adventure without limits. Finish off your day by taking a seat inside the aircraft fuselage and having a cold one. FlyteCo also opened an outpost in the Central Park neighborhood called FlyteCo Tower, a brewpub located in a former air traffic control tower. The 20,000-square-foot space includes six bowling lanes, 18 holes of mini golf, full arcade, and family-friendly lawn games.
---
WINGS OVER THE ROCKIES' 'BEHIND THE WINGS' VIDEO SERIES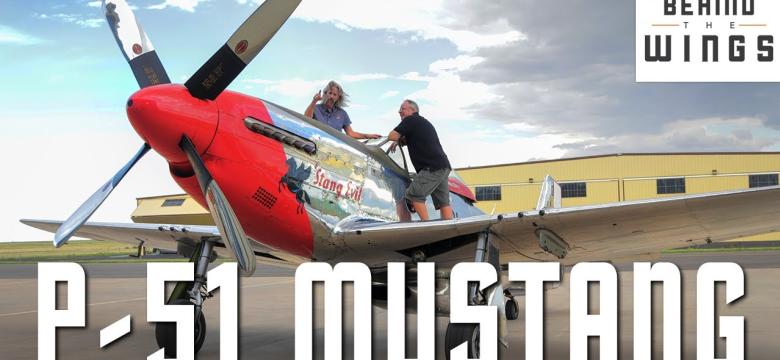 Join host Matthew Burchette as he crawls around the youngest surviving D model P-51 Mustang in the world and goes flying over Colorado's eastern plains.