Opening Day in early April is an annual rite of spring in Denver, as throngs of baseball fans flock downtown to mark the end of another winter in The Mile High City. 
The Big Show
The Colorado Rockies play their home games from spring to fall at Coors Field in Denver's Lower Downtown (LoDo) neighborhood.
As Denver's Major League Baseball team, the Rockies are always one of the top draws in terms of attendance, in no small part due to Coors Field.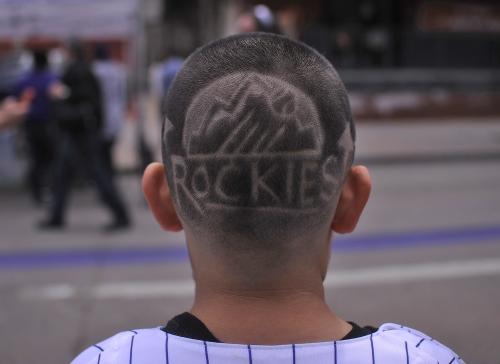 Opened in 1995, the park is a throwback that looks the part of an old-school baseball palace, with modern perks, expansive views of the city and the mountains, with capacity for more than 50,000 fans. The park's amenities include the SandLot Brewery, serving beer made on the premises and food; and The Rooftop, featuring restaurants, bars and cabanas above right field.
Public tours of Coors Field are conducted year-round and last roughly 80 minutes. 
The Rockies have been on the rise behind the glove and bat of standout third baseman Nolan Arenado, and played in the postseason in both 2017 and 2018 after making it an additional three times in the previous 24 seasons of the team's existence.
Ballpark Hangouts
LoDo is home to dozens of restaurants and bars within striking distance of Coors Field, serving beer, wine, hot dogs, steak, and everything in between.
Tom's Watch Bar with lots of big screens at McGregor Square is one of the newest hangouts for sports fans.
In Denver Union Station — the railroad depot turned community hub — you'll find Mercantile Dining & Provision, ND streetBAR, Stoic & Genuine (serving fresh oysters from both coasts), the Terminal Bar and other dining and drinking destinations. The complex is also home to The Crawford Hotel and the city's transit hub for those getting to Rockies games via bus or light rail.
Founded by former Denver Mayor and Colorado Gov. John Hickenlooper, Wynkoop Brewing Company is a landmark pre- and post-game destination for a pint of craft brew and a hearty meal. 
Another nearby classic, the Cruise Room is a dimly lit bar off the lobby of the Oxford Hotel, its walls clad in panels toasting patrons in different languages, inspired by the Queen Mary cruise liner.
For watching the Rockies and other teams on TV, there are numerous sports bars near Coors Field, including Jackson's LODO, the Sports Column and Hayter's & Co.
The newly redeveloped Dairy Block features The Maven hotel and several bars and restaurants, including Denver Milk Market, Kachina Cantina and a cocktail lounge in Poka Lola Social Club. Be sure to check out the alleys, activated with public art and other surprises.
And for a wiener made of reindeer, buffalo, and even perhaps pheasant and rattlesnake, look no further than Biker Jim's Gourmet Dogs. Toppings are similarly eclectic (think blue cheese, green chile salsa and red onion marmalade) and the bar serves beer, wine and cocktails.
Baseball Legacy
A gem, just a block from Coors Field, is the National Ballpark Museum, which showcases the 14 classic ballparks built between 1909 and 1925, including Ebbets Field in Brooklyn, Shibe Park in Philadelphia and Tiger Stadium in Detroit.
The collection features authentic turnstiles, bases, bricks usher uniforms, pennants and souvenirs, and programs from these vintage venues, only two of which (Fenway Park in Boston and Chicago's Wrigley Field) are still standing as Major League venues today.
Of special note: a vintage Cubs on-deck circle from Wrigley Field and Babe Ruth's 1932 tax form. (He made $76,802.94 In wages, salaries and tips that year.)
The museum also has an exhibit dedicated to the local minor league Denver Bears (later the Denver Zephyrs), who played at three home fields: Bears Stadium, the venue that became Mile High Stadium west of downtown; Broadway Park (a.k.a Athletic Park) at Broadway and 7th Avenue; Merchants Park at Broadway and Dakota Avenue.
The all-black White Elephants also played semi-professional baseball at Broadway Park from the 1910s to the 1930s.
College Ball
There's plenty of baseball beyond the Rockies. Metropolitan State University of Denver, Colorado School of Mines, Colorado Christian University and Regis University all have NCAA Division II teams in metro Denver.
The Metro State Roadrunners play at the Regency Athletic Complex on the south side of downtown Denver, the Colorado School of Mines Orediggers make their home at Jim Darden Field in Golden, the CCU Cougars play home games at All Star Park in Lakewood, and the Regis Rangers play at Regis Baseball Field in northwest Denver.