It's no secret that Colorado's beer industry is booming. There are around 360 breweries operating within the state, meaning you could hit one every day and it would still take nearly a year to visit them all. (What a year that would be!)
But the Centennial State's obsession with suds is hardly new. In fact, the rise (and fall, and rise again) of beer culture has paralleled the rise of Colorado itself, as explored in History Colorado Center's new exhibition, Beer Here! Brewing the New West.
The exhibition, which features more than 160 artifacts from Colorado's brewing history, is the brainchild of beer lover and public historian for History Colorado, Sam Bock (yes, even his last name is a type of beer). Bock started researching the history of beer in Colorado for a graduate school project at the University of Colorado Boulder five years ago. After joining the staff at History Colorado, he continued his research, collaborating with the Colorado Brewers Guild and local breweries to turn it into a full-fledged exhibition.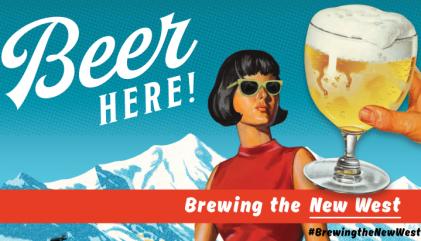 "We realized that when it comes to history, you can tell people what you think they need to know, or you can approach them through something they already love — like beer," Bock says. "You can see what's going on at a human level by looking at who's making and enjoying beer and what that beer tastes like. It's another lens to look at our history."
Beer Here! chronicles the history of brewing in Colorado in five sections: "Beer on the Mining Frontier," "Brewing an Industry," "Prohibition," "Coors Country" and "The Rise of Craft."
'Beer on the Mining Frontier'
Colorado's love affair with beer technically began before the state even existed. Prospectors first discovered gold in Colorado in the 1850s, and by 1859, the area was flooded with miners looking to cash in. Among this group were German immigrants who brought with them traditional beer-brewing techniques.
Saloons sprang up in mining towns, where they served not only as places to drink, but also as hotels, churches, post offices, banks, union halls and social clubs, meaning most town business took place over a few beers. The first section of the exhibition, titled "Beer on the Mining Frontier," includes some early saloon staples, such as a scale that saloon owners used to weigh pinches of gold dust in exchange for a pint of beer and an imposing saloon Bible from Leadville. The saloon owner forced patrons who broke his "no swearing" rule to read aloud from it — imagine that happening at your local watering hole!
'Brewing an Industry'
Colorado received statehood in 1876 and quickly became the industrial hub of the region due to its rich fossil fuel reserves. The "Brewing an Industry" section of Beer Here! illustrates how industrialization also powered the new state's fledgling beer industry, allowing for the brewing, bottling and transport of beer on an unprecedented scale. Artifacts from this formative time in Colorado's history include the original Adolph Coors Company trademark registration paperwork from 1891; Coors' hand-drawn sketch of his first beer label; and some of the earliest beer bottles from Coors, Tivoli, and the now-defunct Ph. Zang and Neef Brothers brewing companies.
'Prohibition'
By 1910 there were more than 400 saloons in Denver. The average American was drinking more than ever before — or since. Politicians, religious leaders and temperance organizations blamed alcohol for a rise in crime, poverty, labor unrest and domestic violence. Coloradans were so concerned about the effects of "King Alcohol" that the state went dry in 1916, four years ahead of the rest of the country.
In the "Prohibition" hall, you'll learn about the women who led the charge for temperance and how Prohibition inadvertently led to the rise of the Ku Klux Klan and the Colorado mafia. Check out a massive wooden bottle smasher used by agents from the Colorado Department of Safety during raids on illegal alcohol makers and sellers, along with a service revolver and badge that belonged to one of the Colorado Rangers, a police unit recruited from WWI veterans to stamp out bootlegging. There's also an antique bottle capper that Prohibition-era homebrewers used to seal their illegally brewed beer — but more on that later.
'COORS COUNTRY'
Prohibition ended in 1933. Unfortunately, only a handful of Colorado breweries re-opened after the 17-year ban. But one brewery that did survive would go on to help shape America's view of Colorado and the entire Rocky Mountain region: Coors Brewing Company. Coors had such a significant impact on both the brewing industry and on Colorado that Beer Here! devotes an entire segment to exploring "Coors Country."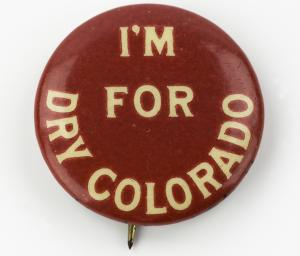 In addition to supplying jobs (a boon to the local economy with the Great Depression in full swing), Coors' post-Prohibition advertising painted the West as an outdoor playground, drawing tourists to the area for skiing, hiking and other outdoor recreation. It also tied Coors beer to images of rough-and-tumble cowboys, cementing Colorado's reputation as the state to visit to experience a piece of the Wild West. Visitors can see for themselves by taking a seat on the vintage sofa and watching a reel of Coors TV commercials from the 1950s to the 2000s. Coors also made its mark on the brewing industry by pioneering the first aluminum beer cans in the nation, some of which are on display here.
'THE RISE OF CRAFT'
Coors' Golden headquarters is now the world's largest single-site brewing operation. But that doesn't mean it has a monopoly on Colorado beer culture! As you leave "Coors Country," you'll be transported into an unlikely locale to learn about "The Rise of Craft": the kitchen of legendary Colorado homebrewer Charlie Papazian. Even after Prohibition, it was still illegal to brew your own beer at home. But that changed in 1978 when President Jimmy Carter signed a bill allowing "any adult to produce wine and beer for personal and family use." That same year, Papazian — who had already been teaching illicit homebrewing classes in Boulder since the early 1970s — launched the American Homebrewing Association. Check out Papazian's brew kettle, follow along with his step-by-step instructions for the perfect homebrew batch, and read a flyer for the very first Great American Beer Festival®, which Papazian and his colleagues at the AHA started in 1982.
Homebrewing exploded as a hobby, but many homebrewers were soon ready to take the next step: opening their own breweries. In this hall, you'll meet the founders of Boulder Beer Company, Colorado's first craft brewery, which opened in 1979, and Denver's Wynkoop Brewing Company, the state's first brewpub. Spot a familiar face in the photo on the wall? That's former Colorado Gov. John Hickenlooper, one of Wynkoop's four co-founders (and his dog Holiday). Over the next few decades, hundreds of new craft breweries opened across the state, with the current total hovering around 360. Almost all of these are represented in the exhibition's finale, which the curators jokingly refer to as "Pints Peak" — a mountainous display of pint glasses from Colorado breweries.
RAISE A GLASS
Of course, no exhibition about Colorado beer would be complete without the opportunity to taste a few local brews. After you've walked through Beer Here! gallery, head downstairs to Café Rendezvous and order a flight of four Colorado beers, each of which represents a different time period in the state's brewing history. Flights come with tasting notes and additional historical information about the beers and are not included with the price of museum admission. Must be 21+ to drink.
VISITOR INFORMATION
Beer Here! Brewing the New West is included with the price of admission to History Colorado Center and runs through August 9, 2020. The exhibition is sponsored by Ball Corporation and Coors Brewing Company. Hours: 10 a.m.–5 p.m.
Images courtesy History Colorado Center.