Back in the early 1860s, Denver was a dusty and desolate place. The South Platte River flowed through the heart of the then-boomtown, but there just wasn't enough water in the right places.
The Capitol Hydraulic Company tried to build a ditch that started near modern-day Bowles Avenue in Littleton, but it failed because the route was too flat. Unfortunately, the company had dug a 4-by-6-foot trench a full three miles by the time the project was abandoned.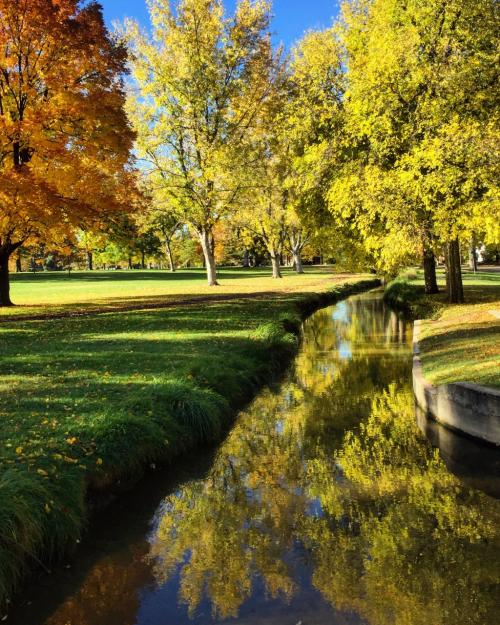 In 1864, the company tried again starting further upriver near Waterton Canyon at a point that's now under Chatfield Reservoir using massive, cattle-powered machines. This time, it worked, and water started flowing in City Ditch (a.k.a. Smith's Ditch or Smith's Irrigation Ditch) in 1867.
More than 150 years later, it continues to flow as the ditch is considered the "oldest working thing" in Denver city limits. It predates the city's paved streets, railroads and pretty much everything else.
Relying on a mere 100-foot elevation drop, City Ditch required no pumps to carry water about 27 miles from the South Platte at Chatfield Reservoir through Littleton and Englewood to Capitol Hill in Denver. It greened up spots all over the city, providing a source of water for numerous offshoot ditches that supplied rows of street trees, cropland, and Washington and City parks.
Most of it is now buried and piped, except for an open section in Washington Park spanned by a series of footbridges. According to historians, the park was a treeless plain before the ditch, but — thanks to City Ditch — it's now one of the leafiest spots in the city. The open section of the ditch here earned a spot on the National Register of Historic Places in 1976.
Much has changed over the years. City Ditch was severed at Interstate 25 in 2002 as part of the T-REX highway expansion project. In 2004, Denver Water began delivering recycled water from its recycling plant to the ditch at South High School, just south of Washington Park. The south segment from Chatfield Reservoir to Harvard Gulch Park is operated by the City of Englewood and continues to divert water from the South Platte River.
In Denver, the ditch is still used to fill lakes in Washington Park and City Park and serve as a source of irrigation for the parks. Denver Water acquired the ditch in 1918 and continues to operate it today.
A monument on the northeast side of Washington Park honors ditch builder (and namesake) John W. Smith and the workers who dug City Ditch by hand. It is near the shore of Smith Lake, which filled in May 1867 and is the oldest manmade body of water in Denver.
Photos by Rich Grant