Cleo Parker Robinson is the namesake of a rather iconic converted church on the corner of Park Avenue West and North Washington Street. It harbors many stories in its ageless hallways, from the ever-changing Five Points neighborhood that it borders to a great many dancers who have pirouetted under the raised ceiling. But there's more to the story than that.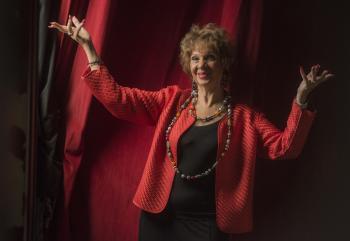 Cleo Parker Robinson is a Denver institution. Through her dance company, Cleo Parker Robinson Dance (CPRD), she has charted an undeniable path for Black art in Denver to shine on a pedestal and enabled the company to reach new heights on a global scale based on inclusion and excellence.
The first thing you learn about Robinson is that there's no such thing as a stranger—she treats newcomers like old friends. She acts as if you're picking up where you've left off, even if it's a first interaction. Perhaps it's because Denver has always been home for Robinson and the location of her dance academy since 1970.
Born in Denver on July 17, 1948, Robinson's father may have been the first African American actor in the city, and her mother, a white woman, was a prodigious child, one who'd played the French horn in the San Diego Symphony. A biracial family in a time of deep segregation, growing up for Robinson was nothing to shirk at.
At the age of 10, Robinson suffered a medical emergency—kidney failure, and due to segregation, a hospital turned her away. The untimely delay in care allowed her condition to deteriorate into a full-blown heart attack. Robinson eventually recovered, proving many a doctor wrong along the way. Meanwhile, dance entered her life and allowed her to deal with the complicated emotions around her identity in the world—the anger and anxiety surrounding the racial status quo.
Despite the health scare and the trepidation around it, Robinson began teaching dance at the University of Colorado Denver as a high school student. After graduation, she continued her dance studies at the Colorado Women's College. In the late 60's, she traveled to New York City to study under dancer and choreographer Arthur Mitchell, who was the first African American member of the New York City Ballet. Inspired by what she'd learned in New York, she returned to Colorado with the hopes of opening her own studio and cultivating the local dance scene.
Fast-forward to the present and CPRD has produced scores of accomplished dancers and have invited just as many from across the world to learn here in The Mile High City. Not only that, but Robinson and her dancers have traveled the globe to share the gospel of what they've built, bringing credibility and the illustrious culture of the Harlem of the West—as Five Points was once known due to the jazz greats who played there—to international destinations. During the holiday season for the past three decades, the dance company has been presenting a special multicultural celebration called "Granny Dances to a Holiday Drum." It blends dance, live music, the spoken word and customs from around the world.
Her mission has been recognized and applauded as she's received the Colorado Governors Award for Excellence and even been appointed to the National Council of the Arts by President Bill Clinton. No matter how many accolades she receives and no matter how far and wide-reaching her artistry, Robinson continues to invest in the foundation of her program—the youth.
While Robinson has much to say about her legacy, she has just as much to say about the future and the futures her academy continues to shape to this day. Young men and women of numerous ethnicities, colors and creeds have found their direction in life through Robinson—they've discovered structure and stability. While she is a neighbor to many, she is a motherly figure to many more—helping to raise the community she's always called home and giving it a pair of shoes to dance on into lifetimes far past this one.