When it comes to action-packed, adrenaline-pumping thrills in the air or on the water, Colorado Adventure Center (CAC) in Idaho Springs is this summer's base camp for outdoor fun. Located just 35 miles from Denver along I-70 in Clear Creek Canyon, CAC specializes in rafting trips and zipline tours. New for 2018, Colorado Adventure Center just launched its latest venture for thrill-seekers — Colorado Sky Trek — a three-story tall aerial adventure park.
Monkeying Around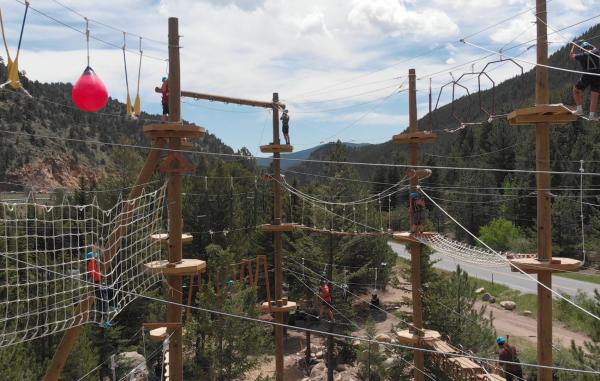 Climb, jump, swing and shimmy your way across Colorado Sky Trek. The mining-themed aerial park features 63 elements and three routes. Climbers can test their mental and physical abilities by choosing to go on easy (Copper), intermediate (Silver) or advanced (Gold) routes. Everyone starts out on the easiest levels and as your skill and confidence grows, the elements increase in difficulty. Because you're harnessed to a zipline that runs throughout the entire course, if an element is too challenging, you have the option of zipping through it and on to the next one.
The object of the aerial park is to challenge your perceptions and get you to move out of your comfort zone. You'll actually become braver as you learn to trust yourself and build confidence. Sky Trek guides are available to help coach you through the course, providing advice and encouragement along the various routes. If you should "fall," you'll only drop a few inches. Favorite Colorado Sky Trek elements include a suspended bottomless raft, a pickax swing, monkey ropes, Swiss cheese, a spider's web and the most nerve-wracking of all — the tightrope.
Colorado Sky Trek is fun for all ages; depending on height, the aerial park is doable even for kids as young as four.
Keep Paddling!
Nothing says summer like a navigating the pristine whitewater of Clear Creek coming to you directly from Colorado's high-country snowmelt. Colorado Adventure Center has nearly 30 years of experience in guiding raft trips. The outfitter offers crowd-pleasing rafting excursions for every level of experience, making it easy to select one that's challenging, exciting and more fun than scary.
The focus of beginner trips is building paddling skills and confidence on Class II and III rapids. Mild water with plenty of sections of easy floating makes these trips more relaxing than raucous. Take in the sights as you meander through historic Idaho Springs past the Argo Mine and the Charlie Taylor waterwheel. Intermediate level trips are the most popular choice. You'll paddle through "Nomad," "Fall River" and "Deliverance" before the grand finale, a Class IV called "Outer Limits." Extreme, steep and technical, advanced rafting trips are the province of experienced paddlers. With little time to warm up, the river drops you into Class IV and V whitewater where intense rapids await with ominous names like "Guide Ejector," "Hell's Corner," "Double Knife" and "Terminator."
Fly, Be Free
Now's your chance to soar like an eagle beneath blue skies, over treetops and across Clear Creek with Colorado Adventure Center's Zipline Tours. Ziplining is an exhilarating experience that brings out the kid in everyone. You'll start by climbing the 65' tall towers. When it's your turn to leap, launch yourself from the platform and fly like the wind from one tower to the next. Eight ziplines provide nearly a mile of high-wire ziplining thrills! You can reach speeds of up to 40 miles per hour, but because you monitor how fast you go, you're in control the entire time you're on the zipline.
Bundle It
Colorado Adventure Center's handy packages enable you to participate in multiple challenges without extra planning and you'll save money by bundling activities. CAC's packages include a variety of combinations. Choose what works best for you and your group. Spend the morning sky trekking or ziplining, then enjoy a delicious lunch and go rafting in the afternoon.
Smile!
Don't worry about bringing a camera. Photographers capture all the special moments and candid expressions of your rafting and zipping journey, and Colorado Sky Trek photography is coming soon. All you have to worry about is having a blast in the air or on the water.
For more information and to make reservations for sky trekking, rafting or ziplining visit Colorado Adventure Center, 877-947-7238, and be sure to follow us on Facebook and Twitter.