Located in Denver's Five Points neighborhood, Colorado Sake Co. is presently the only sake brewery between Texas Hill Country and the Arizona desert.
Founder William Stuart worked at Matsuhisa Denver in Cherry Creek and several other Japanese eateries before going into the sake business. The experience sparked his passion for the traditional beverage often called rice wine or rice beer.
"We got to try sake all the time from reps," he says. "I fell in love with sake."
In 2016, he tried his hand at homebrewing sake.
"When I made my first batch, I realized how difficult it was," says Stuart. "Homebrewing sake is really tough because it really changes with scale. You can make good beer at home, you can make good cider at home, but it's really tough to make good sake at home."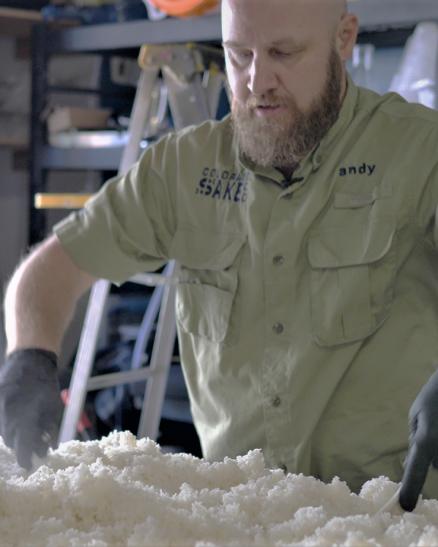 Because of that dynamic, he quickly decided to brew sake at a commercial scale. He subleased a 750-square-foot garage on the edge of the River North Art District (RiNo) and started learning the craft. 
"There are so many variables. It's the only beverage that's multi-parallel fermentation," says Stuart. "Two things are happening at the same time. With beer, you have your mash, you strain it, and you have your sugar water, which is your wort. For four weeks straight, our mash is fermenting. We never have a wort."
He continues, "We have a mold rice — which is koji — that's breaking down the complex carbohydrates into simple sugars. The yeast eats simple sugars and creates alcohol."
Stuart's all-female brewing team ferments the "rice porridge" until it hits 16 percent alcohol, a process that takes four to five weeks.
"If you go lower, it's very sweet," he explains.
On the way to licensing, Colorado Sake Co. got caught up in regulatory entanglement: Sake was in a legal gray area in Colorado, not categorized as beer or wine. Denied a license in 2017, Stuart successfully pushed for legislative reform and opened to the public in 2018. 
The delay wasn't a bad thing.
"It pushed us back to create a better product. It also helped us get some PR. It helped us be busy out of the gate and draw attention to sake in Colorado."
After opening in the garage, Colorado Sake Co. expanded into the retail space on Larimer Street in July 2019, separating the production area in the garage from the funky and colorful tasting room out front. 
Stuart highlights a superlative: "We have the most tap handles of any sake brewery in the United States. That's us just trying to be unique and do different flavors than traditional sakes."
That means there are taps with blueberry sake, cranberry-orange sake and jalapeño-margarita sake. Green Machine features serrano peppers, cilantro, ginger and lime, and Kveik Kaos is finished with beer yeast and hops.
The Palisade Peach Nigori is one of Stuart's favorites.
"Palisade peaches are incredible," he says. "We have local ingredients out our back door that are just so good."
When people ask if such infusions and experimental sake varieties are an affront to Japanese tradition, he responds, "Beer didn't start in America, wine didn't start in America. Sake is now in that realm — there are 10 of us in the nation, one in Colorado. If we don't innovate and introduce people to sake at a ground level, then we're only getting sake experts, and they're far and few between in the state. It's 0.1 percent of all alcohol consumed."
While sake consumption is in decline in Japan, Stuart sees potential for craft sake breweries in the U.S. to pick up the slack for a domestic market that's long relied on imports.
"If we can get people from the cocktail market, from the beer market, from the wine market into sake, it's only going to help us," he says.

Interestingly, of more than 100 restaurant and bar accounts, only a handful are Japanese restaurants. Stuart says "craft food" is the common denominator.
"Sake pairs with a lot of foods," he says. "People always jump to it pairing with Japanese cuisine, which it does, but we make a slightly more acidic sake so that it stands up to pizza and steaks."
His favorites?
"I like Horchata or Green Machine with tacos. I think those go really well together. The American Standard goes well with everything."
Winning new sake drinkers is all about education for Stuart.
"It's not rice wine, it's not beer," he notes. "It's its own fermentation with 100 percent rice. In Japan, they say you will know good sake the next morning by the way you feel."
To this end, the brewery offers a Sake 101 tour every two weeks on Saturday afternoons.
"We give sake straight from the fermenter," says Stuart. 
Another fixture on the events calendar, the Denver Comedy Lounge brings four stand-up shows on Friday and Saturday nights in the production area of the brewery. Colorado Sake Co. co-owner Heather Dennis was booking monthly shows, then connected with comedians Ben Kronberg and Anthony Kapfer and the shows started selling out. 
Stuart calls it an antidote to your typical comedy club.
"It's a different experience, without a two-drink minimum," he says. "It gets people into sake. It's 100 people each night that we may have not seen before trying sake."
Colorado Sake Co. sells to-go bottles from the bar and will start distributing 8.4-ounce cans in Denver and beyond in early 2020.