Bold Soviet-era colors, Russian words, a white star, and delicious coffees with names like KGBlend and White Nights Espresso. These not-so-secret codes signal that you are about to experience Dazbog Coffee.
The Denver-based company has delivered a taste of Russia and Colorado through its eye-catching packaging, consistent branding, and small-batch roasting and blending of hand-selected coffees from around the globe for 22 years. 
Well before the coffee house craze took off, brothers Leonid and Anatoly Yuffa immigrated to Denver from St. Petersburg, Russia with their family in 1979 and later combined their skill sets and business savvy to launch Dazbog Coffee in 1996. Originally starting as coffee roasters and wholesalers, selling to restaurants, coffee shops, grocery stores and offices, the brothers branched out by opening their own coffeehouses and offering franchise opportunities starting in 2007. They added tea to the Dazbog product line in 2012.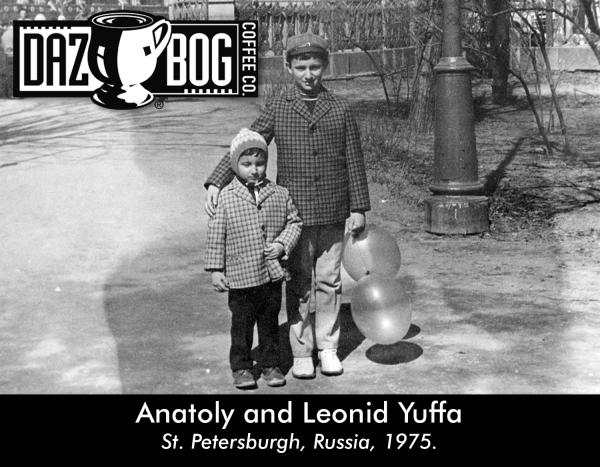 Curious about what a cup of Russian Roulette Blend or Babushka Blend coffee tastes like? Need a gift for a tea lover (or yourself?) who would savor the cool-factor of a distinct Dazbog red tin that holds a tasty treasure like White Strawberry, Tropical Pineapple Green Tea or Ceylon Fancy Black? Head straight for Denver's Dazbog Coffee locations in Cherry Creek North, Denver International Airport and downtown, including the Colorado Convention Center, Hilton Garden Inn, Granite Tower, Auraria Campus and Capitol Hill. There are even several locations in area hospitals, a valued treat for patients, friends, family and staff. 
Beyond Denver, there are Dazbog Coffee locations in nearby Colorado communities such as Castle Pines, Castle Rock, Loveland and Fort Collins and just over the border in Cheyenne, Wyoming. Currently, there are 29 locations, with more in the works, including two additional stores at Denver International Airport.
The backstory
The brothers graduated from Hinkley and George Washington high schools in Denver, and Leonid earned a degree in accounting and finance from the University of Colorado Boulder in 1992. His original plan was opening a coffee shop. Instead, the siblings began roasting and blending coffee beans at 1090 Yuma St. in Denver in 1996 while working other jobs. The location continues to serve as Dazbog Coffee's headquarters.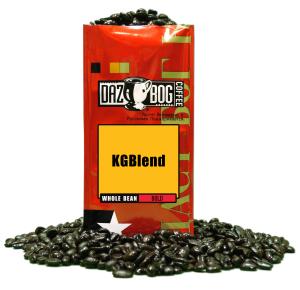 There is no coffee commerce in their Russian roots, other than an appreciation for a good cup of coffee and tea, but it was a natural spinoff from Leo's job as an espresso equipment representative. Anatoly, on the other hand, had started a chain of retail Western Boot Stores throughout the Denver metropolitan area. 
Since the early days, the Yuffas have built a brand look and taste that has succeeded in standing out in what has become a crowded coffee marketplace. The duo's confidence in their coffee and heritage rings loud and clear in the tongue-in-cheek statement used on Dazbog's website: "Russians make the world's strongest vodka, think they'd make a wimpy cup of coffee?" 
The nod to the brother's Russian heritage is both playful and grounded; in fact, a black-and-white photo of 4-year-old Leonid and 10-year-old Anatoly standing on cobblestone streets in Leningrad appears on every bag of Dazbog Coffee and at all coffeehouse locations. 
It's also present in the name of the business and the various coffee blends produced. "Dazbog is a transliteration of two Russian words that are used as a wish of "good fortune," Leonid says. "We draw upon our Russian heritage and richness of the culture for inspiration in coming up with new blend names."
The American dream made real
The Yuffas' parents made it clear to their children that the American dream doesn't just happen, it takes hard work and education. Both pieces of advice have paid off for the brothers with Anatoly serving as CEO and Leonid as president and COO of a well-established and growing company. 
Today, Dazbog Coffee has hundreds of employees and sells a full line of fine estate coffees, including varietals (single origin), special blends, decaf and flavors all crafted from 100 percent Arabica coffee beans. The company's website breaks down its broad selection into helpful categories like top sellers, organic, region (Africa, Americas and Indonesia), limited edition and coffee by strength. They also sell brewing gear like French presses and coffee drip kettle, mugs and espresso and coffee cups that are clearly Dazbog, and gift sets with catchy names like Bolshevik Buzz, Coffee Comrades, Russian Tea Room and Krem of the Crop. 
While their heritage is Russian, Leonid and Anatoly take pride that Dazbog Coffee has its roots in Denver. Leonid says, "We are proud to be part of Denver and the growing community."