Dogs, LEGOS® and outer space. What do they have in common? You can explore them all at the Denver Museum of Nature & Science!
Dogs! A Science Tail
From building blocks to man's best friend, the museum's newest exhibition is worth barking about. Dogs! A Science Tail offers visitors an interactive look into the world of our canine companions and insight into one of the most successful interspecies partnerships of all time: dogs and humans.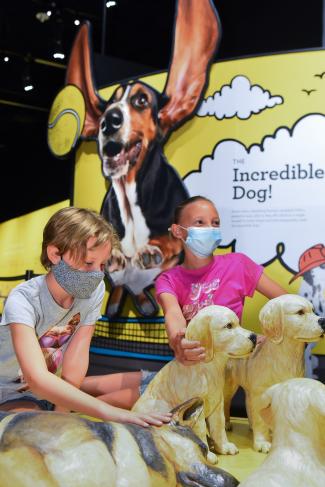 The exhibition is divided into four sections. "The Incredible Dog" highlights dogs' extraordinary senses of sight, hearing and — of course — smell. Listen to some of the hidden sounds dogs can hear but humans (usually) can't, or try to outrun a Chihuahua or a greyhound in a footrace.
In "Dogs and Humans, Together Forever," you can walk a playful virtual dog through a neighborhood, and test your pooch-related pop culture knowledge in a trivia game.
Watch a film about how these creatures evolved from ancient wolves into domesticated dogs, then experience what it's like to be an archaeologist as you explore replica fossils to determine if they belong to wolves or dogs in "Tail as Old as Time."
Thinking about getting a furry friend of your own? Visit "Caring for Dogs" to learn how to train and care for a canine companion. You can even honor the dogs in your life by posting their pictures and stories on the photo wall.
To complement the exhibition, the museum is showing the award-winning documentary "Superpower Dogs," an inspiring IMAX® 3D adventure that showcases the life-saving superpowers and extraordinary bravery of some of the world's most amazing dogs, narrated by actor Chris Evans. See it now through Nov. 5, 2020. 
Dogs! A Science Tail ends Jan. 3, 2021. Separate dated and timed tickets are required for Dogs! A Science Tail, "Superpower Dogs" and general museum admission. Get your tickets at dmns.org.
The Art of the Brick
Nathan Sawaya's The Art of the Brick elevates the humble LEGO® brick from childhood toy you loved to play with (and hated to step on with bare feet) to artistic building block. This family favorite touring exhibition has been seen by more than six million people across the globe since it debuted in 2007, and now, you can be one of them! 
The unique exhibition is the first to focus exclusively on LEGO as an art medium and showcases large-scale sculptures constructed using only the toy building blocks, as well as a collection of hyper-realistic, LEGO-infused photography from the artist's collaboration with photographer Dean West. Art connoisseurs will be wowed by Sawaya's reimagined versions of famous masterpieces like Van Gogh's "Starry Night" and Leonardo da Vinci's "Mona Lisa," and dino-loving kids will go wild for the Tyrannosaurus rex skeleton made from 80,000 bricks. 
But Sawaya and West aren't the only artists featured in the exhibition. Earlier this year, the museum held a build contest to encourage Colorado kids and teens to get in on the action. Make sure to check out the winning pieces while you're there, and get inspired to make some LEGO art of your own! 
The Art of the Brick ends Jan. 24, 2021. A separate dated and timed ticket is required for both The Art of the Brick and general museum admission. Get your tickets at dmns.org.
In addition to welcoming new touring exhibitions, the Denver Museum of Nature & Science took on its own mission this summer: to transform its popular Space Odyssey gallery. The renovated gallery reimagines how we explore our universe by integrating science, nature and art with more than 50 new interactive exhibits and activities for all ages. Learn how craters are formed (then make your own). Practice your coding skills to see if you have what it takes to join mission control. Would-be astronauts can even go on a virtual reality space adventure to explore our galaxy — and beyond. 
Space Odyssey is scheduled to reopen in mid-November 2020. The gallery is included in the price of general museum admission, which requires a dated and timed ticket. Get your ticket at dmns.org.