Spanish for "Two Lights," Dos Luces Brewery opened on South Broadway in Denver in July 2018.
The two lights in question are a pair of ancient beer styles that originated in the Americas: Incan chicha and Aztec pulque. Both start with a base of corn, but diverge after that: Chicha is mild and sweet, while pulque is tart and sour. There's no barley (making the beers gluten-free) and no hops.
Founder Judd Belstock says his father served in the Peace Corps in Peru in the late 1960s and introduced him to the styles. After working for breweries ranging from Coors to Boulder Beer Company, Belstock decided to stake out the two styles as the foundation for his own very focused operation at Dos Luces. He recruited co-founder Sam Alcaine, a fermentation science professor at Cornell University in New York, and came up with the recipes for the brewery's beers.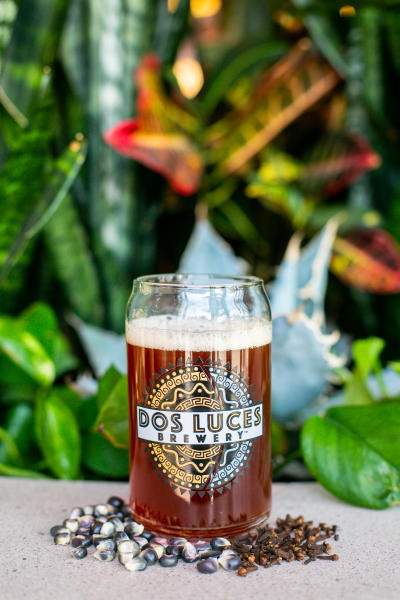 Why chicha and pulque? "The fact that they're truly American," answers Belstock. "The history. The fact that they go back 3,000-plus years. Before there was such a thing as craft beer, before European beers invaded America, these were the drinks of choice."
Belstock is quick to point out that Spanish colonizers and the German brewers imposed their own beer styles on the Aztecs and Incas as they "actively discouraged" pulque and chicha with misinformation campaigns.
"Much like the religious practices, it was a forced conversion to barley-based beers," says Belstock. "Every time someone asks me if we have a Mexican lager, I say, 'You mean a European lager brewed in Mexico? No.'"
Both pulque and chicha remain staples in their areas of origin. Some Mexican pulquerias have been open for centuries in rural areas, says Belstock. "It's been the last dozen or so years – and specifically the last three years – that it's taken off in Mexico City again."
Likewise, he adds, "In Lima, which is a culinary capital at this point, the fancy restaurants are starting to serve chicha."
Dos Luces has two flagship beers: Chicha Inti and Pulque Metzli.
Named for the Incan sun god, Chicha Inti is brewed from malted Colorado blue corn and spiced with cloves. "That's really it," says Belstock. "I've tried to make it as simple as possible." He calls it "the more approachable" of the two flagships.
Pulque Metzli "is more like a sour beer," he adds. "I'd put it up against almost any sour beer. It's really complex and high-quality." Corn and maguey sap are the primary ingredients, soured on a house bacteria blend cultured from the maguey sap, and fermented with "a yeast blend that mimics those found in the air in parts of Mexico."
Belstock rotates through various seasonal and experimental chichas and pulques, including pumpkin spice chicha and coffee chocolate pulque. "I think it's wonderful, but it definitely causes confusion," says Belstock of the latter.
Dos Luces dedicates a few taps to other traditional styles like tepache (a Mexican fermented beverage traditionally made with corn as well as pineapple peel and rind) as well as collaborations with other breweries and guest beers. It also releases 22-ounce bottles of barrel-aged chichas named for Túpac Amaru, the last Incan emperor, and barrel-aged pulques named for Moctezuma, the second-to-last ruler of Aztec capital Tenochtitlan. The bottles are sold exclusively at the brewery for about $20 to $30.
For special events, the brewery can accommodate up to 60 people in a semi-private back room amidst the tanks, and customers regularly bring in food from such neighboring restaurants as Adelitas and Maria Empanada.
Does Belstock see pulque and chicha catching on in the broader craft beer universe? Beyond a chicha from Dogfish Head and a few other one-offs, not yet. Which makes Dos Luces unique in the world of craft brewing: Its storefront on the stretch of South Broadway known alternately as Antique Row and the Green Mile is claimed to be the only brewery presently focused on chicha and pulque in the U.S., and it serves as a one-of-a-kind destination for beer nuts in Denver.