Over the last 75 years, drones have evolved from remote-controlled planes used for target practice to versatile and highly specialized aircraft. As these aircraft fill the skies, they raise concerns about airspace, privacy and ethics.
But these concerns are eclipsed by excitement for their future potential such as exploring Mars, serving as pilotless flying taxis, and delivering packages and groceries.
This timely topic is at the heart of Drones: Is the Sky the Limit? the latest traveling exhibition at Wings Over the Rockies Air & Space Museum in Denver, which opened on Feb. 1 and runs until May 8, 2020. Developed by the Intrepid Sea, Air & Space Museum in New York City and produced by Imagine Exhibitions, Drones: Is the Sky the Limit? explores the modern phenomenon of drones, their uses throughout history and possible upcoming roles in society.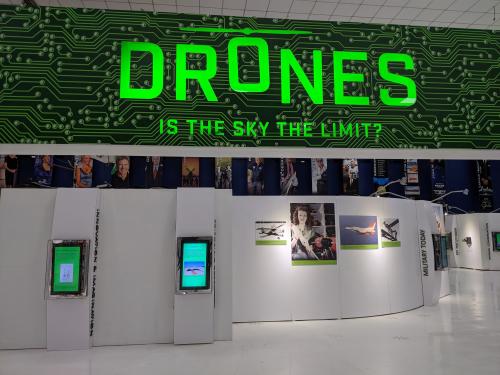 VISIT DENVER checked in with Chuck Stout, curator for Wings Over the Rockies Air & Space Museum, to find out more about this compelling examination of the past, present and future of remotely controlled pilotless aircraft.
VISIT DENVER: What are some of your favorite parts of Drones: Is the Sky the Limit?
Chuck Stout: I like its bright, open feel and the depth of the coverage. The exhibit is packed with information on many different aspects of the topic, from history to applications to social implications.
VD: Are there some hands-on opportunities for people to experience drone technology?
CS: Absolutely! There are touch screens that let visitors choose to see and hear different experts describing their use of drones and a fun interactive joystick game where visitors pilot a drone over a map of New York.
VD: Why is this topic important in today's world?
CS: This new technology is expanding into so many aspects of our everyday lives, and we see news stories about drones almost daily, whether it's mysterious lights over eastern Colorado, privacy issues about people flying drones over your backyard, safety concerns about drones posing a hazard to conventional aircraft or a military drone strike halfway around the world. Lots of kids get drones as gifts, and parents need to help them to be careful, responsible drone operators. Autonomous drones are being developed to deliver packages, pizza and groceries to our houses, and engineers are working on new flying taxis that could revolutionize urban travel.
Whether you love them or hate them, drones seem to be everywhere, and the uses and capabilities are going to keep growing. We're all going to need to know enough to make good decisions about ethical use of drones, as well as how to regulate them and prevent misuse while allowing for flexibility and fantastic new applications.
VD: Are there any events or workshops being tied into the drone exhibit?
CS: We had a very nice presentation by Wings Over the Rockies Director of Education April Lanotte as part of our new Monthly Speakers Series, and we are looking into other speakers—keep an eye on our website. At Wings Over the Rockies' second location, Exploration of Flight at Centennial Airport, we offer a drone-building workshop where participants build and fly their own drones, which they get to keep and take home.
VD: What inspired Wings Over the Rockies to bring this exhibition to Denver?
CS: This is an aspect of aviation that affects and interests an enormous number of people. People are looking for fun, easy-to-understand information from a reliable source. We're always looking for new audiences and better ways to offer the kinds of content that will engage and delight visitors, and this looked like a great fit.
VD: Why is Wings Over the Rockies an ideal backdrop for Drones: Is the Sky the Limit?
CS: Wings Over the Rockies is recognized as a great place for families to come and discover the excitement and joy of flight. Sure, you can find information about drones online, but most people really enjoy coming in and seeing things in person, experiencing the sights and sounds in a big, comprehensive exhibit, and maybe encountering information and perspectives that they wouldn't find otherwise. All of our exhibits here start conversations and provide lots of food for thought. The drones exhibit sheds light on a slightly different aspect of aviation and space exploration.
To find out more and be part of the conversation through the drones exhibit, which is included in the price of admission to Wings Over the Rockies Air & Space Museum, visit www.wingsmuseum.org.