Upstairs at The Family Jones Spirit House in Denver's LoHi (Lower Highland) neighborhood, a copper still sits like a beacon above the bar. On the mezzanine behind it is where the magic happens.
Rob Masters, co-founder and master distiller, and Jason Randall, bar manager, play the parts of mad cocktail wizards as they experiment with different spirits, infusions and cocktail recipes, often utilizing the makeshift still Masters started using more than a decade ago.
"We've got 100 different botanicals up on this wall," says Masters, motioning toward a phalanx of shelves packed with herbs and botanicals ranging from kelp to elderflower to makrut lime leaves. "We've distilled every one of them through that lab still. The idea is if the bartender or distiller or chef has an idea for something, they can come up here and grab it in botanical form or distillate form — or both — and start playing around."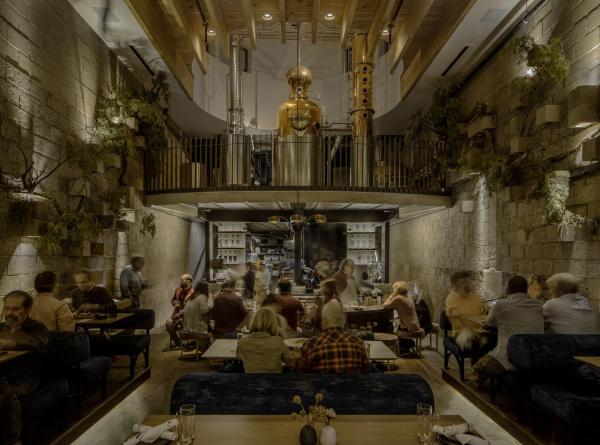 What's the strangest elixir ever crafted in the lab? "We distilled some crawfish," laughs Masters. "It tasted exactly like you think you think it would taste: very seafood-y."
In the craft spirits industry since 2007, Masters worked for Spring44 and other Colorado distilleries before connecting with business partner and pioneering LoHi developer Paul Tamburello on The Family Jones.
After two years of construction and R&D, the craft distillery/cocktail bar/restaurant opened in the space formerly occupied by Mancinelli's Market in November 2017 and quickly won a loyal following. 
"My process is a nod to tradition with little twists," says Masters of his distilling methods. One twist is fermenting with "unique yeasts," he says.
The Family Jones, for example, uses wine yeast for Mo Jones Rum. (Mo is short for molasses.)
"It kicks out all sorts of crazy flavors," says Masters. "This rum is fermented to have a lot of funk to it. It's not your standard white rum."
But when it comes to aging, The Family Jones sticks to tradition with 53-gallon white oak barrels crafted in Indiana.
"We didn't mess with aging," says Masters. "We didn't use small barrels, we didn't put staves in there, but we got weird when it came to fermentation."
All grains are sourced from farms in Colorado.
"We've shook the hand of every farmer we've ever bought grain from," says Masters. "I'm very proud to say that, and we will continue that tradition."
Because of the licensing, everything served at the bar must be made by The Family Jones. That's led to the making of aquavit, amaro, and a wide range of liqueurs and infusions for mixology of the highest order.
While one-offs and small batches are distilled in Denver, the brand's nine core spirits are produced at the company's much larger production distillery about an hour north in Loveland and transferred to the bar.
"That's where the heavy lifting happens," says Masters.

All of the core spirits are named for a Jones, the founders' idea of an every person: "Juniper Jones Gin is definitely one of our top sellers," says Master. Atticus Jones Rye Whiskey debuted in October, and Ella Jones Bourbon will come out in spring 2020.
The Loveland distillery also supplies a broader distribution network at liquor stores, bars and restaurants, whereas the LoHi still supplies the bar with one-offs and small batches.
Randall notes it takes a couple of days to a couple of months for new spirits to travel from experiments upstairs to cocktails downstairs, as every new label requires federal approval.
"We're really known for our cocktails," says Masters. "Eater last year named us Denver's best bar [bar of the year] — period. There are a lot of amazing bars in Denver that can serve beer and wine; we can't."
The selection changes on a regular basis, but offerings like the Pineapple Pastor (featuring rum with jalapeno, cilantro, lime, pineapple and sea salt) and the Colorado Sour (bourbon, rosemary amaretto, lemon, and egg white) are representative of the menu.
The establishment is also a model of adaptive reuse and contemporary design. The industrial-accented, glass- and patio-fronted space has 55 seats and "The Bitchen," the sunken bar at the center of the main room. "It's a bar-slash-kitchen," says Masters. "There's room for two bartenders and two chefs and that's about it. The idea is that they're always talking to each other and collaborating."
The food menu focuses on small plates and rotates on a seasonal basis, but might include eggplant caponata toast, stuffed Key West shrimp and beef strog-a-gnocchi. 
Themed quarterly Distiller's Dinners have featured dishes made from a pig fed the distillery's spent grain, another focused on Colorado peaches and another was Thanksgiving.
"It's a way for chefs and bartenders to stretch," says Masters.
Partnership with The Crawford Hotel at Denver Union Station, including spirits stocked in the minibars, a tour program, and a cocktail program at the bar.
The Family Jones has also collaborated on a number of products with local companies like Teakoe Tea and TRVE Brewing Co. Explains Randall of the Teakoe partnership: "We gave them one of our whiskey barrels and they aged their Earl Grey tea in it and gave it back to us. We put our gin in there."
When will it be bottled? "There's not an alarm set for it," he says. "When it's ready, it's ready."