At FlyteCo Brewing in northwest Denver, there's an airplane fuselage right in the middle of the tasting room. It might look like the real deal, but it's actually a fabricated mockup that doubles as a quirky little lounge to sit and sip beer.
Precise runway markings decorate the floor around the fuselage. The bar top is made from reclaimed temporary runway from World War II. A table is made of the wing of a disassembled plane, and the merchandise racks are made from the other wing.
It all works together unexpectedly well. Aviation and craft beer is apparently a natural pairing.
"A lot of folks ask, 'What's the tie-in with aviation and the craft beer industry?'" says Morgan O'Sullivan, co-founder and chief of operations at FlyteCo. "It's about how enthusiastic you can be about both. There's a bunch of aviation nuts out there that love to [build aircraft] at home. They love to share their experiences, their stories, compare notes. If you think about somebody in the craft beer industry, you switch out a few words and you can say all of the same things."
O'Sullivan's co-founders, Eric Serani and Jason Slingsby, met in college at the University of Colorado Boulder in 2008. The aerospace and chemical engineers, respectively, bonded over homebrewing – and aviation.
Serani and Slingsby are both pilots. Serani earned his pilot's certificate before he received his driver's license (he soloed on his 16th birthday) and often flies a small, four-seat Van's RV-10 plane that he built with his father while he was in high school.
When it came to brewing, Serani would often make equipment for chemist Slingsby, leading to a setup that rivaled the brewhouse of a small craft brewery.
O'Sullivan and Serani, who were neighbors in Jefferson Park, became good friends and even put a gate between their yards so their dogs could play while they toasted beers.
"We just figured it would be easier if we combined backyards," laughs Serani.
The shared yard proved a perfect venue for a midsummer barbecue featuring kegs of homebrew from Slingsby and Serani. The event grew to encompass standup comedians, a big tent and 200 revelers.
"Everybody really liked the beer," says O'Sullivan. "That's what rang through. They said, 'Where can I get this?'"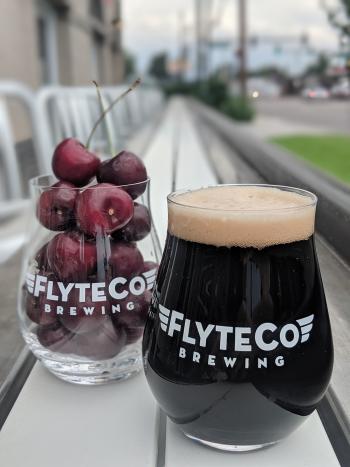 Since they proved so adept at throwing a good party, the trio decided to turn pro with FlyteCo and wrote a business plan in 2014. Serani quit his job as an aerospace engineer and worked for Fremont Brewing in Seattle and Left Hand Brewing in Longmont, Colo.
By 2017, FlyteCo signed a lease in the former Merkel's Automotive building just west of Tennyson Street on 38th Avenue. The founders spent two years building it out and imbuing the taproom with its aeronautical theme before opening the tasting room's doors in March 2019.
But it goes beyond the decor: Aviation permeates pretty much everything at FlyteCo, from the furnishings to the beer names (This is Your Hefe Speaking) to the pledge to donate 10 percent of profits to pro-aviation causes.
FlyteCo is focused on the immediate vicinity in the Berkeley neighborhood as well as the broader aviation community. They also have a dog-friendly patio. 
"We're very much focused on being a neighborhood brewery," says O'Sullivan. 
That extends to the beer selection, which includes stalwarts as Fog Delay Hazy IPA, Oh My Guava! Pale Ale, and Vets in Jets Cream Ale as well as several more esoteric selections at any given time.
"Our goal is something for everyone," says Serani.
The calendar includes a number of aviation-related meetups as well as standup comedy on the first Wednesday of every month, late-night karaoke on Friday, and open-mic nights for singer-songwriters on Thursdays. The tasting room's capacity is 160 for private events.
"We built this place to be inspiring," says Serani. "Anyone who works in the aviation industry, we want to give them a pat on the back for what they do, so pilots, mechanics, flight attendants and engineers get a 10-percent discount."
Adds O'Sullivan: "The response from the aviation community has been overwhelming."
The aviation angle also allows for delivery of fresh hops. For a collaboration with Bruz Beers, Serani flew over to pick up a fresh crop from Paonia, Colo.
"We harvested the hops, flew back here and threw them in the brew kettle just as it was coming to a boil," he says.
Looking for more ways to experience aviation in the metro area? Take this inspiring self-guided tour of museums, hangouts and unique experiences.