Elitch Gardens Theme & Water Park comes alive every autumn with ghastly ghouls, creepy clowns and bone-chilling live performances for Denver's largest Halloween event: Fright Fest.
The popular Mile High City attraction is open on Friday nights and Saturdays and Sundays from Sept. 28 through Oct. 28, 2018, and rolls out the orange and black carpet to usher in good-natured and super-scary Halloween entertainment for all ages. An added bonus is it's the perfect time to hop aboard favorite amusement park rides when lines are short and temperatures ideal! 
On Saturdays and Sundays from noon to 5 p.m., Fright Fest is focused on families. All afternoon, little ghosts and goblins (54" tall and under) can follow the Trick or Treat Trail through KiddieLand for free candy surprises. Complimentary treat bags and Trick or Treat Trail maps are available at the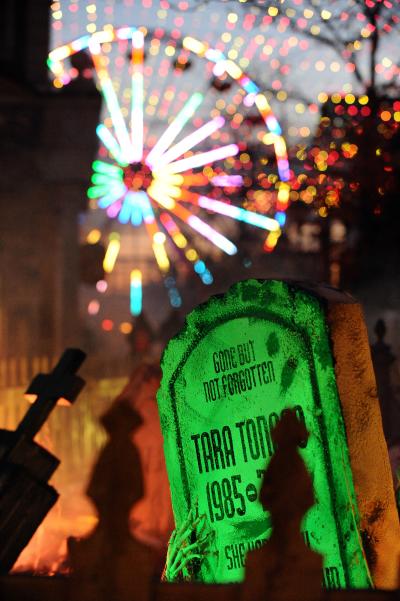 KiddieLand entrance.  
Also during the Family by Day portion of Fright Fest, kids can relay, hop and jump their way to victory at Halloween-themed interactive challenges during Ghouls Match held at 1, 2 and 3 p.m. It's also totally okay for kids to hoot and holler at the Scream It Out competition at 2:30 p.m. when the most earsplitting shriek results in the title of Scream King or Queen. Family by Day wraps up with a costume contest on the KiddieLand Stage at 4:30 p.m.
Don't miss all sorts of furry cuteness during the 20th annual Fright Fest Pet Parade Costume Contest on Saturday, Oct. 13 at 1 p.m. Compete in the categories of Funniest, Most Original and Best Pet/Owner Combination Costumes or simply enjoy the happenings emceed by Producer Sean from Alice 105.9 radio. Participants in the contest receive a ticket to return to Elitch Gardens during the 2019 season, and the Best of Show winner is awarded two 2019 Season Passes. Register online by Oct. 12 for $20 per pet or on the day of the event (from 12-12:45 p.m. only) for $40. All registration fees benefit PawsCo, a nonprofit with spay/neuter, pet food drive and adoption programs. Only pets taking part in the parade may enter Elitch Gardens, and all pets must exit the park immediately following the competition. 
Elitch Gardens transforms into Fright by Night when the sun goes down and shrills and chills take over. Creatures lurk around every corner, and rides come alive after dark. Even the classic Tea Cup children's ride becomes "HURL," complete with fog and strobe lights. Pass with caution through TERRORtories, areas throughout the park filled with fiendish ghouls and demons looking for victims in the dark. 
Scare-seekers should head straight for the three haunted, multi-sensory experiences—No Vacancy, Big Top Freaks and Séance—that thrust guests into the action during blood-curdling live performances that launch at 5 or 6 p.m. and run throughout the night. 
Séance begins first at 5 p.m. in the Water Park when a simple ghost story comes to life. Expect intense physical effects, unexpected audience participation and plenty of surprises. Move on to Big Top Freaks, also in the Water Park, to discover what's left when the circus leaves town. Navigate through a creepy carnival graveyard, where the inhabitants are sideshow clowns that are full of malice. The Trocadero Theatre is masterfully transformed into an inn that comes alive with terror at No Vacancy. Do your best to escape alive!
These haunted attractions are recommended for ages 12 and older and are available at an extra cost. Purchase for $6.99 and up online, along with discounted admission tickets. Or purchase in person at Elitch Gardens. Better yet, attend Fright Fest for free (except for the haunted attractions) with the purchase of a 2019 season pass. 
The hours for five weekends of Fright Fest fun are Fridays, 6-10 p.m.; Saturdays, noon-11 p.m.; and Sundays, noon-9 p.m. 
Fright Fest Fun Facts
250,000 pieces of candy
2,700 feet of cobweb
600 tons of wood panels to build sets, props and haunted houses
275 gallons of fog juice