Only seven Galloping Goose railcars were ever made. These crazy rail contraptions were put together in the 1930s and carried mail and passengers over Colorado's Lizard Head Pass until the 1950s. Basically, they were 1920s Pierce-Arrow limousines put on rail wheels, with a bus welded on the back. 
Because they ran on gasoline, they were cheaper to operate and they allowed the Rio Grande Southern Railroad to keep the mail contract without running more expensive steam locomotives. Locals loved them and started calling them "Gall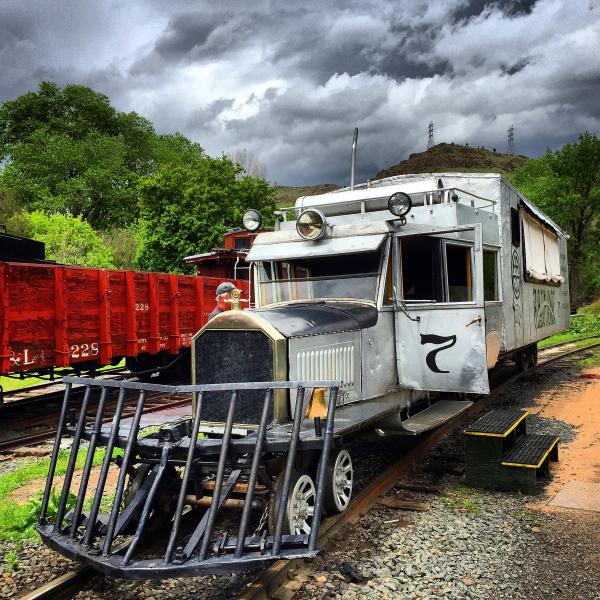 oping Goose," probably because their air horn sounded more like a goose than a steam whistle. 
But the name stuck, and that eventually became the official name of the service. All but one of the Galloping Geese survived, and there are three of them on display and running at the Colorado Railroad Museum in Golden, just 12 miles west of downtown Denver.
The museum has the largest collection of narrow-gauge railroad equipment in Colorado with dozens of locomotives, passenger cars and cabooses, and it is also famed for its huge outdoor model railroad and indoor HO railroad, which features a complete circus, town and mining camp. But what's really great about the museum is that they have a half mile circle of track – sort of a giant's toy train set – on which they run the Galloping Goose and steam locomotives. The Goose runs on Saturdays all year-round and daily during the summer. Steam locomotives run during a variety of specials such as the Bunny Express at Easter, a Halloween train, and three times a night during the holiday season of November-December for the Polar ExpressTM train ride.
Riding the Goose is a hoot. Everybody's favorite Goose is No. 7, which started out as a Pierce-Arrow limousine used by the Broadmoor to carry guests from the railroad to the hotel. The compartment in the back is comfortable with wide open windows to enjoy the view as you rumble and rattle around the railyard. Kids love the ride, and especially the horn, which has to be sounded every time the Goose starts, stops or crosses a road.
The Colorado Railroad Museum is the only place in the world offering year-round rides on a Galloping Goose. Two are owned by the city of Dolores, Colo., and make special runs once or twice a year with the Cumbres & Toltec Scenic Railroad and the Durango & Silverton Railroad. The other is at Knott's Berry Farm, Calif., and is used infrequently. 
So, "all aboard" for the Galloping Goose and the Colorado Railroad Museum!