Denver's Five Points neighborhood is home to, quite possibly, the first brewery on Earth dedicated exclusively to oenobeer. For the uninitiated, oenobeers are grape beers, or beers that are brewed with up to 49 grapes as well as barley and other fermentables.
Namesake founder Alex Liberati started opening restaurants in Rome, beginning in 2007 with Brasserie 4:20. "We kind of kicked off the craft beer scene in Italy," says Liberati.
He subsequently took many trips to Belgium and Germany to pick up new inventory for the bar, and that led to Liberati getting into beer distribution for other restaurants and bars.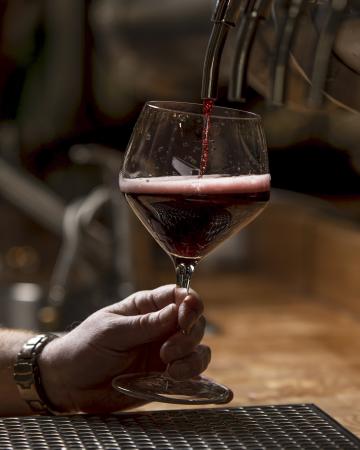 In 2008, a Tuscan winemaker introduced him to the concept of blending wine and beer, but the results were, at best "one plus one equals 1.9," says Liberati. Grape beers, a.k.a. oenobeers, were something of a novelty in Italy, and usually involved just a little bit of grapes in the mash, but they had a history spanning thousands of years.
Fast-forward to 2014: A homebrewer gives Liberati a bottle of Orval-inspired beer made with 10 percent grapes. "It was majestic," says Liberati. "This was one plus one equals three."
At the time, Italian grape ale was an official category in the Beer Judge Certification Program. Liberati found the variety within the category as sorely lacking. "Everybody was making their grape beer in the same way," he says.
That turned on the lightbulb: Liberati set out to open the world's first brewery devoted exclusively to oenobeers.
Liberati studied both brewing and winemaking and considered setting up shop in Singapore before selecting Colorado. He says Paul Vismara, a beer writer, convinced him that beer-loving Denver was the perfect city for his idea. Liberati Restaurant & Brewery opened in 2018 after two years of construction.
The crew uses a mix of brewing and winemaking equipment to produce a selection of leggera (light), scura (dark) and strana (strange) beers. Offerings range from notably crushable ales with less than 4 percent alcohol by volume and subtle grape accents to an 11 percent sogni d'oro Belgian strong that appeals to beer drinkers and wine lovers alike.
The bar also offers primarily Italian wine and cocktail lists, and the food side of the business is inspired by culinary traditions from all over Italy. Menu selections include a wide range of pasta and seafood dishes from gnocchi and polenta to fish cannoli and squid ink ravioli. There is indoor seating in a sleek and open room inside and outside on a patio centered on a tiered fountain.
"Oenobeer has picked up an enormous value I didn't anticipate," says Liberati. Being the world's first dedicated oenobrewery carries quite a bit of cachet.... He pulls up his sleeve to reveal an "Oenobeer" tattoo, adding, "The beauty of oenobeer is it's not a Belgian. It's not a style of beer, it's a category of beer.... We can work in all different styles. We can study it in a different way. We can create a brewery that's half winery."
The brewery sources grapes largely from Oregon, Washington and Italy, with plans to use Colorado-grown grapes in the coming year. Liberati is quick to point out that some of the grapes that are good for oenobeers aren't as desirable for wine and vice versa. "They could yield some flabby, uninteresting wines, but could yield some interesting oenobeers," he says.
Liberati is looking toward packaging in cans as well as premium bottles. "Some of these beers can be a super tannic red Tuscan you could age for 20 years," he says. "It still feels like we like we're just scratching the surface of grape beer."
One good sign: Other breweries in Denver are brewing oenobeers. "That's a form of respect," says Liberati. "That's the spirit in Denver."