Is it even possible to look at a carousel, hear the upbeat music and saddle up on a brightly painted horse and not grin? The colorful canopy, ornate trim and golden poles that allow the horses to "gallop" are just a hint at why the Holiday Carousel at Denver Pavilions has become a favorite holiday tradition in The Mile High City.
Special happenings, details
Now in its sixth year and located on Glenarm Place by Denver Pavilions, the carousel is open daily, 11 a.m.–9 p.m., from Dec. 21, 2019 to Jan. 2, 2020. To celebrate New Year's Eve, revelers can hop aboard until 1 a.m. for a truly memorable way to usher in 2020.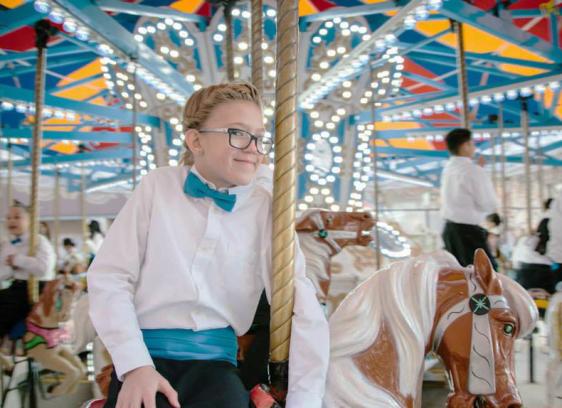 To kick off the grand opening of the carousel on Dec. 21, Blue Knights brass ensemble is set to perform from 2–3 p.m. followed by the Denver Choir League at 4–5 p.m.
Rides cost $3 each or are free with a voucher from a Denver Pavilions' merchant, hotel or community partner. Part of the proceeds from carousel rides benefit Food Bank of the Rockies. For every dollar that is donated from carousel rides, four meals can be provided to people in need.
To make sure everyone has a chance to experience the magic of hopping aboard and taking a spin on one of the beautifully painted horses, there is a free ride day on Monday, Dec. 23. The Denver Choir League will be on hand from 5–6 p.m. to add a sprinkle of holiday merriment.
And that story about the carousel being in the 1997 movie "Selena" starring Jennifer Lopez … is that true? Yes, and the ride has become a huge draw for Selena fans.
Another fun fact is that the carousel has become a very popular Instagram photo location and is situated right under another epic selfie spot, the supersized DENVER sign that is spelled out in red letters. To get a selfie with the sign, now coined #BestViewOfDenver, follow the red arrows from the ground level of Denver Pavilions and up two sets of escalators to the third floor.
A central location for holiday fun
Denver Pavilions is located in the heart of downtown Denver on the 16th Street Mall and features more than 40 retail shops, restaurants and entertainment venues. The open-air development covers two blocks and features three-story buildings linked by The Great Wall, the location of the iconic DENVER sign.
In tandem with riding the carousel, grab dinner and shop at marquee tenants like Uniqlo, Sephora, H&M, Banana Republic and Express. And stick around for fun at entertainment venues such as FTW (For the Win), Lucky Strike Lanes, Live@Jacks and the 15-screen United Artists Theatre, featuring full recliner seating, an in-theater bar and the only 4DX theater in Colorado. At the 4DX theater, get ready for a multisensory experience that includes scents and weather that shakes up how movies are viewed.
Don't miss the 12-day window to ride Denver Pavilions' Holiday Carousel and a full season of holiday cheer in downtown Denver.