There's something powerful about the combination of beautiful gardens and magnificent art, an equation that has proven wildly successful for Denver Botanic Gardens. Each summer, the Gardens' 24-acre York Street location comes alive with beautiful blooms, a huge variety of foliage and major sculpture exhibitions that have ranged from Dale Chihuly and Deborah Butterfield to Alexander Calder and Mike Whiting. 
In 2019,  Human | Nature: Figures from the Craig Ponzio Sculpture Collection  focuses on the creations of a variety of artists on display from April 19-Sept. 15. It's a great opportunity to view sculptures that explore the human form in both classical and abstract styles from the early 20th century to today. Featured artists hail from around the world and include the likes of Eric Fischl, Jacques Lipchitz, Sassona Norton, Beverly Pepper, Auguste Rodin and Manolo Valdés.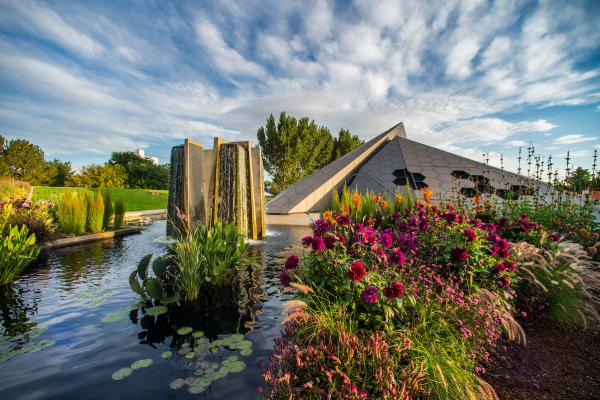 The human figure's expressive capacity is clearly demonstrated in sculptures like Norton's bronze "An Hour Before Dawn" that combines a strong, muscular form with a delicate hand gesture to create what the artist describes as "a dialogue between vulnerability and strength." In contrast, artist Émile-Antoine Bourdelle often turned to ancient mythology for inspiration, as demonstrated by "La Grande Pénélope," a sculpture from 1912 that refers to the story of Penelope, the unwaveringly faithful wife of the hero Odysseus in the epic Greek poem "The Odyssey." 
The human form depicted in sculpture also connects viewers with the artistic legacies of cultures such as Francisco Zúñiga's Dos mujeres de pie ("Two Standing Women"). The forms of the women in this sculpture are related to the indigenous pre-Hispanic artwork of the artist's native Costa Rica.
While strolling through the collection is an exquisite experience in itself, gather behind-the-scenes insights with Curator Conversations, offered on select Thursdays at 9:30 a.m., for an even deeper appreciation. Another option is exploring the exhibition with a docent who brings the artists and their styles alive and shares the stories behind the sculptures. Docent tours are available on Saturdays and Sundays at 9:30 a.m. and select Fridays at 9:30 a.m. and Saturdays at 6 p.m. 
Dig deeper – tours and classes
Several hands-on art classes are scheduled in tandem with Human | Nature such as Figure Drawing on June 15 with Mitch Caster, who teaches drawing at the Art Students League of Denver and works as a fine artist, showing his paintings in Colorado, New Mexico and Texas galleries. With a live model in class, learn a structural approach to drawing the figure through capturing gesture, understanding human proportions and modeling the form.
Caster also is leading Easy Drawing in the Gardens on May 18 and Aug. 17, where participants discover how to make drawing easier and more enjoyable by learning the basics of perspective, composition control, and reference points and lines. After classroom instruction, students practice the techniques by drawing and sketching in the Gardens. For a class dedicated specifically to perspective, don't miss Caster's Perspective Drawing in the Gardens on July 13, when students will learn the basics of horizon, object placement and one-, two- and three-point perspective, as well as elliptical and aerial perspective. Students should plan to go outdoors and draw and sketch amongst the Human | Nature exhibition.
For those who prefer to have a camera in hand, Denver Botanic Gardens' official photographer, Scott Dressel-Martin, is leading Photographing Art in the Garden on June 22. The class focuses on the technical and creative challenges of shooting art "in situ" and includes learning special techniques to get the most out of photographing 3D art and paying special attention to how the light affects the dimensionality of the piece. This is an intermediate class that requires basic photographic skills and knowledge along with bringing your own photographic equipment.
Design your visit – tickets, hours and transportation
Viewing Human | Nature is included in Denver Botanic Gardens' general admission price, with tickets available online or at the door. All tours and classes are available at an extra cost. 
From May 12-Sept. 15, Denver Botanic Gardens extends its hours to 9 a.m.-9 p.m. daily but make sure to check the schedule for early closures due to concerts and events. You can visit the museum without driving a car by using B-cycle, the bike-sharing program that has a station next to the Gardens' York Street entrance, or riding RTD buses on the #24 (York and Josephine Streets) and/or #10 (12th Avenue) routes. 
Summer in Denver isn't complete without meandering through Denver Botanic Gardens, enjoying the art and events, and simply relaxing in a sanctuary in the city. 
Image credit: Sassona Norton, "An Hour Before Dawn," bronze, 2001. Collection of Craig Ponzio. Artwork © Sassona Norton. Photo by Scott Dressel-Martin.