Denver Art Museum has made a commitment to showcasing local artists and rising talent, and through that commitment, visitors have gotten to know a number of new personalities, including Jordan Casteel, who was born and raised in Denver.  
Though Casteel has since made Harlem her home, having found success in the New York art scene, she returned to Denver for a milestone in her young artistic career: her first major museum exhibition, Jordan Casteel: Returning the Gaze, at Denver Art Museum (through Aug. 18, 2019). The museum subsequently announced the purchase of two of her paintings, which will become part of DAM's permanent collection.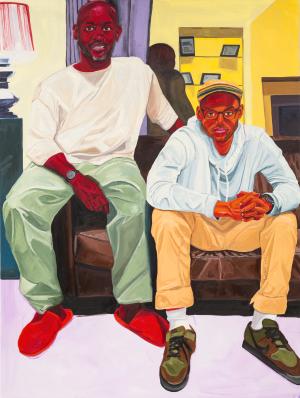 Casteel grew up in an arts-loving Denver household where philanthropy and activism run deep. Her mother, Lauren Young Casteel, was inducted into the Colorado Women's Hall of Fame for her social justice advocacy work. Her grandfather was a prominent civil rights leader and keynote speaker at the March on Washington in 1963. And her grandmother was on the boards of The Metropolitan Museum of Art and the Dance Theatre of Harlem.
After leaving Denver for Georgia's Agnes Scott College and graduating in 2011, Casteel went on to earn a master of fine arts at Yale School of Art. There, she produced a series of nude portraits of fellow Yale students. This became her "Visible Man" series, which exhibited in Manhattan in 2014 — and sold out.
Her body of work now has expanded to include individuals portrayed at the center of quotidian street scenes — a man in a hoodie sitting on brick steps holding a smartphone, for example, or two men leaning against a storefront, a book bag resting at their feet.
The familiarity of these everyday settings, and the "eye contact" made by the subjects in the paintings, foster intimacy and empathy that challenge mainstream media portrayals of black people — and black men, in particular. Casteel's use of color works to similar effect. Often her human subject's skin appears a vibrant green or deep gold, causing the viewer to question what signals lead to the viewer interpreting the subjects as black.
We spent a little time chatting with Casteel to ask her about growing up in Denver, what it's like to be part of the permanent collection in her hometown's art museum, and who some of the Denverites in her paintings are.
7 Questions with Jordan Casteel
Congratulations on the Denver Art Museum acquiring two of your works. What is it like to have a permanent place in the museum that you grew up visiting?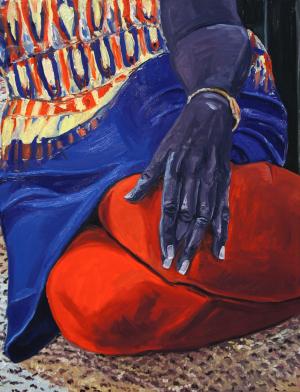 Oh my God. I mean, it has been utterly overwhelming and exciting to have the opportunity to exhibit at a museum that has been such a staple in my memory — and in the city of Denver, it being a place that really honors and highlights the work of art and artists. I'm so excited that they purchased "Sylvia's" and "Fatima." To be a part of the institutional narrative and being a part of that legacy is pretty phenomenal.
Can you tell us why it was important to you to have your exhibition open on one of Denver Art Museum's free Saturdays [general admission is free on the first Saturday of the month]?
My most important interest, as we were developing the exhibition, was to make this about the community, not necessarily about me. This work is for and of the people that I know and love, and to have access to an institution that maybe historically has not felt very accessible was important to me. And a big part of that accessibility comes with literally making it free, financially, and then just for people to feel a sense of celebration and belonging and claiming a space for themselves. It was really exciting to think that the first Saturday, that free Saturday, could be aligned with the opening of this work that is representative of and for the people.
Did you come to art early on, while growing up in Denver, or was it later in life?
My mother, who used to keep a journal of markings of the personalities of her children as we were growing up, made note of my curiosity toward art and making and my use of my hands and color in particular. She made observations that I was an observer myself for most of my childhood — that I was always kind of keeping an eye out for what was happening around me. So, growing up in Denver, I would take classes at the Art Students League of Denver with my friends. When trips to the mountains for skiing and snowboarding classes were planned, I used to try to find ways to get out of going so that I could be at home by myself and sit in my craft room and make things. All I ever wanted as a kid for the holidays was like a box of stuff from Michael's. If I could just get a hot glue gun and some Popsicle sticks, I was a happy camper, and I would take nothing and turn it into something.
Are there places in Denver that stand out in your memory as inspirational or places that just spoke to you while growing up?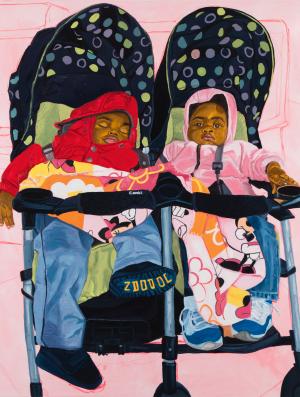 The places that stand out in my memory are places that I used to occupy a lot as a kid. Such as, literally, my front yard. I used to spend hours with a blanket with all my crafty things and my books just looking at the clouds, laying outside. I have a lot of memories being outdoors and spending time in nature, whether it was going to like camp at Camp Chief Ouray [near Winter Park, Colo.] every summer or riding my bike around the neighborhood. I went to the Children's Center in Park Hill [neighborhood], and I had a bike route in Park Hill that I would frequent. City Park is a huge part of my memory because it was in between my high school and my home.
What about when you're back visiting now? Are there any favorite places (restaurants, museums, or otherwise) that you like to frequent?
That's so hard because the Denver landscape is changing so dramatically all the time. Every time I come home, I feel like it's more about discovery than it is about returning to old places. So, when I come back now, I'm always excited to try new things, and one of my dearest friends, Angela … she's like my tour guide now. I just show up and text her and say, "Where do I need to go?" I went to Las Delicias like three times while I was home, for whatever reason. I used to go there as a kid because the Logan School for Creative Learning was on the block across the street. When all else fails, I end up there.
A few of the subjects you've painted are Denverites. Is that right?
Yes. Marcus Hope and his son Jayce, there's a painting of them in the barbershop that's called House of Hair in Park Hill that my mother has been going to every two weeks for years. And Marcus is somebody who, because I would go with my mom whenever she'd get her haircut, I built a friendship and relationship with. He's a very quiet person, but one of the kindest men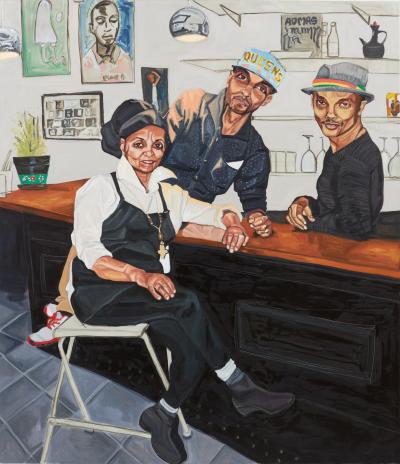 that I've ever met, and he and his wife and his family have become very close to me as a result of just being in the barbershop all the time. One time I mentioned that my boyfriend at the time broke up with me right before prom, and I was really sad about it, and he offered to drive me and my girlfriends to prom, which was very sweet. Since then we've become really good friends. Another painting, "Ron and Jordan," features my friend Jordan and his dad. He and his family were deeply embedded in my life as a young person in high school. He was my first boyfriend in high school, and we've maintained a really positive relationship and friendship. And so, when I came back determined to photograph people in Denver that I knew and loved and had a fondness for, I reached out to Jordan and his dad to see if they'd be willing to participate. And they agreed very kindly.
Your mother was active in a lot of philanthropic causes in Denver and your grandfather was a civil rights leader. How do you think that family background informs you as an artist?
The thing that my mother always instilled in us coming of age was that it's not necessarily about being the "granddaughter of" or the "daughter of"; it's about living the values through the work that you're doing. So, the legacy for me is about walking the walk and not just talking the talk. That I have to take the values I have learned from my mother or my father or my grandparents and put them into real action in my day-to-day existence. Long before I became Jordan Casteel the painter, I was Jordan Casteel who understood the value of everyday stories and people and creating voices for people and room for people who might otherwise feel that there's no room for them.
Image credits: "Ron and Jordan," "Mom Hand," "Twins" and "Benyam."