After a nearly two-year hiatus, the Kirkland Museum of Fine & Decorative Art is celebrating its grand reopening on March 10, 2018. The museum houses three major collections: paintings by namesake artist Vance Kirkland, fine and decorative art by other Colorado and regional artists and international decorative art.
The newly constructed building in Denver's Golden Triangle Creative District is about four times larger than the original Kirkland Museum at 13th and Pearl. Inside, visitors can view between 5,000 and 6,000 pieces of fine and decorative art, compared to the 4,000 pieces displayed at the previous location.
Although the new building and location (near many of Denver's other cultural and artistic attractions, such as Denver Art Museum, Clyfford Still Museum and History Colorado Center) are improvements in many ways, there was one major drawback: the loss of the original, historic building, which was built in 1910. The Arts & Crafts-style building served as the Kirkland School of Art from 1932 to 1946, and it became Vance Kirkland's personal art studio when he went back to teaching at the University of Denver.
After Kirkland's death in 1981, his friend Hugh Grant (no, not that Hugh Grant) inherited the estate, which included the studio as well as Kirkland's paintings and small decorative art collection. Grant opened Kirkland Museum in 2003 and, as the founding director and curator, has been expanding the collection ever since.
Eventually the collection, with its more than 30,000 pieces, outgrew the space, but it would have been a shame to lose such a tangible tie to the museum's namesake artist. So, Merle Chambers, who funded the construction of both the original Pearl Street museum and the $22 million new building through the Merle Chambers Fund, suggested simply moving it.
Well, "simply" might be an understatement, given the building's estimated weight of approximately 150 tons. But on Nov. 6, 2016, move it they did. Now, Kirkland's 1,384-square-foot studio sits partially inside, partially outside the new 38,500-square-foot museum.
"It's like time traveling when you walk through this door," says Maya Wright, the Kirkland's education manager and historian, as we walk from the pristine and roomy new building into the historic and intimate little studio.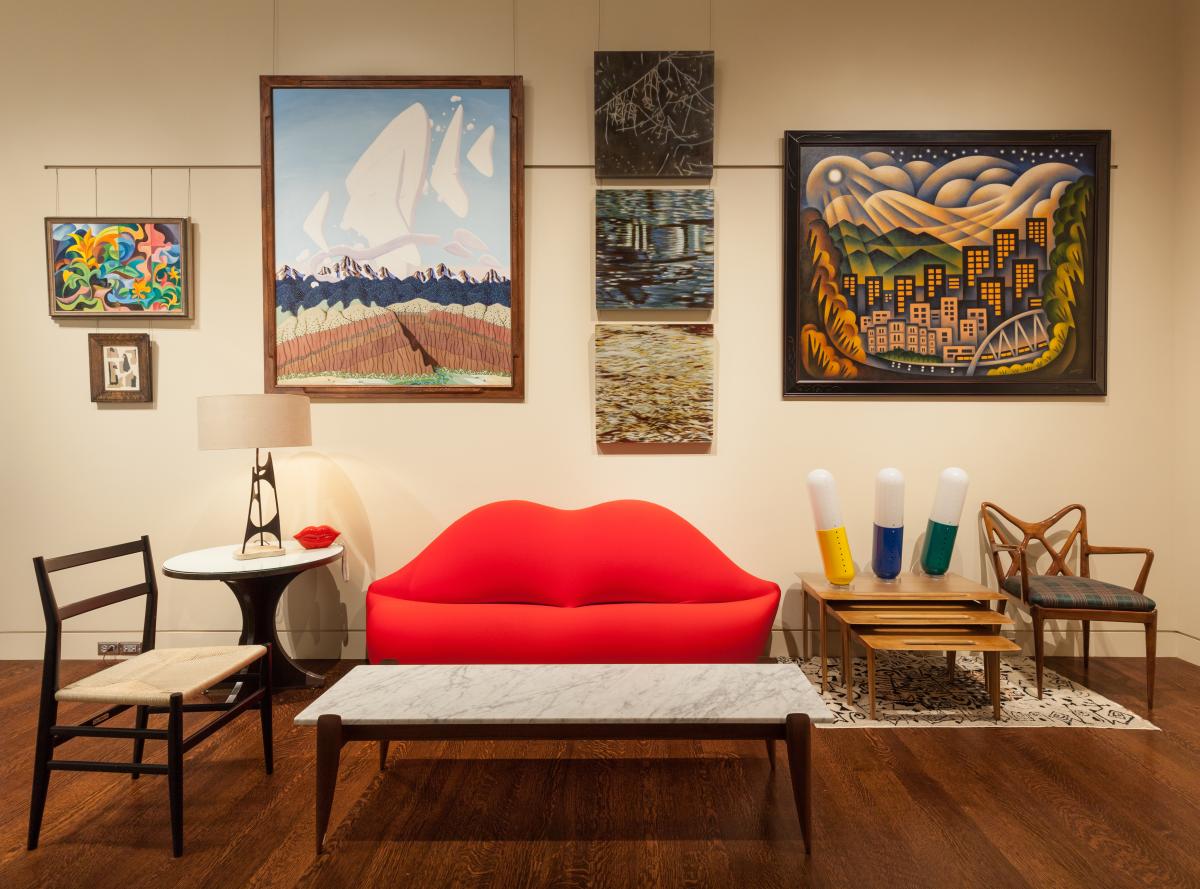 The three rooms trace Kirkland's artistic evolution from realist watercolors to surreal and abstract creations to his iconic oil and water "Dot Paintings," which he created by meticulously applying paint with wooden dowels. The first two rooms display Kirkland's art alongside pieces from his decorative art collection. Though considered precious works of art today, these functional pieces were a part of everyday life for Kirkland, who is quoted as having said, "if I am going to eat off of something, drink out of something or sit in something, it is going to be great design."
The final room of the studio is the workroom, which is lined with books, vintage radios and art supplies. Most of the space is taken up by a large table piled with more painting supplies, a canvas and what looks like an old-fashioned skateboard. If the skateboard seems out of place, look up. Those black straps hanging from the ceiling? Kirkland used them to hang suspended over the table to work on his paintings, which were mounted on the skateboard for mobility.
The red brick studio stands in stark contrast to new building, which is decked out in bright yellow terra cotta bars and golden glass panels. Seattle architect Jim Olson, who designed both the interior and exterior, calls it "the jewel box" — a golden museum for the Golden Triangle.
The galleries of the new museum guide visitors on a chronological tour of Colorado art, from realism to impressionism, regionalism, surrealism, and, finally, referential and pure abstraction. As in the studio, the fine art is displayed salon style alongside pieces from the museum's vast international decorative art collection, beginning with "Arts & Crafts" and moving through "Art Nouveau," "Bauhaus," "Art Deco," "Modern" and "Postmodern." Throughout you'll recognize names like Frank Lloyd Wright, Charles and Ray Eames, William Morris and Andy Warhol, as well as learning about lesser-known fine and decorative artists.
There's also a sculpture gallery, a timeline of Colorado ceramics (the state is especially known for its ceramics because many ceramic artists came to Colorado for treatment for tuberculosis) and a temporary exhibition gallery. First up in this space: an exhibit of prints by Colorado artists paired with national and international prints on loan from the Mayer Collection. The timing of the grand reopening is apropos, since March is Denver Month of Printmaking, or Mo'Print.
Note: Due to the fragile nature of the collections and the salon style in which they are displayed, Kirkland Museum is open to visitors age 13 and older only. Only have a few minutes to spare? Visit the Vance Kirkland Gallery behind the welcome desk, which is open to the public (including those under 13) without the purchase of a ticket to the rest of the museum and features another retrospective of Kirkland's paintings, beginning with some of his earliest student work and ending with his final piece.