The Kitchen is an American bistro with Colorado roots and a dedication to serving delicious, real food sourced directly from farmers. Sounds simply tasty, right? That's the point. Founders Kimbal Musk and Hugo Matheson were among the pioneers of the farm-to-table movement and opened their first location in Boulder in 2004 followed by the Denver addition in 2012. (It also has a location in Chicago.)
Denver's rapidly evolving culinary scene has earned kudos from foodies and food critics alike, and The Kitchen is part of the thriving Lower Downtown (LoDo) neighborhood. Conveniently located in the historic Sugar Building on the 16th Street Mall, The Kitchen is just footsteps away from Denver Union Station and Coors Field and close to other prime attractions like the Pepsi Center and Dairy Block. The combination means amazing food and loads of fun all in one place!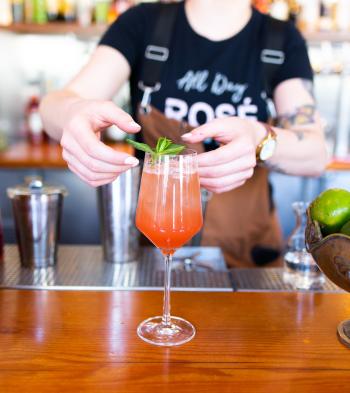 Featuring a seasonal menu with locally sourced ingredients, The Kitchen in Denver is the place to go for business luncheons, intimate dinners, brunch, happy hour and more with friends, family and colleagues. The preparations are simple, clean and focused, and the atmosphere is divine with plenty of natural light and people watching, thanks to the large windows. 
A talented culinary team is behind various signature items such as hand-cut garlic French fries, pasta Bolognese and sticky toffee pudding. If brunch is on your mind, envision Gulf shrimp and grits with andouille sausage, poached Wisdom Farms eggs, and Castle Valley Mills creamy grits. Or savor mushroom toast featuring Wisdom Farms soft scrambled eggs, braised Rebel Farm red kale and ricotta salata over buttery brioche. 
The Kitchen embraces Denver's 300 days of amazing sunshine annually with a spacious patio to relax on and signature series like the All Day Rosé program, featuring a curated collection of rosé selections from around the globe. Their All Day Rosé cocktail, the Sunshine Spritz (pictured), is a delicious blend of sparkling rosé, Galliano apertivo, pineapple, lemon and mint.
And then there is a daily happy hour of course! Look for wine, cocktail and beer specials ranging from $5 to $7 and mouthwatering food and drink combos like the double cheeseburger and hand-cut French fries that come with a beer or the crispy fish lettuce tacos and margarita special. 
Community service also lights up the founders and staff of The Kitchen. Upon establishing The Kitchen, Matheson and Musk began supporting and volunteering at school gardens in their community. They witnessed firsthand how impactful school gardens are in strengthening kids' connection to food. Inspired by their experiences, the duo wanted to see even more students have opportunities to garden and grow food. With an eye for design and a knack for innovation that scales, they co-founded Big Green in 2011 with an ambitious goal of reaching hundreds of thousands of underserved students across America, something that is happening today. 
Today, Big Green and The Kitchen work side-by-side in many American cities, and The Kitchen Restaurant Group donates 1 percent of profits every year to support the Big Green mission of a healthier future for kids. Big Green has partnered with The Kitchen family of restaurants in Colorado, Ohio, Chicago, Indianapolis and Memphis. The partnership extends past a monetary donation and into the community where the restaurants provide in-kind donations, including restaurant space and delicious real food to host Big Green events and fundraisers.  
The Kitchen was chosen as the name for a restaurant that would act much like the kitchen in one's home … a center of conversation and connection and the place everyone likes to hang out. Stop by for lunch, dinner, weekend brunch and happy hour and The Kitchen will become your home away from home!