Heavy red velvet curtains frame the entrance to the small, chapel-like room. It's only 2:30 p.m., but the four wooden pews are filled almost to capacity. The crowd turns expectantly as a man enters and strides to the front of the room.
"This is our whiskey church," he says. "We're going to be discussing a lot about the spirit today."
The "church" is Laws Whiskey House, the man is Alex McGavock, a Laws brand ambassador, and instead of delivering a sermon, he'll be leading us on a tour of the distillery, culminating in a whiskey tasting.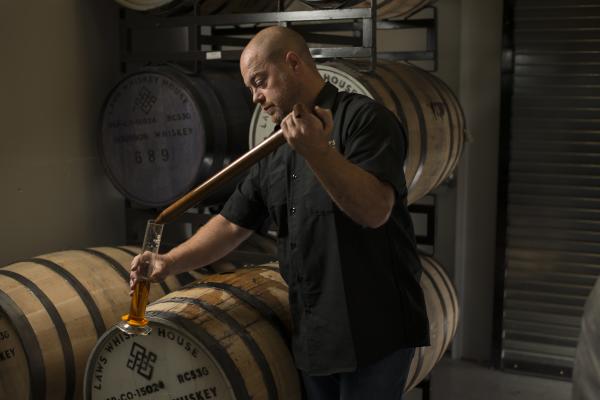 Founded by Alan Laws, the distillery will be celebrating its sixth anniversary in 2017, but the brand has already been making waves in the world of whiskey. Laws is best known for its flagship A.D. Laws Four Grain Straight Bourbon (made from corn, wheat, rye and barley), which earlier this year took home a gold medal in the Non Kentucky Bourbon category at the World Whiskies Awards America, while its Secale Straight Rye Bottled in Bond earned not only "America's Best Rye" at that competition, but also went on to win "World's Best Rye" at the World Whiskies Awards overall.
Laws has also set itself apart by becoming the first Colorado distillery to offer Bottled-in-Bond whiskeys, which adhere to some of the strictest distilling standards in America, and the first distillery in the nation to release a Bottled in Bond Four Grain Bourbon.
But the accolades are only a byproduct of the distillery's primary goal: to produce the highest quality whiskey using local ingredients. All of Laws' grains come from growers in Colorado, none of the distillery's whiskeys contain added color or flavors, and every batch is aged at least two years — and often longer. The distillery's motto is "Craft over commodity. Quality over quantity. Whiskey above all.®"
Although quality is paramount, if the distillery has a secondary goal, it's educating the public.
"We have a big focus on education," says McGavock. "We have the tours, and now there are flight nights (Thursdays from 5 to 9 p.m., $10 for a flight of three tasters). We want people to come in and learn about the process and identify which whiskey is for you."
This commitment to education is obvious to anyone who's been on the tour, which is decidedly in depth. While we sit in the pews, McGavock explains the history of the distillery and gives us a crash course in distilling that spans from grain to bottle. Then we segue into the walking section of the tour.
Maybe it's the whole "Church of Whiskey," setup, but as we move from the rickhouse (where barrels of whiskey are aged) to the millhouse (where grain is milled) to the giant copper still surrounded by bubbling, open-air fermenters, I can't help but notice the multiple references to religion and spirituality. The distiller uses a "spirit safe" to assess and make cuts to the alcohol as it comes out of the still during what's known as the "spirit run." The "devil's cut" refers to the whiskey that gets absorbed into the barrel during the aging process, while the "angels' share" denotes the amount of alcohol lost to evaporation. And that swirl in the glass when you add a splash of water to your whiskey? It's called a "ghost" or a "spirit."
For these Denver distillers, whiskey is clearly a spiritual — if not religious — enterprise. And by the time we finish the whiskey tasting at the end of the tour, all our group can say is "amen."