In this installment of Denver's Makers, we take a look at authentic Italian cooking. The city's culinary profile is on the rise, fueled by chefs who are passionate about every item on the menu.
Chef Andrea Frizzi's story starts in his family's restaurant in Milan where he was raised to be a chef. At an early age, he developed a passion for fine Italian cooking from his Venetian mother, Pia, and the discipline for honest, hard work from his Tyrolean father, Livio. After working in several New York restaurants, Frizzi realized Denver needed a taste of authentic Italian cooking and poured every ounce of himself emotionally, physically and financially into opening Il Posto.
His efforts were rewarded. Frizzi's passionate Italian cuisine is now a Denver staple, so much so that he recently doubled the size of his restaurant and moved it to 26th and Larimer. Every dish he serves, including scratch-made-to-order risotto, is a friendly "thank you" letter addressed to the city that received his vision with open arms.
Meaning "the place" in Italian, Il Posto, is a vibrant space in Denver's hip River North Art District (RiNo) neighborhood. Both levels feature floor-to-ceiling windows for views of downtown Denver's distinct skyline, and a Bocci chandelier made with hand-blown Murano glass globes dangles above the open dining room below.
Il Posto's ever-changing menu is intentionally filled with the very best in local organic produce and meats, fresh seafood is flown in daily, and specialty items imported directly from Italy. All are combined and crafted for exquisite tastes in Frizzi's kitchen, which is of the open-air variety so he and the talented Il Posto culinary team are fully integrated into the restaurant's vibe.
Plus, guests can observe true Neapolitan cuisine in the making and even sit right in front of the action at one of six seats located at the chef's counter. Then there is the wine, with varieties handpicked by resident sommelier Maxell Koepke and placed in a large wine tower at the bar.
It's all about being in the present while dining at Il Posto just as Frizzi's passion is for cooking in the present, meaning use of day-best ingredients. The menu changes with the mood of the day, whether it is one of Colorado's 300 annual days of sunshine or more of a raining, dry, windy or snowing variety. Plus, there are just times to plug into comfortable favorites like Ossobuco Wednesdays, when Il Posto's well-loved veal ossobuco with risotto Milanese is dished up.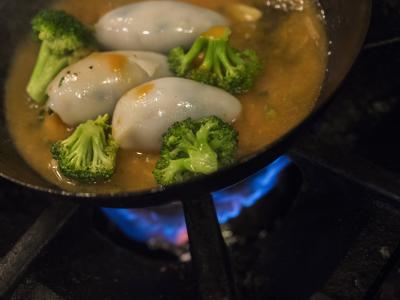 The energetic Frizzi began exploring his culinary roots at the age of 13 in his family's restaurant and graduated with honors from the prestigious four-year culinary course of the Italian Culinary Academy, working in Milan for 12 years before moving to the United States in 1993.
A true artisan in his field, Frizzi spread his wings to add a second RiNo location in the form of Vero Italian, located in Denver Central Market, a one-stop-shop food emporium that opened in September 2016.
Hints to the true origin of Frizzi's creations also fill the menu at Vero, such as the Massimeno pizza named after the 98-person town and beloved birthplace of his father. Pizzas are cooked fireside in an exquisite mosaic-tiled oven crafted on Vesuvian soil. Again, the menu is diverse and seasonal and also includes pasta. The shelves of the Italian market are lined with mouthwatering Italian delicacies and locally sourced artisanal goods that meet Fizzi's high standards.
The love story between Denver and this Milan native just continues to grow, and the delicious results speak for themselves.