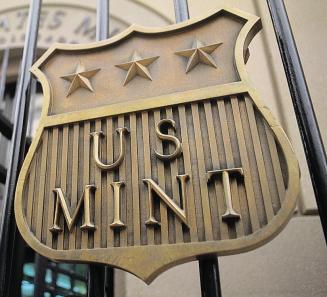 Learn how to make money, literally. Denver has one of two U.S. Mint facilities in the country that offers free tours.
But a common question is, what's it doing here?
The Colorado gold rush that began in 1858 brought thousands of miners and settlers to the territory, resulting in the founding of towns like Denver, Auraria, Breckenridge and Golden. It also created a need to turn that newly discovered gold into currency, as the closest U.S. Mint facilities were in San Francisco to the west and New Orleans to the east — both a long, often treacherous haul by wagon.
To meet this need, the banking firm of Clark, Gruber & Co. established a private mint in 1860 in their offices at the corner of 16th and Market Streets. Miners brought in gold dust and nuggets to be turned into gold bars and coins. The U.S. Treasury Department purchased the building and opened a United States Assay office in 1863. A decade later, Congress granted the facility the ability to produce coins for the United States and foreign countries, and in 1895 it became an official branch of the United States Mint.
To keep pace with the rapid growth of the West (and the need for U.S. currency in general), Congress approved plans for a much larger Denver Mint, and the current site at West Colfax Avenue was purchased in 1896, for about $60,000. The new Italian Renaissance-style building was modeled after a Florentine palace and took eight years to complete, finally opening in 1904. Coin production in the new facility started two years later, now including both silver and gold.
Although the Denver Mint struck its last gold coins in the early 1930s, the legacy of this gold rush institution lives on. Today, the Denver Mint is the largest producer of coins in the world. Output can exceed 50 million coins a day, including circulating coins (the ones that pile up on your dresser and in your kids' piggy banks), commemorative coins authorized by Congress and uncirculated coin sets that are struck on special presses each year as collectors' items. The facility also manufactures coin dies and stores silver bullion.
Ironically, Denver's biggest "money making" attraction won't cost you a penny to visit. Free, 45-minute guided tours of the Denver Mint are available Monday through Thursday (excluding Federal holidays). All visitors must be 7 years and older. See the mint's latest policies. 
                                                                                                                                                                                             Lead image courtesy of Flickr Commons.