Cowboys and American Indians abound in downtown's American Museum of Western Art – The Anschutz Collection (AMWA), where more than 300 paintings depicting Western life from the 1820s to today are on display. That two-century span translates to a wide range of imagery. There are portraits and landscapes—realistic and abstracted—and depictions of tribal ceremonies and family life. Some works were imagined by men who'd never traveled West; some are stereotypes; and some are authentic studies. 
Among the more realistic depictions of life in this rugged, opportunity-laden part of the country is Frank Mechau's "Wild Horse Race" (1935). The Colorado artist—and former boxer—was raised in Glenwood Springs and taught at the Kirkland School of Art and the Broadmoor Art Academy (now the Colorado Springs Fine Arts Center). He was employed by the government as part of the Federal Art Project, a work relief effort for artists during the Great Depression. This "New Deal art" was created for p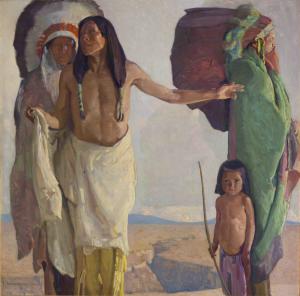 ublic buildings and aimed to make art more accessible to larger audiences. 
"Wild Horse Race"—a vibrant, dynamic rodeo scene—was created for the Glenwood Springs post office. In a 1934 letter, Mechau described his project: "I am tracing on canvas a wild horse race which is a feature of the rodeos. About 12 untamed broncos are dragged out of the chutes to the race track. A team of three cowboys to a horse attempt to saddle the frantic creature and ride it around the track… Complete chaos—horses plunge and pitch, men are flung and sometimes dragged with their feet in the stirrup; no two broncos go in the same direction or do the same thing… What a drama of forms and forces, of colors and textures, and a lightning line sewing the cyclone-chaos together."
Colleen Sullivan, AMWA's interpretive and communication specialist, says this work is one of the first examples of various skin tones being represented in Western art. "It's supposed to help us, as a viewer, identify ourselves in that painting," she says.   
Mechau was known to work slowly and deliberately; he created about 60 works in a 15-year span. He would begin with thumbnail sketches and work his way up to full-scale murals. The painting on display at AMWA is actually a cartoon, or study, for the final piece. 
Nowadays, the original "Wild Horse Race" lives a little closer: It's housed on the second floor of the Byron Rogers Federal Building in downtown Denver. (Another of Mechau's murals, "Horses at Night," 1934, hangs in the Fine Arts Department at the Denver Public Library.)
The nonprofit AMWA opened to the public in 2010 and houses the donated Anschutz Collection. The gilded-framed masterpieces are displayed salon-style, primarily in chronological order, across three floors of the 139-year-old Navarre Building. Parlors on each level—outfitted in period-appropriate décor—add to the venue's historic vibe. Many of the artists will be familiar, at least in name, even to art world neophytes: Frederic Remington, Thomas Moran, Maynard Dixon and Georgia O'Keeffe (one of four female artists represented) among them. Sullivan explains the varied collection best: "It's the historic and modern and contemporary progression of westward expansion," she says.
The American Museum of Western Art is open to the public from 10 a.m. to 4:30 p.m., on Mondays, Wednesdays and Fridays. Admission is $5. Guided tours ($7 to $10) are hosted at 10 a.m. and 1 p.m. on those days.
Image credits: Installation view (lead image) and Ernest Blumenschein, "The Peacemaker," c. 1913 (secondary image). American Museum of Western Art—The Anschutz Collection.