Riding on a historic train and chugging through outrageous mountain scenery that can't be accessed by car is a required bucket list item for anyone seeking a true Colorado experience. Riding the Durango & Silverton Narrow Gauge Railroad (D&SNGRR), established in 1881 as the Denver & Rio Grande Railway, is one of the best options not only for amazing sightseeing but also for taking part in unique events and fabulous outdoor adventures on southwest Colorado's trails and rivers. 
From Denver, it's only a short flight to Durango or a 330-mile drive along two of the state's most scenic roadways, Highways 285 and 160, with cool towns like Fairplay, Buena Vista, Salida, South Fork and Pagosa Springs to visit along the way. Upon arrival in Durango, head straight for the town's vibrant downtown, where D&SNGRR is based with a free museum and depot as the launching point for a fleet of vintage coal-fired, steam-powered locomotives (most dating back to 1923-25) and coaches that carry passengers through the remote wilderness and high-mountain landscape of the San Juan National Forest.
You might just recognize some of the trains, as D&SNGRR has been featured in numerous movies and TV shows, a few of the most notable being the 1969 Academy Award-winning classic "Butch Cassidy and the Sundance Kid" starring Paul Newman and Robert Redford, "Around the World in 80 Days" and more recently the 2017 Netflix mini-series "Godless."
Owned and operated by American Heritage Railways Inc. since 1998, D&SNGRR offers year-round rail experiences for passengers of all ages. Summer and fall are idyllic times to ride the train, which has the unique status of being both a registered National Historic Landmark and a National Historic Civil Engineering Landmark. In addition to embarking from Durango, riders also can board at the northern edge of the D&SNGRR tracks in the historic mining town of Silverton and a few other points along the way.
Classic Excursion
One of the most iconic trips on D&SNGRR is journeying along the 45 miles of rails originally laid in 1882 between Silverton and Durango, available May 5-Oct. 27, 2018. One of the best parts is traveling along the Animas River through wilderness inaccessible by any road, including the drop-off point for Soaring Tree Top Adventures, which is the longest zipline course in the United States and perhaps the world. 
Choose between the 9-hour Durango to Silverton round-trip excursion (a 3.5-hour train ride each way and 2 hours in Silverton for lunch, shopping and exploring) and a combination train/bus journey on the Skyway Tour, with the shortest being 5.5 hours. A modern coach traverses 52 miles of the San Juan Skyway scenic and historic byway for the 1.5-hour bus ride portion of the tour. The fact that Durango is located at 6,512 feet in elevation compared to Silverton's 9,350 feet provides a helpful visual for the type of mountain terrain crossed by train and bus. 
There are all sorts of classes (e.g., premium, presidential, first and deluxe) and types of cars to choose from, including glass-domed and gondola options as well as coaches that come complete with first-person historical narratives of what was required to build the railroad and what it takes to keep it going along with interesting facts about the scenery and historical significance of the area.
It's especially fun to help launch the summer season with Narrow Gauge Day in Durango on Friday, May 4, and Silverton Kickoff on Saturday, May 5. This year, events and activities are centered around the 20th anniversary of American Heritage Railways purchasing the D&SNGRR. On May 5, narrators will be dressed in period clothing and stroll through the cars to tell a bit of history, and in Silverton there will be festivities and townspeople dressed from the Victorian era as the train pulls into the center of town.
Another good way to experience Silverton in more detailed fashion is spending a night or two at the beautiful Grand Imperial Hotel, which also dates back to the 1880s and was restored by American Heritage Railways and reopened in 2016. 
Event Trains & Adventure Packages
For an especially memorable outing on the D&SNGRR, consider one of the special events such as the Durango Blues Train running on June 1 and 2 and Aug. 17 and 18 and Durango Brew Train on Sept. 1 and 29. Wine aficionados should hop aboard on Sept. 2 or 30 for Durango Wine & Rails, and photography fans should grab their gear for Sept. 22 and 23 Fall Photography Train outings. Meanwhile, the Mother's Day Train in May, T-Rex Express in June and PEANUTS™ The Great Pumpkin Patch Express in October are all about families or anyone young at heart.
Some riders may want to take it up a notch by booking adventure packages that include both a train ride and mountain action like guided ATV and Jeep rides, horseback riding, a cave hike, zip lines and river rafting. 
Wilderness Access
D&SNGRR provides an easy way to tap into backpacking and day hike routes and rivers in the San Juan National Forest and Weminuche Wilderness. The two main access locations for hikers and those who love to fish are at Needleton, which is the entrance to Chicago Basin, and Elk Park, a connecting point to the Colorado Trail. 
Visit the D&SNGRR website for trail ideas and a timetable that outlines dates and times the train picks up and drops off at these flag stops for wilderness access.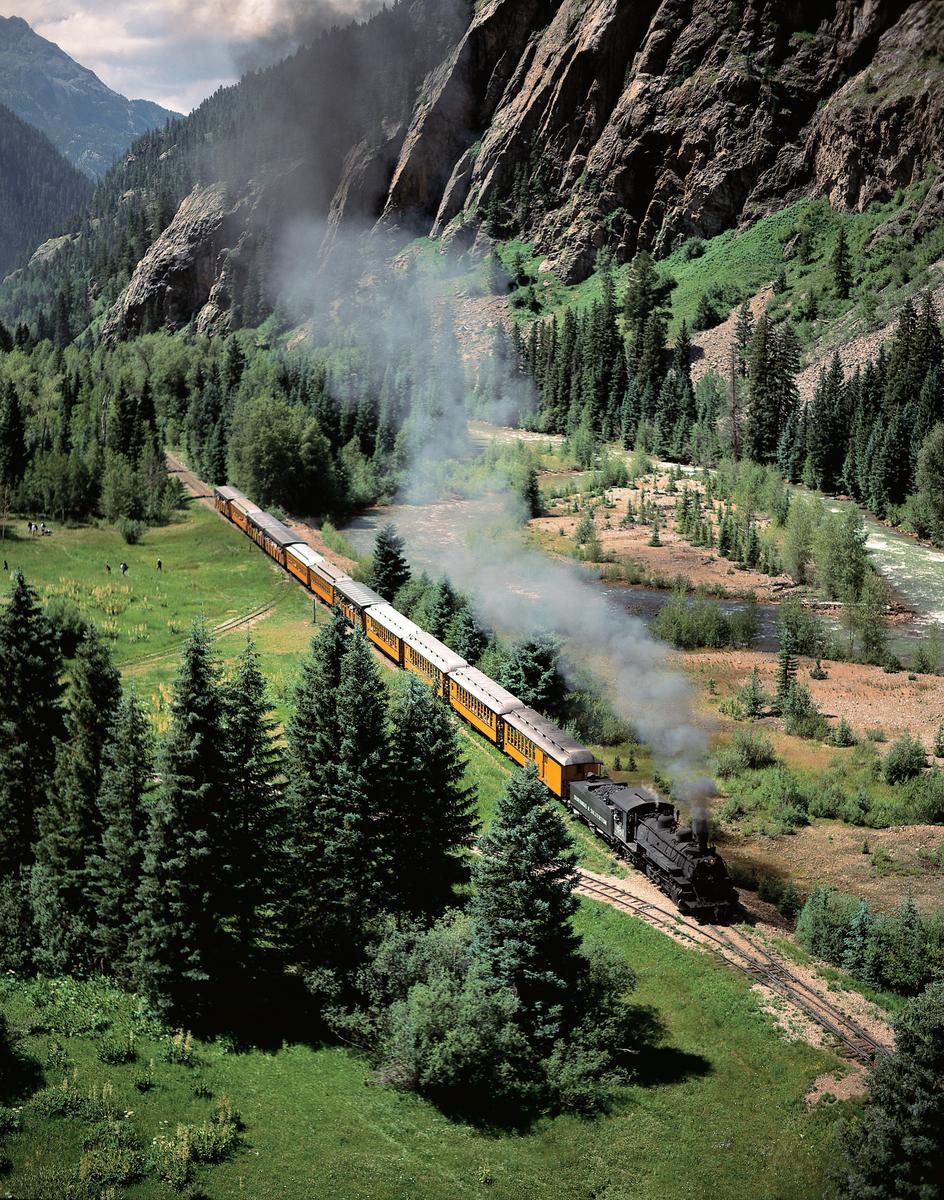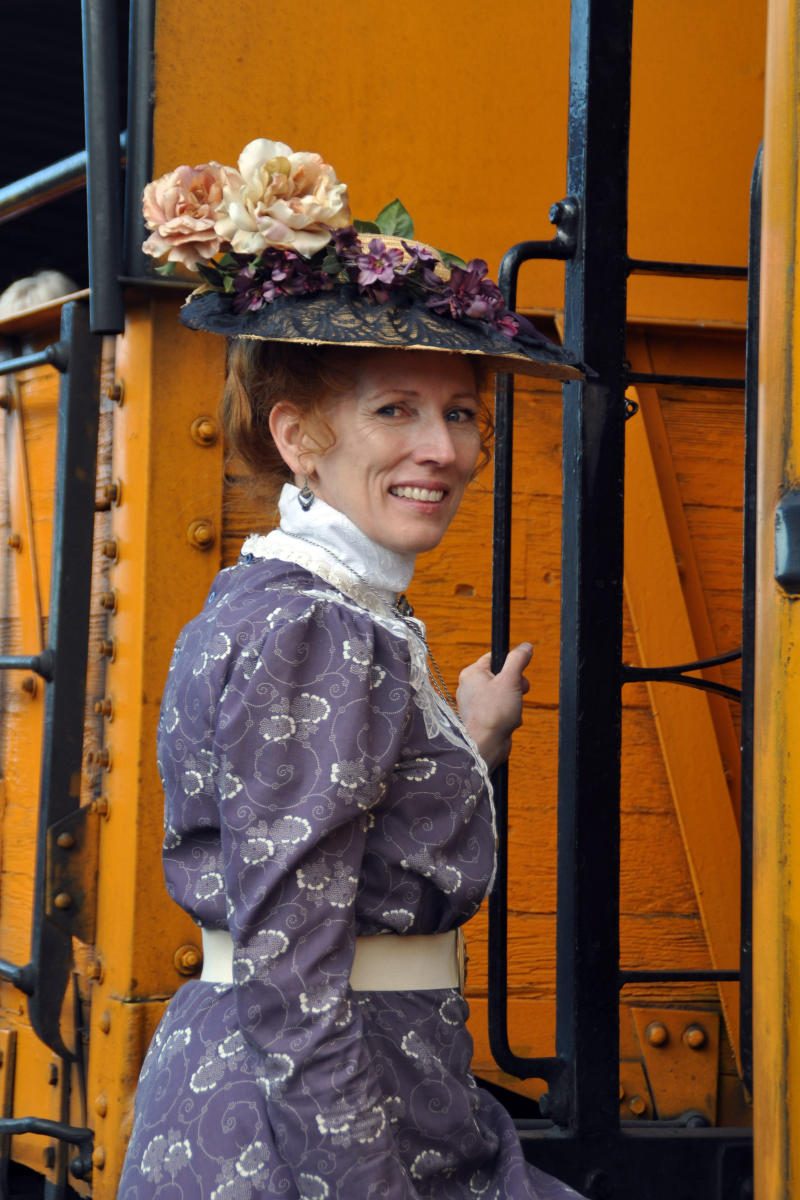 The railroad is a gateway to many more adventures.
By the Numbers
1879 – Denver & Rio Grande Railway founded the town of Durango and the oldest part of the D&SNGRR (Concession Car #212) was built
1882 – Train began hauling passengers and freight between Durango and Silverton
1887 – D&SNGRR's oldest locomotive, No. 42, was constructed and is now on display at the railroad museum 
1998 – American Heritage Railways purchased D&SNGRR
36 inches – Distance between narrow-gauge rails vs. the 56.5 inches of standard rails
$300+ million – Value of precious metals transported by D&SNGRR over the years
18 mph – Top speed of the train  
45 miles – Amount of track the train travels between Durango and Silverton 
Don't miss this terrific option for a city and mountain combination that is sure to be one of your favorite travel memories!