What are those dark, hulking, hump-backed beasts just off Interstate 70 on the way to Colorado's ski country? Your eyes do not deceive you. There are indeed two to three dozen buffalo (or American bison, technically speaking) roaming the grasslands that flank the highway at Genesee Park. And they've been doing so for more than a century. 
Genesee Park was the first mountain park acquired by the City of Denver, and it was populated with bison in 1914 as a conservation effort. The first two members of the herd came from Denver Zoo. Soon after, park managers brought in a few animals from Yellowstone National Park's herd—the last few remaining wild bison in the world.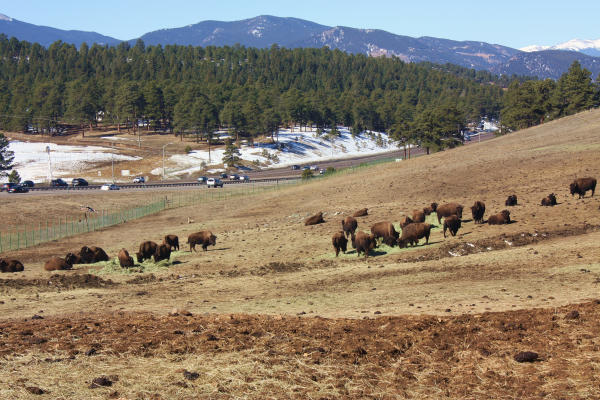 Today, the appearance of the Genesee Park bison, with their prominent shoulder humps (like those you might see on the back of a nickel), along with DNA testing, indicate that the herd is indeed a rare vestige of the original American bison. Their behavior shows few cattle traits (rare for bison), and they engage in what is regarded as ancient bison behavior: They'll form a circle with bulls on the outside if a coyote approaches, and if one member of the herd is cut, the other members will roll in the blood, presumably so predators don't know which among them is weakened.
The majestic beasts are managed by Denver Mountain Parks. Supervisor Matt Brown, who lives in a historic 1860 home on site at Genesee Park, cares for the animals daily and is on-call 24/7 to tend to their needs.
To see the bison for yourself, head west from Denver on I-70. Look for the "Buffalo Herd Overlook" sign and take Exit 254. You may see some right from the road, or you might have to take one of the hikes in Genesee Park to search for them. Please respect the bison—they prefer peace and quiet—and do not climb the fences, feed, taunt or otherwise disturb the animals. 
The Chief Hosa Campground is located at Genesee Park and is close to the buffalo herd viewing areas (reservations are recommended for campers). Also nearby is the Buffalo Bill Museum and Grave, where you can learn about William F. "Buffalo Bill" Cody the frontiersman, showman and bison hunter.
Another municipal buffalo herd roams the pastures at Daniels Park, south of Denver. And the Rocky Mountain Arsenal National Wildlife Refuge, an old weapons production facility-turned-wildlife-sanctuary, has another few dozen buffalo that you can view during park visiting hours.
Photos courtesy of Wikimedia Commons.