Chef Keegan Gerhard has a solid list of accomplishments: He has starred in a Food Network show, opened two restaurants, helped lead Team USA to its first (and only) gold medal at the Pastry World Cup, cooked for the James Beard Foundation and almost went to the Olympics as a cyclist.
But when asked about his most revered creation, he goes back to the Cake & Shake, a chocolate pastry and milkshake combo that has been on the menu at D Bar since day one. "I believe in the restorative power of food, and I love being in the position to serve people," he says.
With this dessert, Gerhard aims to take people back to the simplicity of childhood--the way it does for him. "To me, both a cake and a shake are so American and comforting," says the award-winning chef, who opened the Denver restaurant with wife Lisa Bailey, also a renowned pastry chef, in 2008. Growing up in Germany, Gerhard would visit his grandmother in New Orleans. She'd always be waiting for him with a slice of chocolate cake and a milkshake. "It's the very first thing we did, even though we landed at 11 or 12 at night. I remember thinking America was this magical place where you could eat things like hamburgers and cake anytime."
The recipe is a nod to New Orleans' confectioneries, Germans' long-time love affair with chocolate, history and his mother. "She was a food nerd," he says. "She had a website, labellecuisine.com, which is still live. I dig through there for recipes all the time."
Gerhard can tell you exactly where (and when) each of his dishes come from. The chocolate cake, as many people who use store-bought mixes know it today, is a product of World War II food rations, when eggs, milk and sugar were scarce, he explains. Bakers turned to baking soda, vinegar and other substitutes such as Dr. Pepper and beets to sweeten, color and leaven products. D Bar's bakers take things back to pre-war times when all you needed for a good cake was eggs, milk, real chocolate and sugar. To account for Denver's high altitude and lack of humidity, Gerhard's team relies on cottonseed oil to keep the layers moist.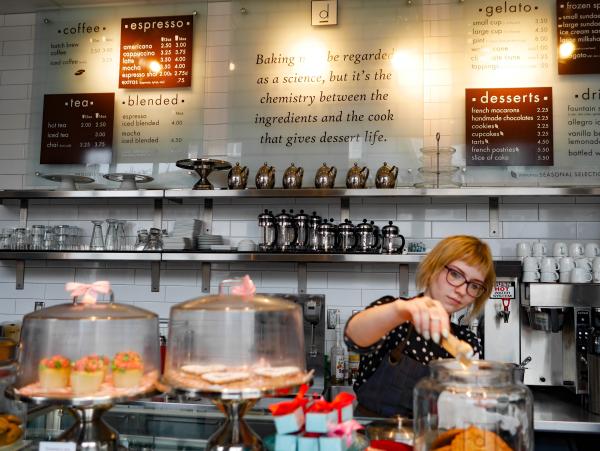 The not-so-secret trick has to do with the ingredients. Frosting is made using chocolate sourced from the exclusive Criollo bean from Madagascar. "Less than 16 percent of all chocolate made in the world comes from that bean," says Gerhard. Its flavor profile has a fruity, citrusy taste that balances out sweetness. "People think we add in orange zest, but it's the nature of the Criollo," he notes. "It's like wine or coffee; chocolate changes depending on the bean and region."
The milkshake isn't much different. The vanilla used for the spun-to-order vanilla shakes hails from the same area in Madagascar as the chocolate. The milk for the homemade ice cream comes from the local Royal Crest Dairy. "The family who runs it is great, and they have been doing this for a very long time," he says. "It reminds me of the days when the milkman would go to your house. As a company, Royal Crest is very local, sustainable and real."
Clearly, the origin of ingredients is important to the chef. He learned this working with the late and famed Charlie Trotter, who often advised Gerhard that he should care about ingredients as much as farmers do. "I have a dream of doing a wine dinner for people who are super nerdy about this stuff like I am," he says. "We would create one menu and serve two small versions of it side by side. All the ingredients on one side would be from within 15 kilometers from each other in South America or the U.S., and on the other side, everything from within 15 kilometers in Africa. You'd see how exactly the same dishes would taste very different because of where the food is grown."
Although the quality, technique and presentation contribute to make the Cake & Shake stand out, the dish is really meant to be an everyman's dessert. "At first I felt the menu was too fancy," says Gerhard. "I thought, 'What am I going to serve the average Joe who just wants a pie or cake?' Right away, at the same time, Bailey and I decided we were going to make a killer chocolate cake." She wanted to pair it with malt. He wanted a shake. They settled on both. Diners can pick between flavors–raspberry, vanilla, chocolate–and choose milkshake or a malt as the accompaniment.
One could say Gerhard is an overachiever. His first introduction to Colorado was when he was training to take his cycling career to the Olympics. "It's very humbling to train in Colorado," he says. "The best athletes come here." Now he's competing in an entirely different discipline.
Since relocating to the 4,000-square-foot locale in Uptown, the dessert's popularity has only grown. D Bar goes through nearly 200 slices of cake every weekend. In 2016, 14,000 Cake & Shakes were dished out at the restaurant, which also specializes in tasty savory items, like Chicken & Waffles and Bacon Mac & Cheese. It's comfort food made with upscale techniques and ingredients. "We don't want to be the best restaurant in Denver. I don't even know what 'best' means," says Gerhard. "But we want to be Denver's favorite restaurant. We're not there yet, but every now and again you can see we're on our way."