Rex Fuller's job often requires him to view the lives of Colorado's LGBTQ+ people from a slightly elevated perch. As the CEO of The Center on Colfax, he's fundraising, he's strategic planning, he's green-lighting new programs, and each June, he's likely listening to staffers discuss what the organization should be focused on for Denver PrideFest. The region's largest LGBTQ+ event, it draws more than 500,000 attendees over two days and is recognized as one of the top 10 Pride events in the country.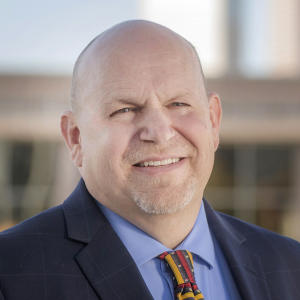 Even during Denver's annual Pride parade, he's on The Center's rooftop hosting donors and sponsors and watching the celebrants pass below on Colfax Avenue. It's the kind of schmoozing with a purpose Fuller has had good training in. As the Rocky Mountain West's largest LGBTQ+ organization, he sets a welcoming tone while staying focused on its important advocacy mission for the region. 
Before becoming CEO of The Center in 2019, he was vice president of the nonprofit's communications and corporate giving. Before that, he worked at some of the area's biggest arts organizations, among them: the Denver Center for the Performing Arts, Opera Colorado, Central City Opera and the Boulder Philharmonic. That's a lot of arts. Even so, don't typecast him. Asked about favorite things to do, he waxed poetic about the much beloved BOLDERBoulder 10K run.
Fuller hails from Lucerne, Colorado. "Very few people know where that is," he said. "It's four miles north of Greeley, three miles south of Eaton, nine miles east of Windsor. My mother would have called it 'a wide spot in the road,' but that's where I grew up. We did eventually move into Greeley itself."
So, this city-slicking interviewer wanted to ask about rural kids growing up, coming out.
"Young rural queer folks? It's a much different landscape than it was all those years ago, for sure," said Fuller. "But I still think it depends on where you are and what the landscape is. I think it's easy to lose track of the lived experience of a lot of people." He pauses. "And what do we need to know about the young queers coming up? They're coming from a bazillion different places."
And Fuller, who has lived in Denver for 35 years, still recalls that "where I grew up, sports was kind of a tool of oppression — the thing that was really used to exclude me." So, he was especially proud that the professional sports teams showed up for this year's Coors Light Denver Pride Parade. The Nuggets. The Broncos. The Avalanche. The Rockies. The Mammoth. The Rapids. All of them.
"This was the first year that all the professional sports teams had an entry in the parade, which is a big deal for Denver," Fuller said. "There's a lot of times I don't know anything about some of the sports or have just a passing knowledge. I didn't know there was a lacrosse team in town. But I still think it was meaningful for me to see that. And I think it was meaningful for lots of other people."
Local's Tip: Theater, Art and Dining

Head to the Denver Performing Arts Complex "where you're going to have such a variety of experiences. You can see a Broadway touring show but then you can also see these really cutting-edge dramas."

Don't miss the annual Cherry Creek Arts Festival each July.

And enjoy the Denver food scene: "I have often encountered this in Denver where I feel like, yeah, there's a gay bar scene but I can also go to whatever the restaurant is across the street and just be myself with my friends." On his tasting menu: the Israeli restaurant Safta inside The Source and Fruition, a farm-to-table gem on Sixth Avenue.

—Rex Fuller
There was a time when Fuller's Pride-day ritual was a little more boots-on-the-ground. On the Sunday morning of the parade, Fuller — an early organizer of PrideFest starting in the '90s — would be downtown, readying Civic Center Park for the thousands of folks who would soon arrive for the ongoing weekend's festivities — family activities, performances, dancing and more. The park sits between the Colorado State Capitol building and the City and County Building. To the south stands a Greek amphitheater and to the north a fountain and archway. Tree-lined walkways crisscross its landscaped expanse.
Sitting in his office at The Center, Fuller smiles at a memory.
"It's like 5 o'clock in the morning and we're getting everything done. But between 9:30 and 10, we'd try to be near Colfax and Broadway, just so we could see that giant parade come over the hill," says Fuller. "It's really a cool thing."
He's right. It's a scene begging for a filmmaker. Can't you see it? A crowd of Mardi Gras-bead-throwing, tank-top sporting, wig-boasting, banner-waving folks cresting the hill adjacent to the Capitol building? It's a sight he loves to recount.
"A few years ago, I was in my little golf cart looking at the parade coming over the hill and one of our volunteers, who's been doing it for a long time, came up beside me. She looked up the road, then she just looked over at me. She had tears in her eyes, and she just goes, 'Look at what we can do.' And that's kind of a guiding thing for me just to feel like, wow, look what we can do."