Look for the motorcyclist with a sidecar and a red, white and blue helmet. He's kind of hard to miss.
That's Scott Kirkwood, the man behind City on the Side: Sidecar Motorcycle Tours. 
Led by guides, or "sidecarists," on motorcycles with Bluetooth-equipped helmets, City on the Side's tours cruise on two-hour routes in Denver or four-hour loops in the mountains. Guides do pickups within a 5-mile radius of their location south of downtown, or else tours depart from the shop. "They're just phenomenal riders and phenomenal communicators," says Kirkwood. "They love to show off the city."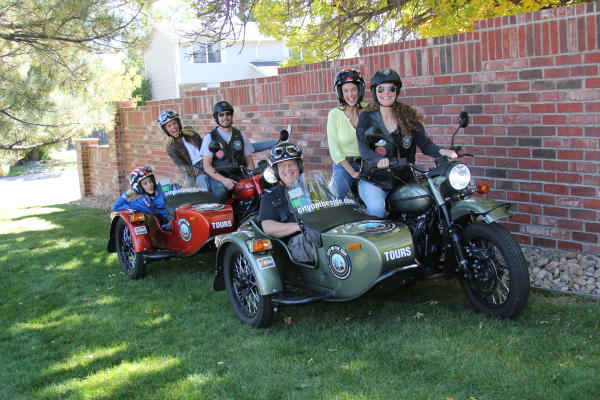 Kirkwood is a longtime marketing and business consultant (and even longer-time motorcyclist) who decided to start City on the Side in early 2016. "I did a lot of homework," he says. "I took every single course that applied to my business from the [Denver Metro] Small Business Development Center."
Kirkwood found inspiration in Retro Tour Paris and even flew over to get a firsthand look at Europe's leading sidecar tour operator. The trip "sealed the deal," he says. They're the best of the best."
There are currently about 15 sidecar tour operators worldwide, but City on the Side became the first in the U.S. when it launched in 2018. Word is getting out: Business quadrupled in 2019. Customers "love the freedom," says Kirkwood. "A high percentage of my passengers have never been on a motorcycle before."
The city tour covers downtown before heading east for a lap around City Park, highlighting such landmarks as Larimer Square, the Colorado State Capitol, and the Molly Brown House Museum. "When you go to a different city, you get to know a three-block radius around your hotel," says Kirkwood, describing City on the Side as an antidote to that limited perspective. "It really shows people the evolution of Denver."
His advice: "Take [the tour] on the first day. We're going to show you the landscape and you can learn where you want to go back to."
City on the Side also takes passengers on two mountain routes: The northern option heads west to Central City via Clear Creek Canyon, and the southern one hits Morrison, Evergreen and Idaho Springs. "We always end the mountain tours with a parade lap on Washington Avenue in Golden," Kirkwood notes. "It's an absolute blast."
Regardless of the tour, passengers should prepare to be the center of attention. "I make them the superstar," says Kirkwood. "When we go down Blake Street, people are taking pictures. People can't help but notice us, and turn and wave and smile."
Part of that is the vehicle. The unique bikes are made by Russian manufacturer Ural. "I can put a brand-new Ferrari next to one of our Ural motorcycles and I guarantee people will crowd around this and not the Ferrari. All my bikes have Russian female names because all my sidecars are Russian-made," he says.
A little history: Russian engineers got ahold of a BMW sidecar motorcycle from Germany and brought it to Moscow for reverse engineering. The company exported to developing countries during the Soviet era, then went worldwide. The sidecar is actually manufactured as part of the motorcycle and not bolted on as an afterthought.
But City on the Side is not just about the vehicle or the route. "It's about creating memories for people," says Kirkwood. "It's a really personal tour. There are only two people on the bike [plus the Sidecarist] and they're connected by a communications system."
By the time it's over, the sidecarists and passengers have gotten to know one another: "Most of our tours end with a hug, not a handshake."
Kirkwood is focused on giving back. "I don't care about money, I care about changing lives," he says, recounting a recent outing with a group of veterans from a nursing home. "My guy was Leroy. He was 96 years old. It was just an ear-to-ear grin the entire time."
City on the Side donates 3 percent of revenues to the American Foundation for Suicide Prevention in memory of Kirkwood's late son, Nick. After Nick's passing in 2016, Kirkwood went on a 7,000-mile motorcycle trip to clear his mind, and that led him to launch City on the Side. "I dedicate this whole thing to him," says Kirkwood.