One of the most iconic Colorado travel experiences is riding the Amtrak Winter Park Express ski train from Denver Union Station and being delivered to the base of Winter Park Resort. It's immediate access (only a 100-foot walk) to some of the state's best skiing and riding, as well as tubing, ice skating and scenic snowcat tours for those who prefer alternatives to two planks and snowboards. No other ski resort in the United States has slopeside train service!
Since the ride from city to mountains takes only two hours on this handy Amtrak route (7-9 a.m. and return route 4:30-6:40 p.m.), it's possible to enjoy an urban vibe and snow-covered peaks all in one day without changing hotel rooms and toting luggage around. Or spend a few nights in both places without ever needing a car, a win-win combination!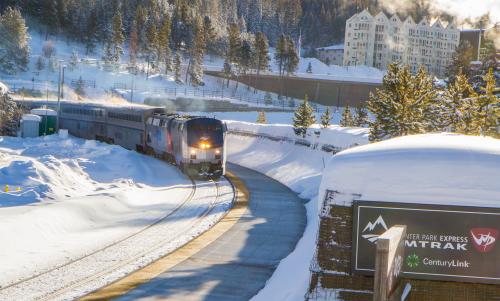 The When
For the 2019 season, the Winter Park Express is running on Saturdays and Sundays from Jan. 4 to March 31, 2019, plus the first two Fridays of each month (Jan. 4 and 11, Feb. 1 and 8, and March 1 and 8, 2019).
Ticket prices range from $29 to $59 one way, and children ages 2-12 ride for half price with a ticketed adult. The benefit of going on Fridays are shorter lift lines and quicker stops at equipment rental counters, but Saturdays and Sundays are equally worthy for glorious blue sky and powder ski days!
For other days of the week, the Amtrak California Zephyr continues its route west from Denver Union Station at 8:05 a.m. daily and arrives in Fraser shortly after 10 a.m. Take the free local shuttle, Lift, for a 20-minute ride to Winter Park Resort. Routes run every 30 minutes in the winter, so it's another easy city-to-slopes option.
The Why
The original Ski Train ran continuously from 1940-2009 and was brought back temporarily for one weekend to celebrate Winter Park's 75th anniversary in 2015. Tickets sold out quickly and confirmed that people missed the leisurely and beautiful ride that meanders from the heart of energetic downtown Denver through the surrounding foothills and Rocky Mountains.
The new Winter Park Express is reality due to a new partnership between Amtrak, Union Pacific and Winter Park Resort, with 2018 marking the third season of returned regular routes to Winter Park.
There also have been big changes on the Denver side of the equation in the form of a fully restored and totally re-imagined Union Station that reopened in mid-2014. It's now possible to purchase a really great cup of joe and other hot beverages, fresh-squeezed juices and pastries at Pig Train Coffee, starting at 6 a.m. before the ski train departs. Return to a wealth of happy hour and dining options right when you step off the train. To keep the train theme going, sip a Colorado brew and savor tasty appetizers at Union Station's bustling Terminal Bar, where the station's historic ticket office was previously located.
The How
When flying into Denver International Airport, take the A Line airport rail to Union Station for only $9 one way. The easiest option is staying in downtown Denver either at The Crawford Hotel, located in Union Station, or a nearby property such as the historic Oxford Hotel or the brand-new Kimpton Hotel Born. Many downtown hotels have shuttle service within a two-mile radius so the options are truly plentiful.
For the Denver side of the excursion, visit all sorts of great downtown attractions such as the Denver Art Museum, Clyfford Still Museum, Downtown Aquarium, History Colorado Center and more. Or catch a performance at the Denver Performing Arts Complex or Comedy Works on Larimer Square.  
It's hard to find a city/mountain combination that is so easy and memorable. Plan a Denver and Winter Park getaway that spans a weekend or a week, and you might just be biking around the city one minute and swooshing down the slopes the next! 
Photo credit (train arrival): Charles Stemen/Winter Park Resort