A new exhibition at the Denver Museum of Nature & Science revives the ancient story of Stonehenge, one of the world's most mysterious archaeological sites.
Why Stonehenge now? 
"I believe this is actually the perfect time for this exhibition," says Erin Baxter, the museum's curator of anthropology.
That's because some of the newest and most exciting research around the legendary prehistoric monument has emerged in the last few years—weeks even—she adds.
A new generation of archaeologists have brought a diverse set of demographics to the field. These experts are seeing the artifacts and evidence through new lenses and modern arc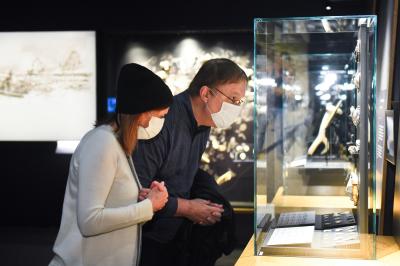 haeological approaches and, as a result, are developing new theories on the mysterious megaliths.
Stonehenge: Ancient Mysteries and Modern Discoveries digs deep into the latest evolving stories of the world-famous landmark, from how the stones arrived there (some were transported more than 150 miles) to who the builders were (more than half of those buried there were women) and what their intentions might have been as they formed the stone circle. 
As you walk through the large-scale exhibit space, you'll come face-to-face with the builders of Stonehenge, be able to touch replica stones and get a close look at more than 400 artifacts. The experience is fully immersive and interactive: You can touch replica microliths, arrows, spears, antler, and actual sarsen and blue stones from the quarries where Stonehenge was carved; click around on interactive 3D maps; and watch short films that bring big notions about Stonehenge to life. 
In a time when international travel is still off the table for most people due to the pandemic, the exhibit is a way to connect with a distant land and time. Many of the exhibit's videos feature global archaeologists and experts from Europe, including Michael Parker Pearson, the exhibit's curator.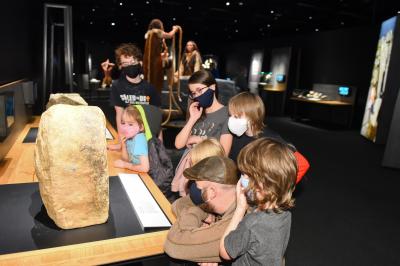 "This is something anyone, at any interest level, can enjoy," says Baxter.
The Stonehenge Challenge
This cyber-activity can be done at home or in the museum. Scan a QR code with your smartphone or visit the site and you'll enter a series of activities and trivia. For example, watch the sun rise or set and commemorate that day by placing a stone marker where the sun crosses the horizon, creating your own mini trilithon.
Covid-19 safety measures: The museum is following the most up-to-date public health guidelines to ensure guests' safety. This includes mandatory face coverings for those 3 and older, timed entry, limited capacities and increased airflow and air filters and a special Clean Team that ensure the museum's spaces are maintained. Check here for the latest updates as conditions may change.