Don't get too engrossed in your smartphone or a good book while riding Denver's RTD light rail and commuter lines. Instead, raise your gaze, look out the windows and savor splashes of color and amazing local artistic talent along the way. It's like an art gallery whizzing by.
To gain some insight about art along the metro area's rail lines, VISIT DENVER checked in with Pat Milbery, a visionary, former professional snowboarder and longtime creative who founded So-Gnar, a collective that encompasses streetwear, events and snowboard camps and has a primary focus on public art.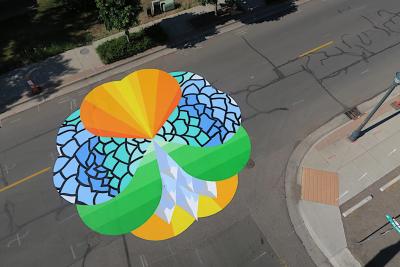 The So-Gnar Creative Division is a collective comprised of Pat and fellow artist Pat McKinney, along with a rotating team of Denver artists. The collective specializes in creating large-scale public and commercial works of art and collaborates with communities on public art initiatives. In 2018 alone, So-Gnar completed close to 70 large-scale projects. Milbery and his crews have adorned the walls of dozens of boutiques, breweries, residences, bars and other businesses in Denver, across the country and around the globe. 
Milbery partially attributes the growing culture of street art around urban areas to "business owners wanting to support artists and add great character through art to the facades of their properties." Also, digital art and technology capabilities have grown, which has increased the accessibility for anyone who can create on a laptop or tablet. The result? "Many artists have chosen to take their art to the streets for visibility at a whole other level. Plus, it's really fun to paint big!" he says.
While spray paint once had a bad reputation due to its association with disrespectful vandalism to private property, Milbery notes that it's an art medium gaining new level of understanding, appreciation and respect. "The aerosol paint market has exploded with color options, many new manufacturers and affordability. The technology with aerosol cans has also advanced with adjusted low- and high-pressure options and is now applicable for more uses. All sorts of caps and tips allow artists to create really detailed work. You can paint like you can create on the computer."
Q&A WITH PAT MILBERRY 
VD: What are the main differences between graffiti, tagging, street art and murals?
PM: Graffiti is the root and inspiration of street art. In the 1960s, '70s, '80s and '90s, people were writing on walls in New York and Europe with markers, spray paint, etc. It was mainly a form of expression, propaganda, territorial, political and tagging. Graffiti turned into an art form…penmanship put into letter formation. That is what graffiti is, beautiful layered lettering that is cryptic. It is hard for an average eye to read it, like a code within a piece of art. The idea is to have a distinct lettering that is different than anyone else's with gradient fades, textures and outlining techniques. 
Tagging is more like vandalism. Throw-ups or bubble letters are quicker and easier to paint and is what you do if you don't have time to create an entire piece of graffiti. Tagging marks territory and has been found on trains or around train lines for decades. 
Street art is more planned out, sometimes generated on a computer or from a sketch. It utilizes the layering technique of graffiti and is an expression of the now. Lots of artists who hope to express themselves on the street don't desire to be a graffiti writer, they simply want to paint a large-scale piece of art to transform the space. A common person can look at street art and understand, where graffiti you might not be able. 
Murals have been around forever. Street art is progressive and a more common expression, whereas mural art is something you find that is around for generations, is very beautiful, and has a lot of artistic brushstrokes. Street art is the modern definition of mural art, done more with aerosol paint. Mural art is traditionally brush painted using a more classic painting approach. 
VD: Where are good concentrations of street art to view from Denver's RTD light rail system? 
PM: Along the A Line that connects Denver Union Station to Denver International Airport, there is all sorts of cool, visible stuff … a mix of graffiti, tags and street art. The A Line from Colorado Boulevard all the way to downtown is the heaviest concentration. There are a couple stops right near that intersection; both have really great graffiti and big beautiful street art pieces.
The B Line connects Denver Union Station to Westminster. We have a large moose/Colorado landscape piece at Westminster station, and there are plans to bring a lot more art to that stop as well. It really brightens up, welcomes, and changes your perception when you get off now as it was a worn-down metal warehouse before. 
The G Line will open soon and run through northwest Denver, Adams County, Arvada and Wheat Ridge. There was a call for artists last year for a giant mural. 
VD: Where else are your works viewable from light rail? 
PM: We also have one off the A Line at 38th and Blake next to another artist. We created this piece for TED Talks' TED Adventures and worked with 20 high school students from around Colorado. We wanted to paint a nice warm welcome into the city, and the "Love this City" mural reminds people to be mindful and respectful when loving the city. It also taught high school kids how to use spray paint, work together and create a large-scale piece of art.
VD: What other artists should people look for?
PM: Robin Munro (a.k.a. Dread), a graffiti writer, muralist and founder of the CRUSH WALLS festival in Denver's River North Art District (RiNo) who created the bent aerosol can shaped as "D" that he painted prior to our street art "Love this City" piece and shares the same façade.
Anthony Garcia, executive director and co-founder of the BirdSeed Collective, has a great community-involved piece funded by Denver Arts and Venues along an underpass that is visible from the A Line. Another really cool piece on those walls is by Michael Ortiz, who goes by Illson. Thomas Evans (a.k.a. Detour) creates a lot of portraits, really beautiful work like a piece on the Valiant Manufacturing building.
All the A Line stops have patterned art installations by Sandra Fettingis. She also paints a lot of street art and does beautiful design work. She is probably the biggest female name in the city for her amazing work.
VD: Is the quantity of street art in Denver unusual? 
PM: Denver is incredibly unique with the amount of street art and its graffiti roots. Denver is deeply rooted with public art and now street art. It's how willing the city and business and property owners are in supporting what we do. 
VD: How does viewing street art or public art from the Denver area's light rail system enhance the travel experience?
PM: It introduces travelers to the culture and connects people who have never been here with the arts and how supportive the collective community is of art. It's an extension of our voice and souls, an articulation of our character and the release of our creativity. 
Street art speaks to all but especially to a younger voice. The street art, public art and graffiti are a form of urban expression that has brought more people here through the energy it provides … the colors, electric energy, the story its layers share, substance of what the artist is trying to say and how you can incorporate that with your daily life. 
ADDITIONAL INSIGHTS
There are additional places to view street art around Denver. Plus, catch a glimpse of 56 works of art installed along rail lines that are part of RTD's Art-n-Transit program since it was established in 1994. You will see both art enhancements incorporated into the design of the transit station (e.g., windscreens, benches, canopies, railings and other architectural features) and site-specific pieces such as murals, mosaics, sculpture, and other imaginative installations that reflect the surrounding community and add an identifying element to the neighborhood. Take a ride and enjoy!
Image credits: All works by Pat Milbery and So-Gnar Creative Division. Lead and second image can be found at the Westminster rail station.