For a truly unforgettable step back in time and journey through Colorado's incredible mountain scenery (without strapping on a backpack or pedaling a mountain bike), book a trip on the Durango & Silverton Narrow Gauge Railroad. Dating back to 1881, when it started out as the Denver & Rio Grande Railway, the railroad is offering three classic excursions to Cascade Canyon and Silverton this summer and fall. Also check out one-of-a-kind events like the Brew Trains, Wine & Rails and the Cowboy Poetry Train as well as adventure packages that combine train rides and outdoor activities like rafting, zip lining and riding ATVs. 
At just under two hours, the new Cascade Canyon Express is the shortest excursion available on the D&SNGRR. Departing from the Rockwood Station (20 minutes north of Durango) at 11:10 a.m. and returning at 1 p.m., the diesel-powered train winds through the steep mountain canyons and high mountain curves of the pristine San Juan National Forest traversing areas not accessible by roads.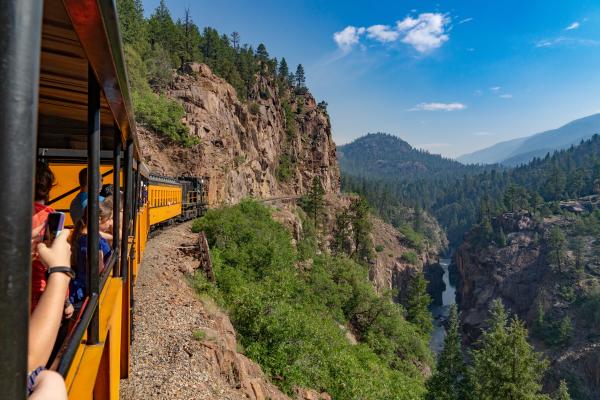 Available on Mondays, Tuesdays and Wednesdays from June 17 to Aug. 14, 2019, it's the perfect option for families with small children, late risers or those with limited time to explore the Durango area. Due to the short duration of the trip, there is no layover in Cascade Canyon, simply an amazing ride and jaw-dropping scenery in an open-air gondola car or a historically restored coach. 
For travelers looking to start their D&SNGRR in the historic mining town of Silverton, the Silverton Silverlight Express is the answer! The ultra-memorable excursion is ideal for passengers staying in Silverton, Ouray or Telluride who want to ride the train without making an early morning drive to Durango. Available daily from May 20 to Oct. 12, 2019, the Silverton Silverlight Express departs Silverton at 1:45 p.m. and 2:30 p.m. for the 3.5-hour journey to Durango. While in Durango, enjoy sightseeing, shopping, dining and exploring the free D&SNGRR Museum. Or walk or bike the paved recreation path bordering the Animas River. 
A van shuttle back to Silverton is part of the package, departing from the Durango Depot at 7 p.m. and arriving at Grand Imperial Hotel in Silverton at 8:15 p.m. 
There are two options to ride the D&SNGRR to Silverton when departing from the Durango Depot or Rockwood Station. For the full experience, ride the historic narrow-gauge train to Silverton and back. It's a 3.5 -hour journey each way with a two-hour layover in Silverton for lunch, shopping and exploring. For a shorter option, enjoy one leg of the Silverton journey riding in a modern 53-passenger bus along 52 miles of the scenic San Juan Skyway (U.S. Highway 550). The Silverton Season runs from May 4-Oct. 26, 2019.
Book train excursions online, in person at the Durango Depot in Durango or Grand Imperial Hotel in Silverton, or by phone at 888-872-4607.
From Denver, it's only a short flight to Durango or 330-mile drive along two of the state's most scenic roadways, Highways 285 and 160, with great Colorado towns like Fairplay, Buena Vista, Salida, South Fork and Pagosa Springs to visit along the way.