Summer in Denver isn't complete without spending time in Denver's Cherry Creek neighborhood, an urban oasis with all sorts of great events, places for patio lounging and more than 300 stores, 75 cafés and restaurants, 50 spas and salons, and four luxury hotels. Featuring a shopping experience that ranges from world-renowned luxury brands to one-of-a-kind local boutiques and eateries, the Cherry Creek North district and neighboring Cherry Creek Shopping Center together form Denver's best-known fashion and dining destination. 
Take a break from the busy days of summer to soak in the glorious Colorado sunshine and attend the wide array of Cherry Creek events, ranging from live music and weekly farmers' markets to Cherry Creek North's Sidewalk Sale and Food & Wine event. 
Tunes Galore
First, let's talk music. At Cherry Creek Shopping Center, indulge in live music every Wednesday evening and Saturday afternoon. Held on Wednesdays, the Elway's Summer Concert Series runs until Aug. 16. This popular Cherry Creek restaurant opens its backyard at 5 p.m. and bands play from 7–9:30 p.m. The tunes range from hard country, Colorado funk and 1980s music to David Bowie, U2 and Eagles tribute bands. 
The Saturday concerts, held from noon to 3 p.m. on the lower level near Tesla, feature some of Colorado's favorite singer/songwriters, including Megan Burtt on July 13 and Andy Hackbarth on Sept. 7. 
BEST SHOPPING IN THE CITY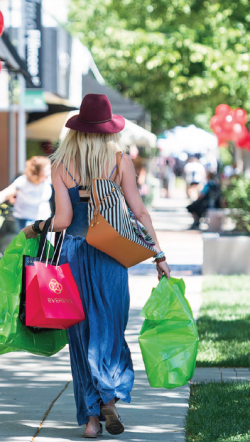 If shopping is one of your passions, don't miss the 49th annual Cherry Creek North Sidewalk Sale for the best deals and discounts of the year at more than 90 participating businesses on Thursday, July 18, through Sunday, July 21. Look for red balloons at sidewalk sale locations and the opportunity to win a Cherry Creek North Gift Card. New for 2019 is live music stationed throughout the district. 
Cherry Creek Shopping Center is home to the largest collection of luxury stores in the region, including Nordstrom, Neiman Marcus, Tiffany & Co., Burberry, Louis Vuitton, and Tory Burch. For out-of-town guests, exclusive offers are available year-round at 65-plus stores and restaurants at Cherry Creek Shopping Center through the Passport to Shopping. 
Time your Cherry Creek visit right to do another kind of shopping in the form of delicious fresh fruits, vegetables and specialty food items and beautiful flowers at the Cherry Creek Fresh Market presented by Kaiser Permanente. More than 70 Colorado farmers and food trucks gather on Wednesdays from 9 a.m.-1 p.m. (through September) and Saturdays from 8 a.m.-1 p.m. (through October) in the Cherry Creek Shopping Center outdoor parking lot. 
MIND, BODY, FOOD & WINE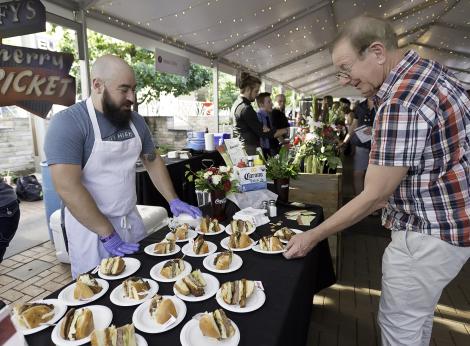 It's a four-square approach that most anyone can embrace… mind, body, food and wine! MINDBODY is presenting a Fitness | Wellness | Beauty event in the Grand Court of Cherry Creek Shopping Center on July 20 from 1-4 p.m. Rejuvenate with complimentary fitness classes, fresh face makeovers and mini spa treatments and discover the latest trends in wellness and beauty. Sign up for free fitness classes happening all day via the MINDBODY App.
Now for the part about food and wine (and other adult beverages, too!). While the culinary and beverage scene in Cherry Creek excels year-round, the 11th Annual Cherry Creek North Food & Wine is a not-to-miss occasion on Saturday, Aug. 17 from 5-9 p.m. Held outdoors on Fillmore Plaza, the event celebrates the culinary variety and creativity of about 20 Cherry Creek North restaurants. Savor live music while restaurants compete for the titles of Best of Show, Best Dessert, Best Table Decor and People's Choice.
Gourmet dishes are paired with wine, beer and spirits provided by the locally owned Vineyard Wine Shop, Wynkoop Brewing Company and Stranahan's Colorado Whiskey. Wynkoop and Stranahan's will have master brewers and distillers pouring high-end offerings during the VIP hour. The event sells out annually, so purchase tickets early.
What are you waiting for? Get out for some Cherry Creek food, fun, shopping and music!