With five galleries of ever-changing exhibits, a library and a rooftop café overlooking downtown, the Museum of Contemporary Art Denver is well worth the visit for any art lover. But even if you haven't been inside yet (and you should definitely visit!), you may recognize one of MCA Denver's most iconic pieces: "Toxic Schizophrenia (Hyper Version)," a giant, illuminated heart pierced by a dagger that sits atop a pole just outside the museum's entrance. 
The piece — a gift from the William M. and Julie T. Obering family, commissioned for the museum in 2007 and unveiled in 2009 — was designed by UK artists Tim Noble and Sue Webster. It's the team's first permanent public sculpture, and although the cartoonish heart-and-dagger image is a recurring theme in their work, this is their largest version of it to date. The heart and dagger are covered by more than 1,000 colored lights that flash in a controlled sequence, making it impossible to miss, even at night.
It's also a unique piece for MCA Denver. As a non-collecting museum, the colossal fiberglass-and-steel sculpture is one of the few pieces that MCA Denver owns and permanently displays.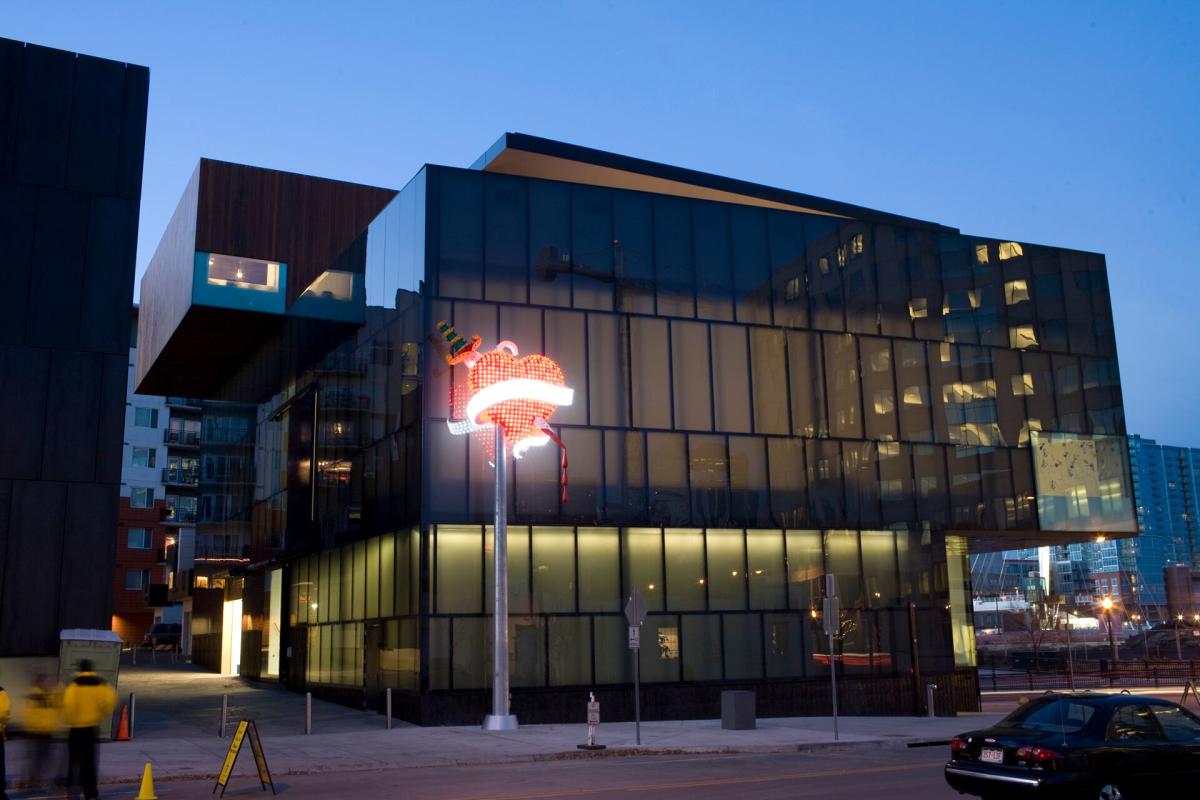 "MCA Denver sees this masterpiece interacting with the façade of our building, which was designed by British architect David Adjaye," says Clayton Kenney, the museum's director of marketing and communications. "This piece is a material representation of the museum's mission to present innovative and challenging art of our time."
In the years since its installation, the sculpture has become a downtown Denver landmark. But what does it mean? 
In his 2009 essay "The Magic Arts of Noble & Webster – Tim and Sue," Sir Norman Rosenthal, a British independent curator and art historian, says that the piece — like much of the duo's art — is a study in contradictions:
"The concept of the emblem is central to art: An emblem that can represent faith and fidelity, love as well as hate, fear as well as resolution, understanding and ignorance, sophistication and vulgarity, waste and value, friendship and alienation, male and female, negative and positive. In other words, an endless string of opposites that can tear the world apart or hold it together."
See it for yourself. View "Toxic Schizophrenia (Hyper Version)" anytime outside MCA Denver, near the intersection of 15th and Delgany Streets.