Denver Union Station isn't an odd setting for an art gallery—rather, its bustling, centralized location can be a boon for artists and curators. What's unusual about Union Hall, a nonprofit arts space that opened in the neighborhood in May 2019, is that it's located inside a condo building. 
The arts venue is situated on the ground floor of the Coloradan, a 334-residence property just behind Union Station. "Denver is being more internationally recognized and arts is part of that platform that we use to be [seen as] a destination," says Martha Weidmann, executive director of Union Hall and CEO and co-founder of local art consulting firm NINE dot ARTS. "Union Hall is that same idea but done in a fresh way: How can we bring arts and culture to people's everyday lives?"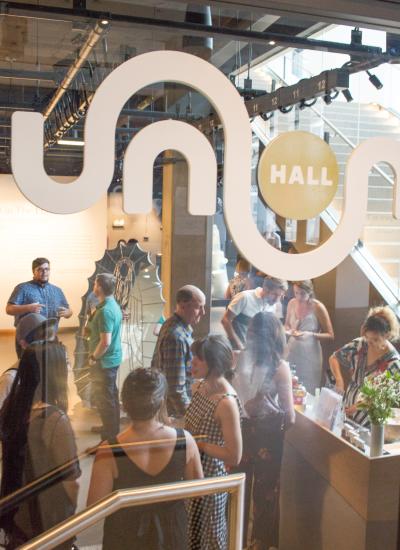 Union Hall's free exhibitions (some events are ticketed) are open to the public as well as residents of the Coloradan. Chief curator Arielle M. Myers is utilizing the flexibility of the space to showcase a wide variety of artistic styles, mediums and concepts from local, national and international artists, with a focus on the experimental. Exhibitions rotate every six to seven weeks and are interspersed with pop-up events. Past shows reflect the diversity Myers and her team are aiming for, showcasing York-based artist Deborah Brown's colorful, revisionist paintings and then switching gears to feature sculptures by Carissa Samaniego and Matthew Smith, both based in Denver.
"We think of ourselves as a bite-size Museum of Contemporary Art Denver," says gallery manager Valeria Serrano Vélez. "One of the things we're trying to do is provide a platform and a springboard for emerging artists."
Vélez, who received her master's in art history from the University of Colorado Boulder, also serves as the on-site culture concierge. She will walk you through the current exhibition or direct you to other cultural offerings around the city, many off the beaten path. (Sign up for the Culture Concierge newsletter to receive her curated, weekly roundup of arts and culture happenings around town.) The downtown space also hosts at least one event a week, such as film screenings, performances, artist talks, literary affairs, and even guided meditations.
"It's hugely important that we are advocates for all of the cultural things happening in the city," Weidmann says. 
Supporting the local arts landscape was one of the goals of East West Partners, the developers behind the Coloradan.
"We feel like it's important that each time we create a community, there's something about it that gives back—that it's more than just building a building," says East West managing partner Amy Cara. "[We wanted to] create a space that's for Denver's local artists…for them to have an opportunity to show based on what they have to say."
Union Hall accepts rolling submissions—for artists, programming and even guest curators—to be featured in the space. And while it's a non-commercial space, meaning the gallery doesn't take a cut from any sales and work may or may not be available for sale, all artists are paid stipends. This benefits creatives monetarily, of course, but it also aids the creators (and the gallery, too) by providing them with the freedom to make and show art without worrying about whether it's marketable. 
Another unique aspect of the Lower Downtown (LoDo) venue: its funding source. Union Hall was initially financed by transfer fees from the Coloradan's condo sales. Additional, separate funding will be needed, but, to begin, it's the community that's supporting its resident arts space. 
"The residents feel very proud to have a place like this where they live," Vélez says. "We're setting an example for what a sustainable arts space can be."
Union Hall is open to the public from 10 a.m. to 6 p.m., Tuesday through Saturday. All exhibitions are free, though there are some ticketed events. Paid parking is available along Wewatta Street or in the Coloradan's garage.