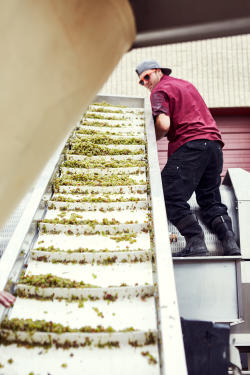 At 4 a.m. the grape crushing begins.
Each fall Denver's urban winery, Infinite Monkey Theorem, sources grapes from Colorado's Western Slope and processes them at IMT's home in the hip River North Art District (RiNo). It takes workers up to a week to crush 100 tons.
From there, the white grapes finish fermentation by going through a series of stabilization steps before being filtered, bottled and released the following March. The reds, meanwhile, go through their own fermentation process. The red skins are pressed and then the wine ages in barrels for a year before being released.
It goes to show that you never know what you might find in RiNo, any hour of the day. The neighborhood is famous for its street art, art galleries, breweries, restaurants and gourmet markets. And IMT, representing the "counterculture of winemaking," certainly stands out with its 15,000-square-foot facility.
Named after an old mathematical theorem, IMT accepts all the variables required to grow grapes at high altitude, then it turns the crop into delicious wine in a back alley. Several years ago, the winery even started offering some of its wine in cans.
Check out what IMT is up to by visiting its aptly named tasting room, the Wine Lab. The winery also offers tours with tastings from bottles, kegs and cans, and private tastings where you'll sample IMT's premium selections.