The Mile High City is steeped in history. From the gold rush to beat poets to bootleggers, these tours leave no stone unturned. You may even see ghosts. 
These small-group walking tours will have you hoofing it through some of Denver's most historic neighborhoods. The tours take about one and a half to two hours and cover under 2 miles of easy walking on sidewalks. You can also book private tours. 
Capitol Hill Ghost and History Tour 
Denver's Capitol Hill neighborhood is recognized as one of the most beautiful neighborhoods in the country — and one of the most haunted! Visit beautiful Victorian mansions, including that of "Titanic" survivor the Unsinkable Margaret "Molly" Brown, and refuel with a mid-tour break at a Cap Hill coffee shop. (Food and beverages at coffee shop not included in price of tour.) 
Best of Denver Tour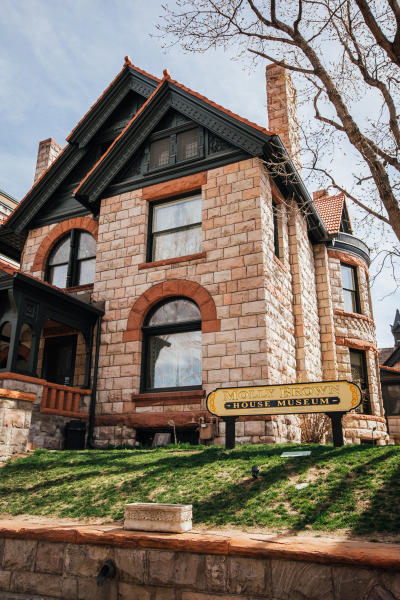 Hands down the best tour to take if you've only got a short amount of time to experience all that downtown Denver has to offer. You'll see some of the city's most iconic landmarks, like the Colorado State Capitol and the Brown Palace Hotel and Spa, then stop for a bite at one of Denver's best delis. Sweet tooth? Grab some fudge at Rocky Mountain Chocolate Factory. (Food and beverages at deli and Rocky Mountain Chocolate Factory not included in price of tour.) 
Private: Denver's History & Ghost Adventure Tour
Denver's Lower Downtown District — known to locals as LoDo — is the oldest part of the city, dating back to the gold rush days. Step inside the beautifully restored Denver Union Station, stroll by Coors Field, stop for a sip at the winery inside Dairy Block and get goosebumps as you learn about the neighborhood's many haunted hotels and former brothels. (Wine tasting not included in price of tour.)
Twilight Ghost Tour
This nighttime tour isn't for the faint of heart! Visit some of Denver's spookiest haunted attractions to hear chilling stories of scandal and murder — if you dare. 
What's the best way to explore Denver? Neighborhood by neighborhood. Each area of The Mile High City has its own history and landmarks, so pick one of these 90-minute walking tours (each one covers about one mile at a leisurely pace) and dive in! Each group is capped at 10 people per tour guide.
LoDo Walking Tour
Lower Downtown is the oldest area of the city, so it's a perfect place to start your explorations of Denver. Learn what it felt like to live in Denver at the turn of the 20th century and how the city's early history was shaped by the mining industry. 
Capitol Hill Walking Tour
The gorgeous mansions of Cap Hill are where Denver's elite once lived. Architecture buffs: this is the tour for you! 
Historic 16th Street Tour
This vibrant thoroughfare runs through the heart of Denver. It's home to restaurants, shops, theaters and towering office buildings, but despite the modern luxuries, The Mile High City's "Main Street" also has a unique history that will unfold as you stroll. 
Larimer Square with D&F Clock Tower Walking Tour
Enchanting Larimer Square is Denver's oldest block. It was saved from demolition by citizens to create Denver's first historic district. The highlight: this tour includes exclusive access to the Daniels & Fisher (Clock) Tower, which offers 360-degree views of the city. 
You're in for a scare on these 2.5-hour walking tours. Luckily, you're also in for a round of drinks to take the edge off! Yes — the word "spirits" has two meanings on these spooky night-time tours. 
Denver Ghost Tour Pub Crawl — LoDo 
This pub crawl will lead you through Lower Downtown's former red-light district, where you'll hear chilling tales of Western justice and learn about the seedier side of The Mile High City. Stop into some of the city's most haunted bars and pubs along the way for drinks and more scary stories. (21+ only, drinks not included in price of tour.)
Denver Ghost Tour Pub Crawl — SoBo
True spirit lovers won't want to miss this tour, which starts at Denver Distillery, the most haunted distillery in Denver. Take a private, guided tour of the distillery, learn about its history, then meet the ghosts that haunt the building. From there, you'll visit more spooky spots, where you'll have time to enjoy some spirits and hear more haunting tales. (21+ only, drinks not included in price of tour.)
Denver Ghost Tour
This all-ages tour starts at Tivoli Brewing Company for a private ghost tour inside their building using real ghost-hunting equipment. After Tivoli, you'll walk the streets of Denver from Larimer Square to Denver Union Station, passing haunt after haunt along the way. 
Ghost City Tours
Denver is one of the most haunted cities in Colorado, says Ghost City Tours. If you're a fan of the paranormal or ghosts, join them on a 90-minute walking tour. They document Denver's most haunted places.
Expect lots of mayhem on this tour. Focusing on the Capitol Hill neighborhood, hear bone-chilling stories of Denver's most haunted mansions. Your guide will share stories of murder, scandals, deceit and betrayal as you stroll along the eerie dark streets. You'll discover where to look for paranormal activity and ghostly apparitions at the most notorious locations.
Pictured: Dairy Block and the Molly Brown House Museum.