The term "handcrafted" is taken literally at Denver's Winter Session. Walk into the workshop-meets-showroom in north Denver's Clayton neighborhood, and you'll encounter members of the small team sewing squares of waxed canvas together to craft tote bags or laser-cutting holes into leather wallets that will then be stitched together by hand.  
Founded by the husband-and-wife team of Roy Katz and Tanya Fleisher in 2010, Winter Session makes canvas and leather carry goods that are equally suited to the back of the bike and the inside of a boardroom. The pieces are contemporary, thoughtfully designed, and functional; the leather natural darkens with age and the canvas develops its own patina, adding character over the years.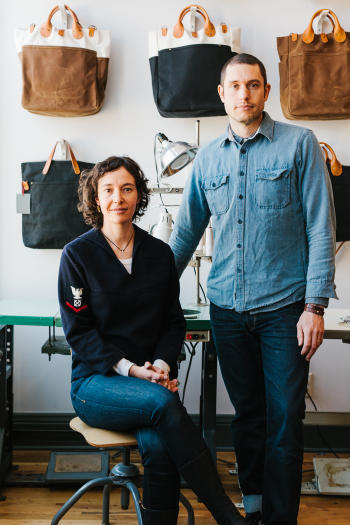 The Colorado natives—who have backgrounds in art, design and architecture—launched the company as a side project out of their apartment in Chicago before moving back to The Mile High City and opening a small combined storefront and workspace. In 2015, they relocated to their current home.
Every step of the process, from design to production to sales, happens in the 5,600-square-foot warehouse. (Katz and Fleisher lease the back half to three other local makers.) The space is divided into charmingly named zones, one for each step of the production process. "Cutting Corner" is first, where every pattern can be found hanging on wall-mounted pegboards. Then there's "Sewing Village," "The Burbs" (that's where the specialized machines hang out), "Rivet Town" (for combining the leather and hardware with the fabric), "Press City," and so on.
Crafters work their way through, from one district to the next. "It's not assembly line-style at all," Katz, 39, says. "Each person is making a bunch of products from start to finish, so there's that sense of accomplishment and getting to know the products inside and out."
Almost all Winter Session merchandise is made to order, though Katz and his team do keep a small inventory on hand for the website. Bags like the Garrison carryall, Winter Session's first release, incorporate leather from American tanneries, canvas that's woven in India but dyed and waxed in the United States, and snaps made in Georgia. Brass detailing comes from various locales around the world.
Katz's mother taught him the basics of sewing in high school. When, as an adult, a friend bought a sewing machine, Katz was reminded of how fun the process was and he and Fleisher decided to purchase their own. Already fans of waxed canvas, they learned about leather by visiting a local tannery in Chicago, and the business grew from there. "We always knew we were going to make and sell something of our own," Katz says. "We started making bags because we thought they'd be easier than clothing—which they are."
Though bags are still Winter Session's core business, the lineup has expanded to include items such as canvas planters, wallets and leather keychains, partly in an effort to reduce waste. "We try to use as much [scrap] as we can by making smaller and smaller pieces," Katz says. (Fun fact: The underside of Safta's bar is comprised entirely of leather scraps from Winter Session.) The company also donates fabric off-cuttings and other leftover materials to educational programs, such as Downtown Aurora Visual Arts.
For Sale
At the front of the Denver warehouse is a small retail area showcasing the variety of Winter Session's offerings. Though the products' hues typically lean toward more subdued earth tones, a limited-edition line of mustard yellow goods recently debuted. And this spring/summer, the company will release a travel collection using recycled canvas made from discarded plastic bottles in Haiti; Katz says the results will be lighter weight and feature some fresh colors, too.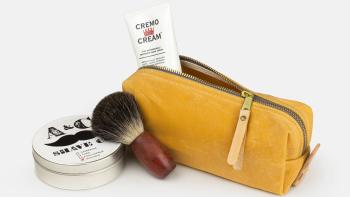 Winter Session's first standalone store debuted inside the Source Hotel + Market Hall in the River North Art District (RiNo) in August 2018. Outside of the Front Range, the company's goods can be found at dozens of boutique retailers across the country and beyond. (The brand is also sold in Canada, Europe, Australia and Asia.)
Amid the growth, Katz and Fleisher have managed to maintain Winter Session's handmade ethos. To wit: They still include a handwritten note with every order.
DIY: Winter Session occasionally hosts workshops where wannabe crafters can make their own keychains or learn to hand-stitch wallets. Keep an eye on Facebook, Instagram, and the Winter Session website for announcements.
Photo credits: Joshua Edric (header), Brad Torchia (portrait), Audrey Boyd (cutting tool).